News
St. Luke's Vaccinates 2,000 Health Care Workers through Weekend at Several Locations
December 19, 2020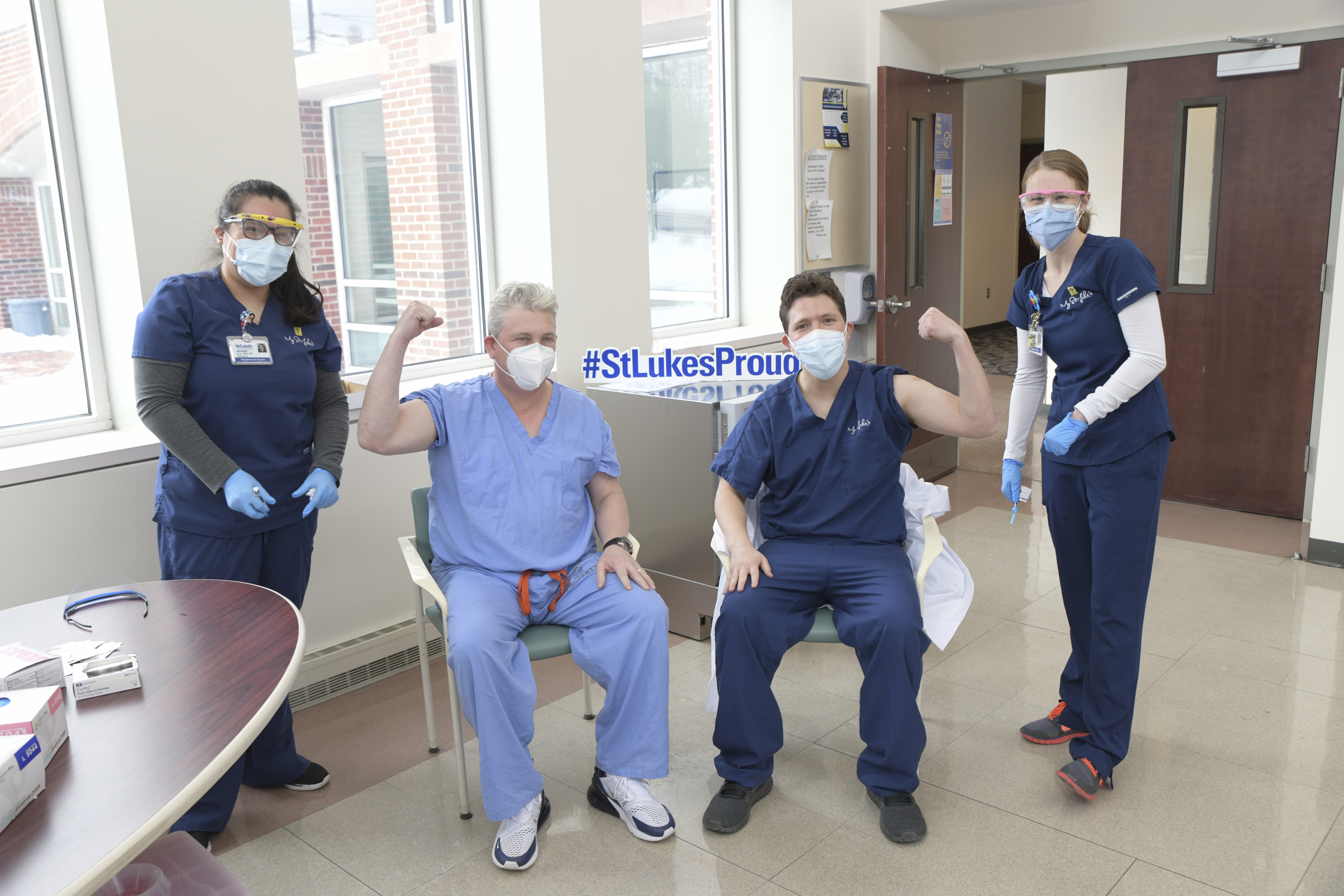 More COVID-19 vaccine set to arrive next week with Moderna EUA approval.
With 5,000 COVID-19 vaccine doses safely tucked away at -70 degrees Farenheit, St. Luke's University Health Network is working with urgency and diligence to vaccinate a monumental 2,000 health care workers through the weekend to prepare for an even larger shipment of vaccines next week. The FDA's overnight approval of the Moderna vaccine has cleared the way for the 12-system health network to receive more doses for it's 16,000+ health care workers.
Photo gallery here: https://stlukes.smugmug.com/ForRelease/n-3X4n9H/ For captions, click on 'i' icon on menu or click download button and see file name. Caption info also below.
"I received my shot on Thursday," states St. Luke's Senior Vice President of Medical & Academic Affairs, Jeffrey Jahre, MD. "It felt no different than any other vaccine, and I strongly encourage everyone who can to receive this vaccine. It will help end this pandemic."
Employees at three of St. Luke's hospitals – Anderson, Bethlehem and Sacred Heart – are receiving their vaccines over the weekend, with nurses administering 6 shots every 10 minutes. Nursing home employees and EMS personnel were also able to receive the vaccine at St. Luke's this week.
St. Luke's may be the largest supplier of the vaccine locally, as state officials credit the hospital network for its organization, logistical planning and efficiency.
"We have been working hand-in-hand with the Department of Health since this pandemic started," states Colleen Sprissler, RN, MSN, Senior Director of Network Operations for St. Luke's. "They are releasing the vaccine as it becomes available and everything has been running very smoothly."
Employee vaccination clinics will open at St. Luke's additional eight campuses in the coming days – a sign that community access to the vaccine may not be that far away.
Weekend Media Contact:
Kira Bub: kira.bub@sluhn.org
Captions for photos in gallery in order left to right, top to bottom:
Dry ice billows out as Pharmacy staff at St. Luke's open the Pfizer BioNTech vaccine.
Father-son duo Ray Durkin, MD and Matt Durkin, MD receive their shots at St. Luke's.
Fighting COVID together at St. Luke's Sacred Heart Campus in Allentown.
Jeffrey Jahre, MD, St. Luke's Vice President of Medical and Academic Affairs receives his vaccine from Rebecca Boyer, RN.
Meredith Birsner, MD receives her COVID-19 vaccine at St. Luke's Anderson Campus in Easton.
St. Luke's COVID unit nurse Sonia Iparraguire, RN receives first vaccine in the Valley at 1pm Thursday.
St. Luke's employee receives vaccine at St. Luke's Anderson Campus.
St. Luke's employee receives vaccine at St. Luke's Anderson Campus in Easton.
St. Luke's Nurse Anesthetist Lolock Nwangweso, CRNA is one of 2,000 health care workers vaccinated over the weekend.
St. Luke's Sacred Heart Campus staff are excited to receive the vaccine.
Thumbs up! A St. Luke's Sacred Heart Campus employee receives her vaccine in Allentown.
About St. Luke's
Founded in 1872, St. Luke's University Health Network (SLUHN) is a fully integrated, regional, non-profit network of more than 16,000 employees providing services at 12 hospitals sites and 300+ outpatient sites. With annual net revenue in excess of $2.5 billion, the Network's service area includes 11 counties: Lehigh, Northampton, Berks, Bucks, Carbon, Montgomery, Monroe, Schuylkill and Luzerne counties in Pennsylvania and Warren and Hunterdon counties in New Jersey. Dedicated to advancing medical education, St. Luke's is the preeminent teaching hospital in central-eastern Pennsylvania. In partnership with Temple University, St. Luke's established the Lehigh Valley's first and only regional medical school campus. It also operates the nation's longest continuously operating School of Nursing, established in 1884, and 38 fully accredited graduate medical educational programs with 347 residents and fellows. St. Luke's is the only Lehigh Valley-based health care system to earn Medicare's five- and four-star ratings (the highest) for quality, efficiency and patient satisfaction. St. Luke's is both a Leapfrog Group and Healthgrades Top Hospital and a Newsweek World's Best Hospital. U.S. News & World Report ranked St. Luke's #1 in the Lehigh Valley and #6 in the state. Three of IBM Watson Health's 100 Top Hospitals are St. Luke's hospitals. St. Luke's University Hospital has earned the 100 Top Major Teaching Hospital designation from IBM Watson Health eight times total and six years in a row. St. Luke's has also been cited by IBM Watson Health as a 50 Top Cardiovascular Program. Utilizing the Epic electronic medical record (EMR) system for both inpatient and outpatient services, the Network is a multi-year recipient of the Most Wired award recognizing the breadth of the SLUHN's information technology applications such as telehealth, online scheduling and online pricing information. St. Luke's is also recognized as one of the state's lowest cost providers.