News
St. Luke's Upper Bucks' New MRI Technology Built for Patient Comfort and Speed
June 22, 2020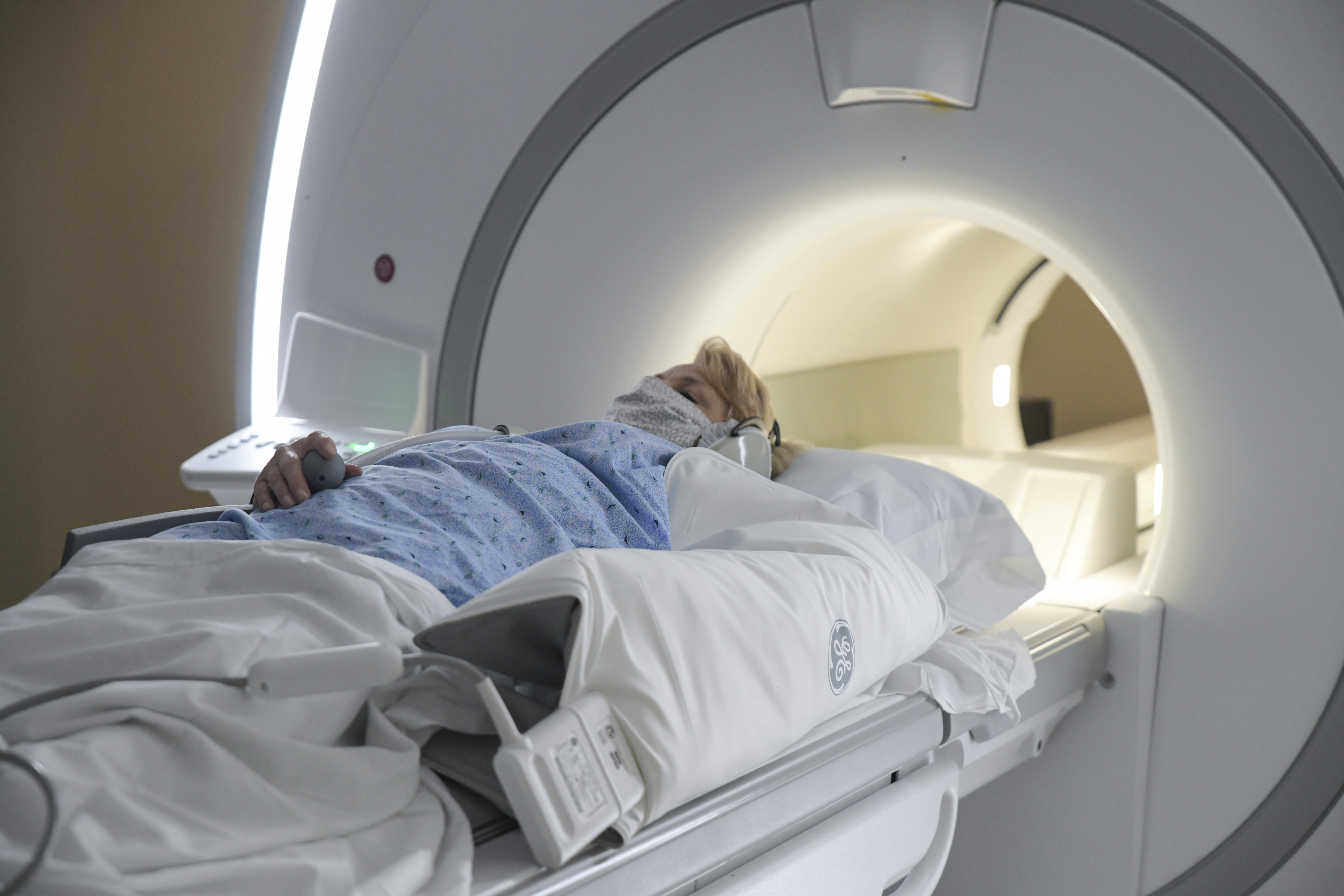 MRI studies at St. Luke's Upper Bucks Campus are now easier, faster and more comfortable for patients since the hospital introduced innovative GE Healthcare AIR™ Coils in May. The hospital is the first in the Lehigh Valley (and the fourth in PA) to use blanket-like GE AIR™ Coils on the SIGNA™ Artist 1.5T MRI platform to detect and relay signals from the body to the MRI computer for image creation.
An MRI 'coil' describes the antenna-like apparatus that is placed on or near a body part being imaged. The GE AIR™ Coil is a soft, flexible pad measuring 26.5" x 32" x .5" and containing proprietary, thin, featherweight wiring and electronics. Conventional coils are semi-rigid, heavy and bulky shell-like casings, which are positioned several inches from the body. AIR™ Coils are 50 percent lighter than conventional coils, benefiting both patients and technologists. The coils offer greater flexibility in all axes to help conform to patients' anatomies and fit all patient ages, sizes and shapes.
MRI (magnetic resonance imaging), a non-radiation procedure, generates detailed diagnostic pictures of the internal human anatomy by combining a magnetic field and radio waves.
AIR™ Coil Technology is a major, and singular, advance in MRI science that gives enhanced image clarity and patient convenience while significantly reducing scan duration in many cases, according to St. Luke's radiologist Melkamu Adeb, MD, who specializes in MRI of the chest and abdomen. He says this advanced product results in "an improved patient experience."
Because of its pliant nature, the AIR™ Coil conforms to the human anatomy in any position to obtain the highest-quality scan without causing discomfort to the patient. This improvement in design and materials reduces the "breath-hold" time required during scans to limit blurry images and other unwanted side effects.
David Furman, MD, St. Luke's radiology site director at Upper Bucks, says acquiring the GE AIR™ Coil is another example of "the network always investigating and obtaining new technologies that benefit our patients." He notes the shorter scan time is especially beneficial for sick or injured patients who labor to hold their breath during the often-lengthy MRI procedure. Breath holds with this super-sensitive AIR™ Coil Technology are significantly reduced from the time required using conventional coils.
"This technology is a game-changer," says Amit Pal, MD, St. Luke's section chief for MRI. He praises GE as a valuable and innovative partner for St. Luke's because of GE's responsiveness and ease of collaboration in product development. "They are at the forefront of technology."
"It's our great pleasure to provide to St Luke's, one of leading medical providers on the East Coast, the first delivery of AIRTM Coils for the benefit of their patients, their technologists and their radiologists," said Fraser Robb, PhD, CEng, chief technology leader at GE. "AIRTM Coils have revolutionized the MRI industry, and we have had great feedback on their performance."
###
Media Contact:
Sam Kennedy, Corporate Communications Director, 484-526-4134, samuel.kennedy@sluhn.org
About St. Luke's
Founded in 1872, St. Luke's University Health Network (SLUHN) is a fully integrated, regional, non-profit network of more than 15,000 employees providing services at 11 hospitals and 300 outpatient sites. With annual net revenue greater than $2 billion, the Network's service area includes 11 counties: Lehigh, Northampton, Berks, Bucks, Carbon, Montgomery, Monroe, Schuylkill and Luzerne counties in Pennsylvania and Warren and Hunterdon counties in New Jersey. Dedicated to advancing medical education, St. Luke's is the preeminent teaching hospital in central-eastern Pennsylvania. In partnership with Temple University, St. Luke's created the Lehigh Valley's first and only regional medical school campus. It also operates the nation's longest continuously operating School of Nursing, established in 1884, and 34 fully accredited graduate medical educational programs with 263 residents and fellows. St. Luke's is the only Lehigh Valley-based health care system with Medicare's five- and four-star ratings (the highest) for quality, efficiency and patient satisfaction. St. Luke's is both a Leapfrog Group and Healthgrades Top Hospital and a Newsweek World's Best Hospital. In 2019, three of IBM Watson Health's 100 Top Hospitals were St. Luke's hospitals. St. Luke's University Hospital has earned the 100 Top Major Teaching Hospital designation from IBM Watson Health seven times total and five years in a row. St. Luke's has also been cited by IBM Watson Health as a 50 Top Cardiovascular Program. Utilizing the Epic electronic medical record (EMR) system for both inpatient and outpatient services, the Network is a multi-year recipient of the Most Wired award recognizing the breadth of the SLUHN's information technology applications such as telehealth, online scheduling and online pricing information. St. Luke's is also recognized as one of the state's lowest cost providers.