News
St. Luke's Partners with Local Business to Produce 3D Printed Masks
March 24, 2020
BETHLEHEM – St. Luke's and Filament Innovations of Coplay have teamed up to produce 3D printed masks and face shields for health care providers in the wake of COVID-19.
"We've been following the news in Europe related to medical supplies, and I knew we had to act quickly," said Megan Augustine, Director of St. Luke's University Health Network's Simulation Center.
She began working with her team and the 3D printing community to custom print N95 respirator masks, additional masks and face shields – some of the highest-demand protective products for health care workers.
"These masks and face shields reduce the risk of airborne transmission from an actively sick patient to the individuals providing care," states Kara Mascitti, MD, St. Luke's Medical Director of Health Care Epidemiology and Infection Prevention. "By helping keep our doctors, nurses and health care teams safe, it helps prevent the spread to their loved ones and others."
Conservation of these supplies is critical to fighting COVID-19. "We are about to run a supply chain logistics marathon and we are looking at creative, alternate solutions for supplies like masks," states Augustine.
The masks currently being printed at St. Luke's could be custom-fitted to an individual's face, maximizing protection. Due to the materials they are printed with, she and her team are researching options for sterilization and reuse.
Because of COVID-19, we are seeing a strain on the supply chain – we are asking ourselves 'how do we rethink the manufacturing of these items?'" states Michael Gorski, PhD, MBA, owner and founder of Filament Innovations, a 3D Printer manufacturer in the Valley. "This process is showing what local manufacturing can do right here in the Lehigh Valley by utilizing 3D Printing, an advanced manufacturing method. We all want to do what we can for our community."
"The care of our patients is number one," reiterates Augustine. "This [pandemic] is a reality for all of us – we are working with everyone to be prepared for a potential shortage. We are always looking for innovative ways to provide care and we are doing it."
DONATE 3D PRINTED MATERIALS >>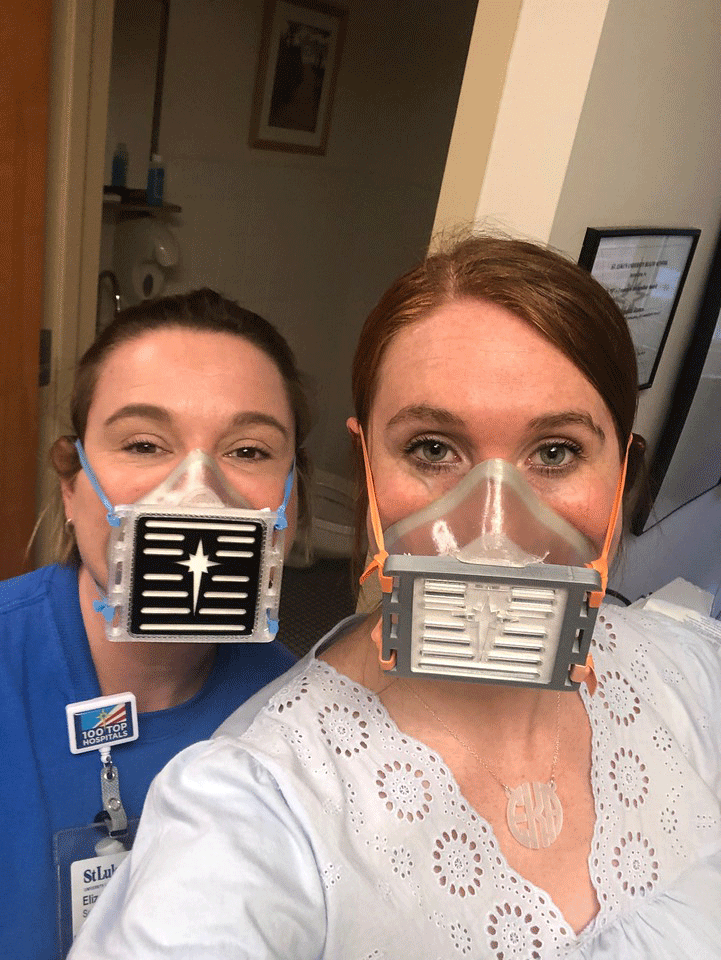 ###
Media Contact
Kate Raymond, Director, Marketing & Public Relations, St. Luke's University Health Network, 484-526-4131, kate.raymond@sluhn.org
About St. Luke's
Founded in 1872, St. Luke's University Health Network (SLUHN) is a fully integrated, regional, non-profit network of more than 15,000 employees providing services at 11 hospitals and 300 outpatient sites. With annual net revenue greater than $2 billion, the Network's service area includes 11 counties: Lehigh, Northampton, Berks, Bucks, Carbon, Montgomery, Monroe, Schuylkill and Luzerne counties in Pennsylvania and Warren and Hunterdon counties in New Jersey. Dedicated to advancing medical education, St. Luke's is the preeminent teaching hospital in central-eastern Pennsylvania. In partnership with Temple University, St. Luke's created the Lehigh Valley's first and only regional medical school campus. It also operates the nation's longest continuously operating School of Nursing, established in 1884, and 34 fully accredited graduate medical educational programs with 263 residents and fellows. St. Luke's is the only Lehigh Valley-based health care system with Medicare's five- and four-star ratings (the highest) for quality, efficiency and patient satisfaction. St. Luke's is both a Leapfrog Group and Healthgrades Top Hospital and a Newsweek World's Best Hospital. In 2019, three of IBM Watson Health's 100 Top Hospitals were St. Luke's hospitals. St. Luke's University Hospital has earned the 100 Top Major Teaching Hospital designation from IBM Watson Health seven times total and five years in a row. St. Luke's has also been cited by IBM Watson Health as a 50 Top Cardiovascular Program. Utilizing the Epic electronic medical record (EMR) system for both inpatient and outpatient services, the Network is a multi-year recipient of the Most Wired award recognizing the breadth of the SLUHN's information technology applications such as telehealth, online scheduling and online pricing information. St. Luke's is also recognized as one of the state's lowest cost providers.