News
St. Luke's Helps Local Companies Protect Workers – and Global Supply Chain
April 23, 2020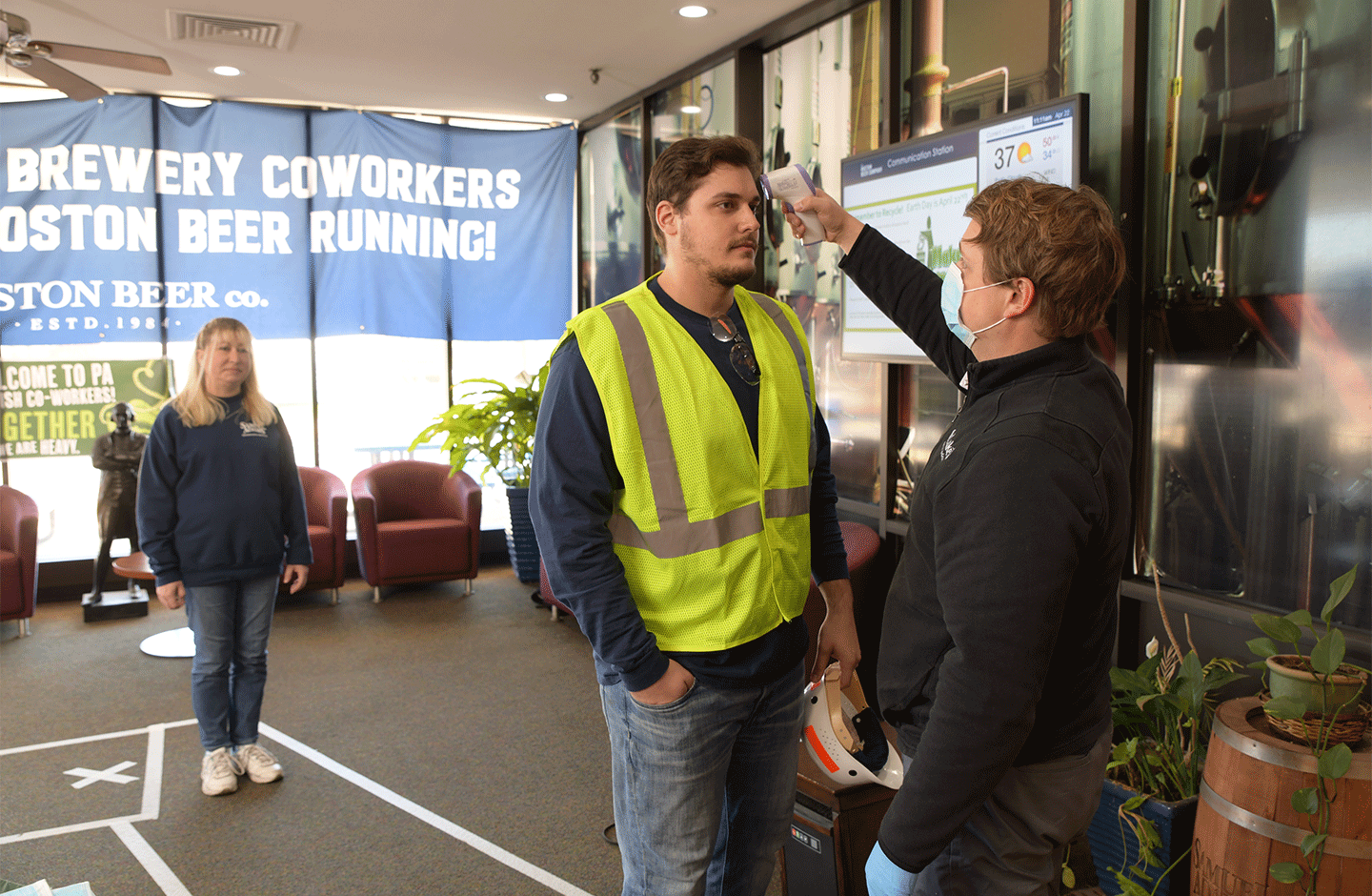 St. Luke's athletic trainers, who normally work in schools, have been redeployed to provide this important service.
As the global supply chain has come under increasing strain during the COVID-19 pandemic, large, local manufacturers and essential businesses in our region, from grocery packing facilities to bottled water manufacturers, aren't taking chances when it comes to protecting their employees and their ability to provide essential goods and services.
These businesses are working with St. Luke's Occupational Medicine to provide COVID-19 screening services to protect the health and well-being of their workers and to mitigate the spread of the disease.
Kyra Dodson, St. Luke's Worksite Injury Prevention Coordinator, is spearheading this effort. "Currently, we are screening more than 6,000 employees daily from 15 businesses which are based in various counties throughout the region, including Lehigh, Northampton, and Montgomery counties," says Dodson. "More are coming on line. We expect to be screening over 10,000 employees from more than 25 businesses in coming weeks and expand our reach into Berks and Monroe counties."
St. Luke's Occupational Medicine has assembled a small army of health care providers to combat COVID-19 in the workplace. "Our team is comprised of nurses, medical assistants and athletic trainers," says Dodson. "These providers are onsite daily, during all shifts, to identify symptomatic employees using guidelines established by the Centers for Disease Control. They also conduct temperature screenings on all employees every day. If an employee is identified as symptomatic, they follow their employer's guidelines which may include self-quarantine, contacting their doctor or testing for the virus."
Nestlé Waters and Samuel Adams Pennsylvania Brewery, both in Breinigsville, and Piramal Critical Care in Bethlehem are just a few of the local companies that have teamed up with St. Luke's to protect their workforce, helping to ensure their plants can remain open and operations continue in a safe environment.
"At Nestlé Waters, we remain focused on how we can best support our employees and our communities during this public health crisis. We are especially grateful for the extraordinary efforts of our employees on the front lines," said Bill Trackim, Vice President, Head of Technical & Production, Supply Chain and Procurement. "Partners like St. Luke's Occupational Medicine, who are conducting a wellness screening process at our Allentown factories, play an important role in keeping our employees safe, as they work tirelessly to produce and deliver to our customers the water they need during this critical time."
Piramal Critical Care's Bethlehem Plant produces Sevoflurane, Isoflurane, and Desflurane - inhaled anesthesia products - for sale to hospitals and surgical centers all around the world. "Partnering with St. Luke's for temperature screening has provided a sound approach for mitigating potential exposure of our employees to the COVID-19 virus," says Keith Zimpfer, Vice President of Site Operations. "It also provides a high level of reassurance to our employees, which allows them to focus on what they do best, supplying our critical care anesthesia products to patients all over the world."
"Working alongside our corporate partners and helping our community when it's needed most is extremely gratifying," says Dodson.
"We've been able to coordinate this effort in partnership with St. Luke's Sports Medicine as more than 50 athletic trainers have been redeployed to support this effort. In normal times, our ATs would be providing essential care to student athletes as they trained and competed in spring sports, but the COVID-19 virus has given them a new playing field."
The ability to step in and assist our Occupational Medicine Department in safeguarding the workplace has been essential to keeping supply chains moving across the region," according to John Hauth, Sr. Network Administrator – Sports Medicine Relationships for St. Luke's University Health Network. "During the COVID-19 pandemic, certified athletic trainers from St. Luke's Sports Medicine have been asked to utilize their diverse skill set to support this effort and also a number of other key initiatives," he says.
St. Luke's goal is to limit exposure. "If we can identify a symptomatic employee prior to them entering the facility, we've mitigated a potential exposure to several hundred people," says Dodson. "Our presence allows these essential businesses to operate in a safer manner and instills confidence in the employees."
"This initiative has kept plants operating and many of their employees working, while having a direct impact on flattening the curve in our region," says Jeff Kowalski, Senior Network Director, Urgent Care and Occupational Medicine, St. Luke's University Health Network. "I believe this model is unique to industry and I am proud St. Luke's is part of the solution."
###
Media Contact
Sam Kennedy, Corporate Communications Director, 484-526-4134, samuel.kennedy@sluhn.org
About St. Luke's
Founded in 1872, St. Luke's University Health Network (SLUHN) is a fully integrated, regional, non-profit network of more than 15,000 employees providing services at 11 hospitals and 300 outpatient sites. With annual net revenue greater than $2 billion, the Network's service area includes 11 counties: Lehigh, Northampton, Berks, Bucks, Carbon, Montgomery, Monroe, Schuylkill and Luzerne counties in Pennsylvania and Warren and Hunterdon counties in New Jersey. Dedicated to advancing medical education, St. Luke's is the preeminent teaching hospital in central-eastern Pennsylvania. In partnership with Temple University, St. Luke's created the Lehigh Valley's first and only regional medical school campus. It also operates the nation's longest continuously operating School of Nursing, established in 1884, and 34 fully accredited graduate medical educational programs with 263 residents and fellows. St. Luke's is the only Lehigh Valley-based health care system with Medicare's five- and four-star ratings (the highest) for quality, efficiency and patient satisfaction. St. Luke's is both a Leapfrog Group and Healthgrades Top Hospital and a Newsweek World's Best Hospital. In 2019, three of IBM Watson Health's 100 Top Hospitals were St. Luke's hospitals. St. Luke's University Hospital has earned the 100 Top Major Teaching Hospital designation from IBM Watson Health seven times total and five years in a row. St. Luke's has also been cited by IBM Watson Health as a 50 Top Cardiovascular Program. Utilizing the Epic electronic medical record (EMR) system for both inpatient and outpatient services, the Network is a multi-year recipient of the Most Wired award recognizing the breadth of the SLUHN's information technology applications such as telehealth, online scheduling and online pricing information. St. Luke's is also recognized as one of the state's lowest cost providers.