News
St. Luke's Discharges 500th Covid-19 Patient!
April 24, 2020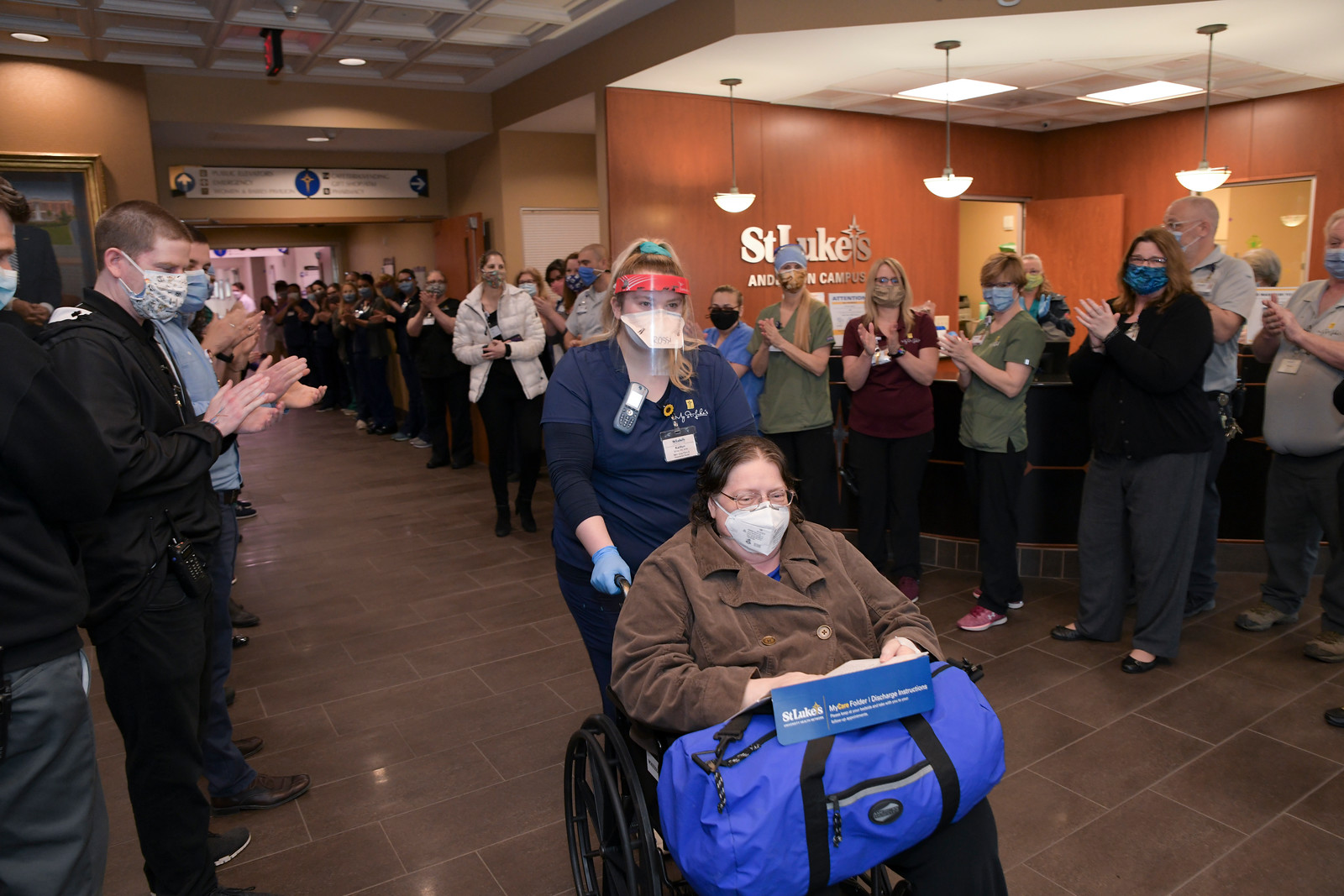 St. Luke's University Health Network discharged its 500th covid-19 patient Friday afternoon!
Debra Kannapel, 60, of Freemansburg, Pa., left St. Luke's Anderson Campus to the applause of staff as the Rocky theme song played over the intercom.
See video here: https://vimeo.com/411531249/da6935457d
Among the patients St. Luke's has discharged are many who were on ventilators. St. Luke's has extubated about 50 patients across the Network.
"These remarkable figures reflect the lifesaving care provided by our doctors, nurses and other caregivers and the incredible innovations that have made St. Luke's a national and international leader in the treatment of COVID-19 patients," said infectious disease specialist Jeffrey Jahre, MD, St. Luke's Senior Vice President of Medical Affairs.
Kannapel was admitted to the Anderson Campus hospital in Bethlehem Township on Monday April 20 after presenting to the emergency room. Her test results – back within 90 minutes! – indicated she was covid-19-positive.
St. Luke's has developed a comprehensive medication protocol based on the best evidence available that includes high dose vitamin C, zinc, atorvastatin and steroids. The Network has also developed non-invasive techniques such as high-flow nasal cannula and self-proning maneuvers, where patients spend up to 12 hours a day lying on their stomachs to help distribute oxygen more effectively in the lungs.
The St. Luke's approach proved effective for Kannapel. Her condition improved, allowing her to avoid transfer to the intensive care unit or the assistance of a ventilator to breath.
"My experience here was fantastic, and all of the people are wonderful," Kannapel said as she left St. Luke's Anderson Campus to return home.
###
Media Contact
Sam Kennedy, Corporate Communications Director, 484-526-4134, samuel.kennedy@sluhn.org
About St. Luke's
Founded in 1872, St. Luke's University Health Network (SLUHN) is a fully integrated, regional, non-profit network of more than 15,000 employees providing services at 11 hospitals and 300 outpatient sites. With annual net revenue greater than $2 billion, the Network's service area includes 11 counties: Lehigh, Northampton, Berks, Bucks, Carbon, Montgomery, Monroe, Schuylkill and Luzerne counties in Pennsylvania and Warren and Hunterdon counties in New Jersey. Dedicated to advancing medical education, St. Luke's is the preeminent teaching hospital in central-eastern Pennsylvania. In partnership with Temple University, St. Luke's created the Lehigh Valley's first and only regional medical school campus. It also operates the nation's longest continuously operating School of Nursing, established in 1884, and 34 fully accredited graduate medical educational programs with 263 residents and fellows. St. Luke's is the only Lehigh Valley-based health care system with Medicare's five- and four-star ratings (the highest) for quality, efficiency and patient satisfaction. St. Luke's is both a Leapfrog Group and Healthgrades Top Hospital and a Newsweek World's Best Hospital. In 2019, three of IBM Watson Health's 100 Top Hospitals were St. Luke's hospitals. St. Luke's University Hospital has earned the 100 Top Major Teaching Hospital designation from IBM Watson Health seven times total and five years in a row. St. Luke's has also been cited by IBM Watson Health as a 50 Top Cardiovascular Program. Utilizing the Epic electronic medical record (EMR) system for both inpatient and outpatient services, the Network is a multi-year recipient of the Most Wired award recognizing the breadth of the SLUHN's information technology applications such as telehealth, online scheduling and online pricing information. St. Luke's is also recognized as one of the state's lowest cost providers.