News
St. Luke's Cancer Center Offers Innovative SpaceOAR Hydrogel for Prostate Cancer Patients
September 22, 2020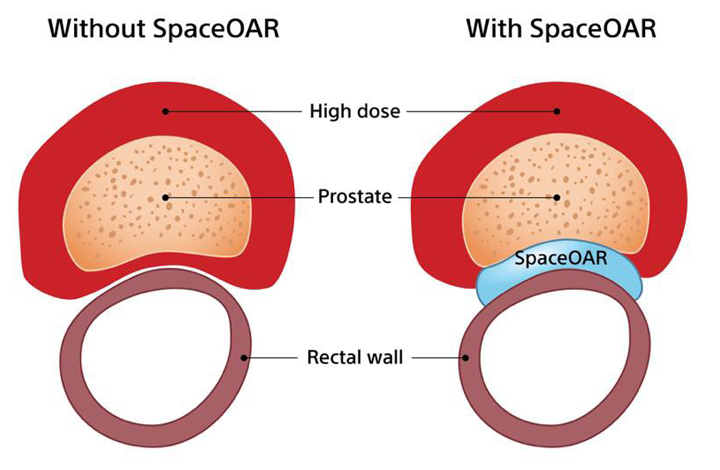 SpaceOAR Hydrogel is clinically shown to help reduce risk of side effects after radiation treatment.
St. Luke's Cancer Center announced it has added a pre-treatment option, SpaceOAR™ Hydrogel – the first and only FDA-cleared spacer to help reduce the radiation dose delivered to the rectum of men undergoing radiation treatment for prostate cancer. SpaceOAR is aimed at reducing rectal complications and helping patients to maintain their quality of life after radiation treatment.
Because of the proximity of the prostate to the rectum, prostate radiation therapy can cause unintended damage to the rectum, which can lead to fecal incontinence issues or other long-lasting side effects. SpaceOAR Hydrogel is an absorbable gel inserted via a minimally invasive procedure that creates a temporary space between the prostate and the rectum – allowing the doctor to complement the patient's radiation treatment to better target their cancer while preserving healthy tissue. The hydrogel spacer remains in place for about three months. After about six months, the hydrogel is naturally absorbed and cleared from the body in the patient's urine.
"SpaceOAR is an important advance that reduces radiation dose to the rectum during radiation treatments to help prevent unwanted side effects," said Nimisha Deb, MD, Chief of Radiation Oncology for St. Luke's. "We understand that men diagnosed with prostate cancer may have some difficult decisions to make, but knowing that an option like SpaceOAR Hydrogel can help limit the risk of damage to other organs during radiation treatment will hopefully make a few of those decisions easier."
Prostate cancer is the most common cancer in American men, with more than 183,000 new cases diagnosed each year.1 More than 60,000 American men opt to treat their prostate cancer with radiation every year.2 In a randomized clinical study men who underwent radiation therapy without SpaceOAR Hydrogel were eight times more likely to experience a decline in bowel, urinary and sexual function when compared to men who underwent radiation therapy with SpaceOAR Hydrogel, at a median follow-up of three years.3,4
"We are recommending SpaceOAR Hydrogel for many of our prostate cancer patients," shares Richard Lieberman, MD, urologist with St. Luke's University Health Network. "It's a very quick and easy procedure to place the gel, and the benefits are tremendous."
FDA clearance was granted for SpaceOAR Hydrogel following completion of a prospective, multicenter, randomized clinical trial. SpaceOAR patients experienced a significant reduction in rectal radiation dose and severity of late rectal toxicity when compared to control patients who did not receive SpaceOAR Hydrogel. The full pivotal clinical trial results have been published in the peer-reviewed Red Journal.5
For more information, visit www.sluhn.org/cancer or SpaceOAR.com.
SpaceOAR™ Hydrogel is now available for prostate cancer patients being treated at St. Luke's Cancer Center.
SpaceOAR Hydrogel is an absorbable, injectable gel that helps to reduce the radiation dose delivered to the rectum in men undergoing radiation therapy for prostate cancer, decreasing the likelihood of side effects.
1. Key Statistics for Prostate Cancer. American Cancer Society. https://www.cancer.org/cancer/prostate-cancer/about/key-statistics.html. Accessed February 13, 2019.
2. Treatment for Prostate Cancer: External-Beam Radiation Therapy. Prostate Cancer Foundation. https://www.pcf.org/c/treatment-for-prostate-cancer-external-beam-radiation- therapy/. Accessed February 13, 2019.
3. Hamstra DA, Mariados N, Sylvester J, et al. Continued benefit to rectal separation for prostate radiation therapy: Final results of a phase III trial. Int J Radiat Oncol Biol Phys. 2017. Apr 1;97(5):976-85.
4. Hamstra D, Shah D, Kurtzman S, et al. Evaluation of sexual function on a randomized trial of a prostate rectal spacer. J Clin Oncol. 2017 February 20;35(Suppl 6):69.
5. Mariados N, Sylvester J, Shah D, et al. Hydrogel spacer prospective multicenter randomized controlled pivotal trial: Dosimetric and clinical effects of perire ctal spacer application in men undergoing prostate image guided intensity modulated radiation therapy. Int J Radiat Oncol Biol Phys. 2015 Aug 1;92(5):971-7.