News
St. Luke's First in Region to Offer New Device to Help Failing Hearts 'Squeeze'
October 15, 2020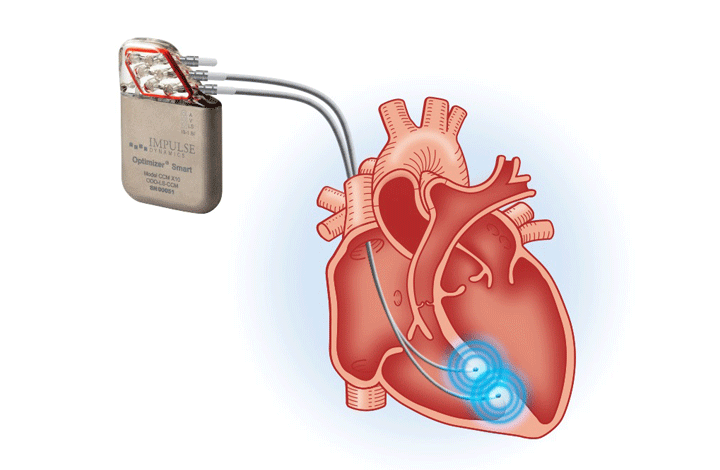 St. Luke's patients with weakened hearts may soon find hope in a new pacemaker-like device that prompts the heart muscle to contract more strongly with each beat. Specialists at the Heart and Vascular Center soon will begin implanting the Optimizer system in patients whose failing hearts continue to worsen despite their receiving optimum medical therapy.
St. Luke's is the first hospital in northeastern Pennsylvania -- and one of the first in the country -- to provide this innovative, first-of-its kind treatment for debilitating heart failure.
The Optimizer consists of a small electrical generator, surgically implanted under the skin of the upper chest, and two metal wires, or leads, that are inserted into the lower heart chamber, called the ventricle. Generator pulses timed precisely to heartbeats provide "cardiac contractility modulation," (CCM™) a proprietary clinically proven, new, FDA-approved heart failure therapy that helps the heart squeeze oxygen-rich blood out of the heart to the rest of the body.
"This treatment is a game-changer for heart failure patients who have advanced symptoms and a very poor prognosis," says Steve Stevens, MD, St. Luke's cardiologist and heart rhythm specialist, who will implant the first device at the network. Dr. Stevens' Heart & Vascular Center colleagues Darren Traub, DO, Sudip Nanda, MD, and Hardik Mangrolia, MD, will also perform this life-changing procedure.
"According to extensive research, the Optimizer improves quality of life, changes one's outlook and has the potential to significantly reduce deaths from Class III heart failure," adds Dr. Stevens.
Heart failure is a vexing, debilitating and often fatal condition in which the heart muscle, weakened following a heart attack or years of high blood pressure, worsens and is unable to adequately supply oxygen-rich blood to the body. It affects an estimated 6.5 million Americans and nearly 26 million people worldwide. About 7000,000 U.S. patients with Class III heart failure, whose medicines fail to relieve their life-limiting symptoms, could benefit from the Optimizer system.
Persons suffering with advanced heart failure often struggle with progressively worsening symptoms that include reduced energy, shortness of breath and frequent hospitalizations as their heart pumping function or "ejection fraction" declines. A normal ejection fraction is 60 percent.
According to Dr. Stevens, patients with an ejection fraction of 25-45 percent, who don't get sufficient relief from their medicines, would likely be candidates for the Optimizer device.
This breakthrough heart-improvement technology, FDA approved in 2019, has been clinically shown not only to relieve symptoms but also to help the heart muscle strengthen over time, much in the way a person's physical exercise enhances their muscle tone and work capacity.
Dr. Stevens and his fellow cardiologist/electrophysiologists will implant the battery-powered device in a sterile, operating room-like environment. Following an overnight stay in the hospital, the patient will be discharged home and soon begin to experience better heart health, including more energy and lifted spirits, he says. The generator must be recharged weekly, which is done at home by the patient.
Media Contact:
Sam Kennedy, Corporate Communications Director,
484-526-4134,
samuel.kennedy@sluhn.org
About St. Luke's
Founded in 1872, St. Luke's University Health Network (SLUHN) is a fully integrated, regional, non-profit network of more than 16,000 employees providing services at 12 hospitals and 300+ outpatient sites. With annual net revenue greater than $2 billion, the Network's service area includes 11 counties: Lehigh, Northampton, Berks, Bucks, Carbon, Montgomery, Monroe, Schuylkill and Luzerne counties in Pennsylvania and Warren and Hunterdon counties in New Jersey. Dedicated to advancing medical education, St. Luke's is the preeminent teaching hospital in central-eastern Pennsylvania. In partnership with Temple University, St. Luke's created the Lehigh Valley's first and only regional medical school campus. It also operates the nation's longest continuously operating School of Nursing, established in 1884, and 38 fully accredited graduate medical educational programs with 347 residents and fellows. St. Luke's is the only Lehigh Valley-based health care system to earn Medicare's five- and four-star ratings (the highest) for quality, efficiency and patient satisfaction. St. Luke's is both a Leapfrog Group and Healthgrades Top Hospital and a Newsweek World's Best Hospital. U.S. News & World Report ranked St. Luke's #1 in the Lehigh Valley and #6 in the state. Two of IBM Watson Health's 100 Top Hospitals are St. Luke's hospitals. St. Luke's University Hospital has earned the 100 Top Major Teaching Hospital designation from IBM Watson Health eight times total and six years in a row. St. Luke's has also been cited by IBM Watson Health as a 50 Top Cardiovascular Program. Utilizing the Epic electronic medical record (EMR) system for both inpatient and outpatient services, the Network is a multi-year recipient of the Most Wired award recognizing the breadth of the SLUHN's information technology applications such as telehealth, online scheduling and online pricing information. St. Luke's is also recognized as one of the state's lowest cost providers.