News
Olympic Hopeful Mandy Marquardt Partners with St. Luke's on Diabetes Awareness
June 18, 2020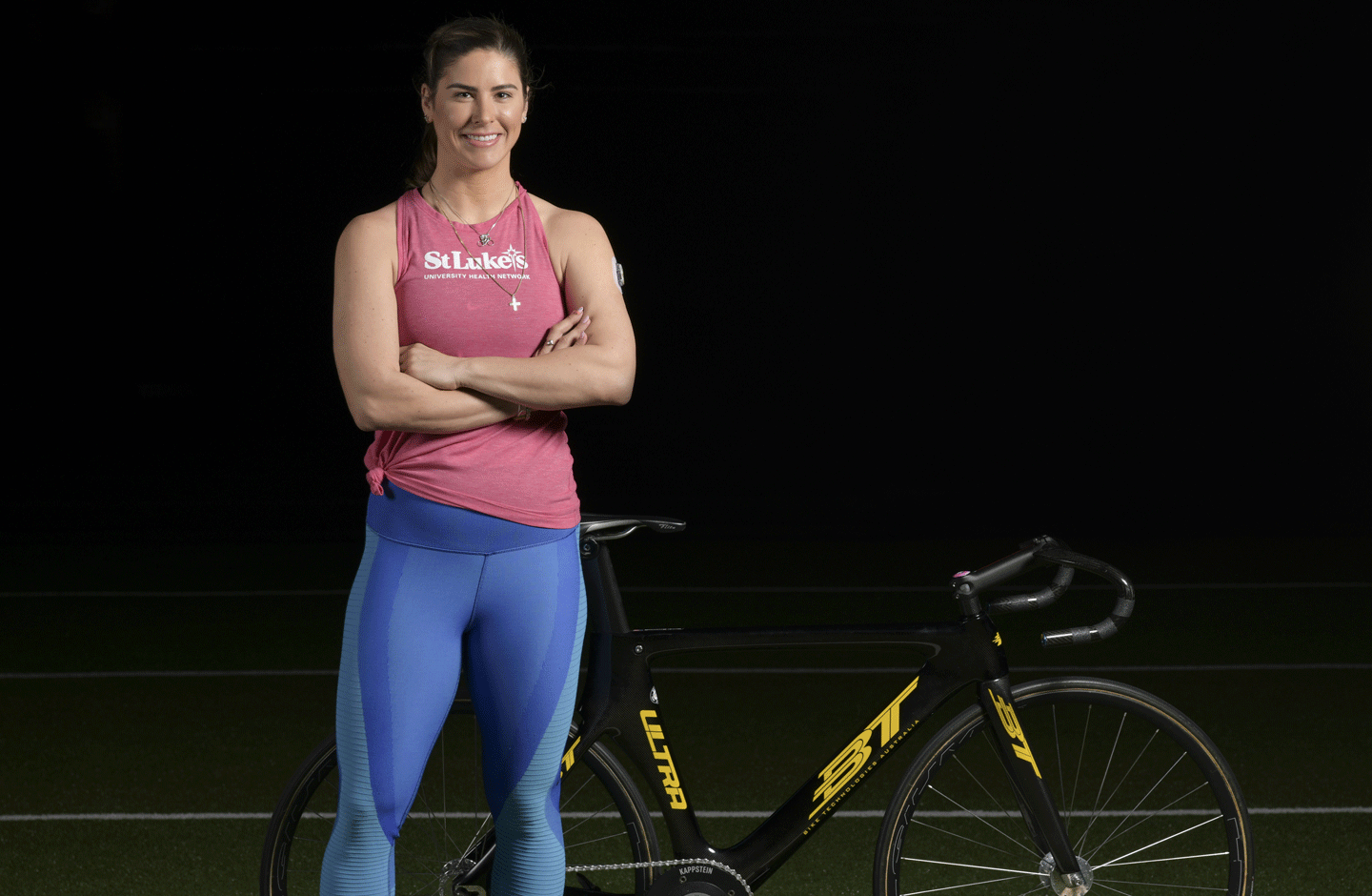 Mandy Marquardt, an 18-time U.S. national champion track cyclist and an Olympic hopeful for Tokyo 2020 who moved to the Lehigh Valley as a teenager, is proudly partnering with St. Luke's University Health Network to help promote diabetes awareness, women's sport and a healthy, active fit lifestyle.
"I am confirmed as a member of the Long Team for Women's Track, with the final selection to be determined in late spring of 2021," Marquardt says. "Great news and one step closer to hopefully making the final team and inspiring more people affected by diabetes!"
Marquardt, a two-time American record holder, rides for the USA Cycling National Team and Team Novo Nordisk, the world's first all-diabetes professional cycling team. She was diagnosed with Type 1 diabetes as a 16-year-old just as her career as a national-level track cyclist was beginning to take off. She has been an active champion for diabetes education and awareness nationally and internationally through her team, and through local events in the Lehigh Valley region.
"She was doing a local camp that involved children with diabetes, helping out and promoting education, and we were looking to do more in that space," said John Hauth, Senior Network Administrator, Sports Medicine Relations, for St. Luke's.
"She was already collaborating with one of our young athletes, swimmer Carly Lenett, and the two of them already had a connection," Hauth said. "The synergies were already in place. Mandy is passionate about promoting diabetes awareness as well as how exercise and fitness drive our for Fit For Life philosophy."
Marquardt, 28, is the newest St. Luke's Sports Ambassador, a program where exemplary local athletes help represent fitness in the community. She competes in the keirin and match sprints in track cycling, riding a bike with no brakes on a steeply banked oval track right here in the Lehigh Valley and worldwide.
She is also the third female Olympic hopeful to partner with St. Luke's, joining weightlifter Jillian Seamon (an athletic trainer with St. Luke's) and Easton native Chanelle Price, an 800-meter specialist in track and field.
"It's a very important message to have someone of Mandy's athletic level be able to reach the community with her message about diabetes," Hauth said. "She is joining a pretty select team here at St. Luke's with Chanelle Price and Jillian Seamon. We have three Olympic-caliber female athletes eager to spread our Fit For Life philosophy. Our goal is to ramp up our work with female athletes and promote physical activity among the entire female population."
Marquardt said her role with St. Luke's provides an ideal opportunity to give back to the community that supported her since she moved to the Lehigh Valley as a teenager to pursue her dreams in track cycling as well as her education. She graduated in 2014 with Bachelors in Business Management and Marketing from Penn State Lehigh Valley.
"I wanted to get more involved with the local diabetes community," Marquardt said. "Cycling is a big part of the community and I'm proud to call the Lehigh Valley home, training with Edge Cycling and Coach/Director, Andrew Harris. I feel very fortunate that I get to do what I love, and it brings me joy to continue to use my platform to inspire, educate and empower people affected by diabetes.
"I want to let children and adults know that having a chronic illness like diabetes should never limit you from doing what you love and achieving your dreams. Some kids and parents may see it as a potential setback, but we hope that through my efforts with St. Luke's, we can change that mindset."
Marquardt said that when she was first diagnosed with Type 1 diabetes in Germany, a doctor told her she would never be able to compete at a high level. She found the bike to always be her happy place and joining a team with other cyclists living with type 1 diabetes was a turning point.
"I have come across many supportive and compassionate doctors within the St. Luke's system," she said. "I'm thankful to have grown to have a positive outlook, as well as the knowledge and resources I do now to manage my diabetes, which allows me train and race at my fullest potential."
"I'm really excited to partner with St. Luke's and I'm very grateful for the opportunity," Marquardt said. "It's really fitting that they want to support female athletes and I'm inspired by Jillian and Chanelle. I'm looking forward to a new adventure within my community and to grow with St. Luke's. I believe the diabetes community is stronger working together, and I'm excited to continue spreading that message."
###
Media Contact:
Sam Kennedy, Corporate Communications Director, 484-526-4134, samuel.kennedy@sluhn.org
About St. Luke's
Founded in 1872, St. Luke's University Health Network (SLUHN) is a fully integrated, regional, non-profit network of more than 15,000 employees providing services at 11 hospitals and 300 outpatient sites. With annual net revenue greater than $2 billion, the Network's service area includes 11 counties: Lehigh, Northampton, Berks, Bucks, Carbon, Montgomery, Monroe, Schuylkill and Luzerne counties in Pennsylvania and Warren and Hunterdon counties in New Jersey. Dedicated to advancing medical education, St. Luke's is the preeminent teaching hospital in central-eastern Pennsylvania. In partnership with Temple University, St. Luke's created the Lehigh Valley's first and only regional medical school campus. It also operates the nation's longest continuously operating School of Nursing, established in 1884, and 34 fully accredited graduate medical educational programs with 263 residents and fellows. St. Luke's is the only Lehigh Valley-based health care system with Medicare's five- and four-star ratings (the highest) for quality, efficiency and patient satisfaction. St. Luke's is both a Leapfrog Group and Healthgrades Top Hospital and a Newsweek World's Best Hospital. In 2019, three of IBM Watson Health's 100 Top Hospitals were St. Luke's hospitals. St. Luke's University Hospital has earned the 100 Top Major Teaching Hospital designation from IBM Watson Health seven times total and five years in a row. St. Luke's has also been cited by IBM Watson Health as a 50 Top Cardiovascular Program. Utilizing the Epic electronic medical record (EMR) system for both inpatient and outpatient services, the Network is a multi-year recipient of the Most Wired award recognizing the breadth of the SLUHN's information technology applications such as telehealth, online scheduling and online pricing information. St. Luke's is also recognized as one of the state's lowest cost providers.