News
Novel Coronavirus FAQ
February 28, 2020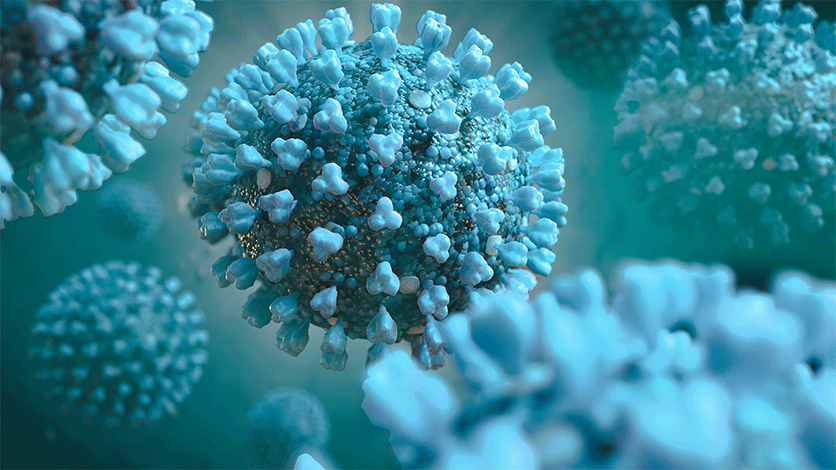 Q: What is a novel coronavirus?
A: A novel coronavirus is a new coronavirus that has not been previously identified. The virus causing coronavirus disease 2019 (COVID-19), is not the same as the coronaviruses that commonly circulate among humans and cause mild illness, like the common cold.
A diagnosis with coronavirus 229E, NL63, OC43, or HKU1 is not the same as a COVID-19 diagnosis. Patients with COVID-19 will be evaluated and cared for differently than patients with common coronavirus diagnosis.
Q: Why is the disease causing the outbreak now being called coronavirus disease 2019, COVID-19?
A: On February 11, 2020 the World Health Organization announced an official name for the disease that is causing the 2019 novel coronavirus outbreak, first identified in Wuhan China. The new name of this disease is coronavirus disease 2019, abbreviated as COVID-19. In COVID-19, 'CO' stands for 'corona,' 'VI' for 'virus,' and 'D' for disease. Formerly, this disease was referred to as "2019 novel coronavirus" or "2019-nCoV."
There are many types of human coronaviruses including some that commonly cause mild upper-respiratory tract illnesses. COVID-19 is a new disease, caused be a novel (or new) coronavirus that has not previously been seen in humans. The name of this disease was selected following the World Health Organization (WHO) best practice external icon for naming of new human nfectious diseases.
Q: What is the name of the virus causing the outbreak of coronavirus disease starting in 2019?
A: On February 11, 2020, the International Committee on Taxonomy of Viruses, charged with naming new viruses, named the novel coronavirus, first identified in Wuhan, China, severe acute respiratory syndrome coronavirus 2, shortened to SARS-CoV-2.
As the name indicates, the virus is related to the SARS-associated coronavirus (SARS-CoV) that caused an outbreak of severe acute respiratory syndrome (SARS) in 2002-2003, however it is not the same virus.
Q: What is the source of COVID-19?
A: Coronaviruses are a large family of viruses. Some cause illness in people, and others, such as canine and feline coronaviruses, only infect animals. Rarely, animal coronaviruses that infect animals have emerged to infect people and can spread between people. This is suspected to have occurred for the virus that causes COVID-19. Middle East Respiratory Syndrome (MERS) and Severe Acute Respiratory Syndrome (SARS) are two other examples of coronaviruses that originated from animals and then spread to people. More information about the source and spread of COVID-19 is available on the Situation Summary: Source and Spread of the Virus.
Q: How does the virus causing Coronavirus Disease-2019 (COVID-19), spread?
A: This virus was first detected in Wuhan City, Hubei Province, China. The first infections were linked to a live animal market, but the virus is now spreading from person-to-person. It's important to note that person-to-person spread can happen on a continuum. Some viruses are highly contagious (like measles), while other viruses are less so. Currently, it's unclear how easily or sustainably this virus is spreading between people. Learn what is known about the spread of newly emerged coronaviruses.
Q: Can someone who has had COVID-19 spread the illness to others?
A: The virus that causes COVID-19 is spreading from person-to-person. Someone who is actively sick with COVID-19 can spread the illness to others. That is why CDC recommends that these patients be isolated either in the hospital or at home (depending on how sick they are) until they are better and no longer pose a risk of infecting others.
How long someone is actively sick can vary so the decision on when to release someone from isolation is made on a case-by-case basis in consultation with doctors, infection prevention and control experts, and public health officials and involves considering specifics of each situation including disease severity, illness signs and symptoms, and results of laboratory testing for that patient.
Current CDC guidance for when it is OK to release someone from isolation is made on a case by case basis and includes meeting all of the following requirements:
The patient is free from fever without the use of fever-reducing medications.
The patient is no longer showing symptoms, including cough.
The patient has tested negative on at least two consecutive respiratory specimens collected at least 24 hours apart.
Someone who has been released from isolation is not considered to pose a risk of infection to others.
Q: Can someone who has been quarantined for COVID-19 spread the illness to others?
A: Quarantine means separating a person or group of people who have been exposed to a contagious disease but have not developed illness (symptoms) from others who have not been exposed, in order to prevent the possible spread of that disease. Quarantine is usually established for the incubation period of the communicable disease, which is the span of time during which people have developed illness after exposure. For COVID-19, the period of quarantine is 14 days from the last date of exposure, because 14 days is the longest incubation period seen for similar coronaviruses. Someone who has been released from COVID-19 quarantine is not considered a risk for spreading the virus to others because they have not developed illness during the incubation period.
Q: Why might someone blame or avoid individuals and groups (create stigma) because of COVID-19?
A. People in the U.S. may be worried or anxious about friends and relatives who are living in or visiting areas where COVID-19 is spreading. Some people are worried about the disease. Fear and anxiety can lead to social stigma, for example, towards Chinese or other Asian Americans or people who were in quarantine. Stigma is discrimination against an identifiable group of people, a place, or a nation. Stigma is associated with a lack of knowledge about how COVID-19 spreads, a need to blame someone, fears about disease and death, and gossip that spreads rumors and myths.
Stigma hurts everyone by creating more fear or anger towards ordinary people instead of the disease that is causing the problem.
Q: How can people help stop stigma related to COVID-19?
A: People can fight stigma and help, not hurt, others by providing social support. Counter stigma by learning and sharing facts. Communicating the facts that viruses do not target specific racial or ethnic groups and how COVID-19 actually spreads can help stop stigma.
Q: Is the coronavirus that causes COVID-19 the same as the MERS-CoV or the SARS-CoV virus?
A: No. Coronaviruses are a large family of viruses. Some coronaviruses cause cold-like illnesses in people. Others cause illness in certain types of animals, such as cattle, camels and bats. Rarely, animal coronaviruses can spread to people. This happened with SARS-CoV and MERS-CoV. The virus that causes COVID-19 likely also originated in an animal and spread to humans. The coronavirus most similar to the virus causing COVID-19 is SARS-CoV. There are ongoing investigations to learn more. The situation is changing, and information will be updated as it becomes available.
Prevention
Q: How can I help protect myself?
A: Visit the COVID-19 Prevention and Treatment page to learn about how to protect yourself from respiratory illnesses, like COVID-19.
Q: What should I do if I had close contact with someone who has COVID-19?
A: There is information for people who have had close contact with a person confirmed to have, or being evaluated for, COVID-19 available online.
Q: Does CDC recommend the use of facemask in the community to prevent COVID-19?
A: CDC does not recommend that people who are well wear a facemask to protect themselves from respiratory illnesses, including COVID-19. You should only wear a mask if a healthcare professional recommends it. A facemask should be used by people who have COVID-19 and are showing symptoms. This is to protect others from the risk of getting infected. The use of facemasks also is crucial for health workers and other people who are taking care of someone infected with COVID-19 in close settings (at home or in a health care facility).
Medical Information
Q: What are the symptoms and complications that COVID-19 can cause?
A: Current symptoms reported for patients with COVID-19 have included mild to severe respiratory illness with fever1, cough, and difficulty breathing. Read about COVID-19 Symptoms.
Q: Should I be tested for COVID-19?
A: If you develop a fever and symptoms of respiratory illness, such as cough or shortness of breath, within 14 days after travel from China, you should call ahead to a healthcare professional and mention your recent travel or close contact. If you have had close contact with someone showing these symptoms who has recently traveled from this area, you should call ahead to a healthcare professional and mention your close contact and their recent travel. Your healthcare professional will work with your state's public health department and CDC to determine if you need to be tested for COVID-19.
Q: Can a person test negative and later test positive for COVID-19?
A: Using the CDC-developed diagnostic test, a negative result means that the virus that causes COVID-19 was not found in the person's sample. In the early stages of infection, it is possible the virus will not be detected.
For COVID-19, a negative test result for a sample collected while a person has symptoms likely means that the COVID-19 virus is not causing their current illness.
* Source: CDC
About St. Luke's
Founded in 1872, St. Luke's University Health Network (SLUHN) is a fully integrated, regional, non-profit network of more than 15,000 employees providing services at 11 hospitals and 300 outpatient sites. With annual net revenue greater than $2 billion, the Network's service area includes 11 counties: Lehigh, Northampton, Berks, Bucks, Carbon, Montgomery, Monroe, Schuylkill and Luzerne counties in Pennsylvania and Warren and Hunterdon counties in New Jersey. Dedicated to advancing medical education, St. Luke's is the preeminent teaching hospital in central-eastern Pennsylvania. In partnership with Temple University, St. Luke's created the Lehigh Valley's first and only regional medical school campus. It also operates the nation's longest continuously operating School of Nursing, established in 1884, and 34 fully accredited graduate medical educational programs with 263 residents and fellows. St. Luke's is the only Lehigh Valley-based health care system with Medicare's five- and four-star ratings (the highest) for quality, efficiency and patient satisfaction. St. Luke's is both a Leapfrog Group and Healthgrades Top Hospital and a Newsweek World's Best Hospital. In 2019, three of IBM Watson Health's 100 Top Hospitals were St. Luke's hospitals. St. Luke's University Hospital has earned the 100 Top Major Teaching Hospital designation from IBM Watson Health seven times total and five years in a row. St. Luke's has also been cited by IBM Watson Health as a 50 Top Cardiovascular Program. Utilizing the Epic electronic medical record (EMR) system for both inpatient and outpatient services, the Network is a multi-year recipient of the Most Wired award recognizing the breadth of the SLUHN's information technology applications such as telehealth, online scheduling and online pricing information. St. Luke's is also recognized as one of the state's lowest cost providers.