News
New Plastic and Reconstructive Surgeon
August 27, 2020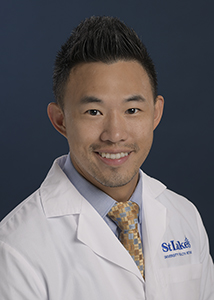 Jonathan Lam, MD, has joined the team at St. Luke's Plastic and Reconstructive Surgery. Fellowship trained in cosmetic surgery, Dr. Lam performs both reconstructive and aesthetic procedures.
"I provide the entire breadth of services for reconstruction and cosmetics," he explains.
"My special interests include microsurgical breast reconstruction, post-bariatric body contouring, and all cosmetic procedures, including facial rejuvenation, breast augmentations and lifts, abdominoplasties and non-surgical injectables."
Dr. Lam collaborates with his patients to provide the best care possible, which fits with the mission of St. Luke's Plastic and Reconstructive Surgery.
"Dr. Lam recognizes the unique needs of each patient to ensure they are treated with compassion and respect, in a comfortable, safe environment," says Crystal Corredera, practice administrator, St. Luke's Plastic and Reconstructive Surgery.
"He spends the time necessary to understand and address each patient's individual goals and concerns through open discussions grounded in trust and mutual respect. He helps each patient select the procedure or treatment that is right for them and provides compassionate care and guidance along the way."
A graduate of the Penn State College of Medicine, Dr. Lam completed a six-year, integrated plastic surgery residency at Louisiana State University Health Sciences Center in New Orleans. His training was comprehensive in all aspects of aesthetic and reconstructive procedures.
Dr. Lam decided to further advance his cosmetic surgery training and subsequently completed two additional aesthetic surgery fellowships. Prior to his plastic surgery training, he completed his general surgery internship at East Carolina University and a burn fellowship at Johns Hopkins University Bayview Medical Center.
Outside of medicine, Dr. Lam's hobbies include art, sports, traveling, and maintaining an active, healthy lifestyle.
St. Luke's Plastic and Reconstructive Surgery has several locations throughout the Lehigh Valley region to offer outstanding care that is convenient for its patients. To make an appointment with Dr. Lam or any of our providers, call 484-526-1260.
St. Luke's Plastic and Reconstructive Surgery
74 W Broad Street
Suite 170
Bethlehem, PA 18018
Phone: 484-526-1260
St. Luke's Plastic and Reconstructive Surgery
St. Luke's Hospital - Quakertown Campus
1021 Park Avenue
Suite 30
Quakertown, PA 18951
Phone: 484-526-1260
St. Luke's Plastic and Reconstructive Surgery
St. Luke's Hospital - Anderson Campus
1700 St. Luke's Boulevard
Suite 400
Easton, PA 18045
Phone: 484-526-1260
St. Luke's Plastic and Reconstructive Surgery
1581 North 9th Street
Stroudsburg, PA 18360
Phone: 484-526-1260
St. Luke's Plastic and Reconstructive Surgery
St. Luke's West End Medical Center
501 Cetronia Road
Suite 135
Allentown, PA 18104
Phone: 484-526-1260