News
Lehighton Auxiliary Presents Donation for New Carbon Campus
October 13, 2020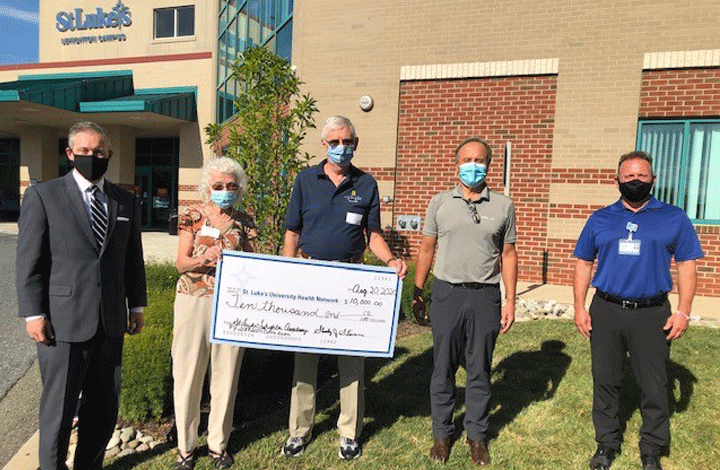 Pictured: (left to right) Judge Steven Serfass (St. Luke's Carbon Board Chairman), Shirley Stamm (Lehighton Auxiliary Treasurer), Ken Esrang (Lehighton Auxiliary President), John Nespoli (President, Lehighton and Carbon Campuses), Joe Pinto (COO, Sacred Heart and Lehighton Campuses)
The Lehighton Auxiliary presented a $10,000 check to St. Luke's University Health Network for the Carbon Campus Capital Fund. Auxiliary members Ken Esrang and Shirley Stamm presented the check to Judge Steven Serfass, St. Luke's Carbon board chairman, John Nespoli, president of Lehighton and Carbon Campuses and Joe Pinto, COO of Sacred Heart and Lehighton Campuses.
The funds from the Lehighton Auxiliary donation will be used to advance the development of the new St. Luke's Carbon Campus in Franklin Township, projected to open in early 2022.
"We are thrilled that the Lehighton Auxiliary came together in the midst of a pandemic to make a very generous gift to the hospital," says John Nespoli, president, St. Luke's Lehighton & Carbon Campuses. "We appreciate all that the members of the Auxiliary have done for us over the years; they have added great positive energy and a sense of community to our great hospital."
Despite the loss of almost five months of gift shop sales and lobby-based fundraising due to the pandemic, the Lehighton Campus Auxiliary was still able to make a $10,000 gift that will go towards the hospital's "Keeping Care Close to Home" capital campaign.
"Everyone here at St. Luke's Lehighton Campus, including our beloved Lehighton Auxiliary volunteers, has been working hard on our Network's "PCRAFT" (Pride, Caring, Respect, Accountability, Flexibility and Teamwork) values," says Joe Guardiani, director of development, St. Luke's Carbon, Lehighton, Miners & Monroe Campuses. "These volunteers take those values to heart because they love their community and the hospital they serve. We look forward to bringing them, along with the St. Luke's Palmerton Auxiliary, together under the banner of our new St. Luke's Carbon Campus in Franklin Township."
###
Media Contact
Sam Kennedy, Corporate Communications Director, 484-526-4134, samuel.kennedy@sluhn.org
About St. Luke's
Founded in 1872, St. Luke's University Health Network (SLUHN) is a fully integrated, regional, non-profit network of more than 16,000 employees providing services at 12 hospitals and 300+ outpatient sites. With annual net revenue greater than $2 billion, the Network's service area includes 11 counties: Lehigh, Northampton, Berks, Bucks, Carbon, Montgomery, Monroe, Schuylkill and Luzerne counties in Pennsylvania and Warren and Hunterdon counties in New Jersey. Dedicated to advancing medical education, St. Luke's is the preeminent teaching hospital in central-eastern Pennsylvania. In partnership with Temple University, St. Luke's created the Lehigh Valley's first and only regional medical school campus. It also operates the nation's longest continuously operating School of Nursing, established in 1884, and 38 fully accredited graduate medical educational programs with 347 residents and fellows. St. Luke's is the only Lehigh Valley-based health care system to earn Medicare's five- and four-star ratings (the highest) for quality, efficiency and patient satisfaction. St. Luke's is both a Leapfrog Group and Healthgrades Top Hospital and a Newsweek World's Best Hospital. U.S. News & World Report ranked St. Luke's #1 in the Lehigh Valley and #6 in the state. Two of IBM Watson Health's 100 Top Hospitals are St. Luke's hospitals. St. Luke's University Hospital has earned the 100 Top Major Teaching Hospital designation from IBM Watson Health eight times total and six years in a row. St. Luke's has also been cited by IBM Watson Health as a 50 Top Cardiovascular Program. Utilizing the Epic electronic medical record (EMR) system for both inpatient and outpatient services, the Network is a multi-year recipient of the Most Wired award recognizing the breadth of the SLUHN's information technology applications such as telehealth, online scheduling and online pricing information. St. Luke's is also recognized as one of the state's lowest cost providers.