News
St. Luke's Heart and Vascular Center Rated "High Performing" By U.S. News
October 07, 2020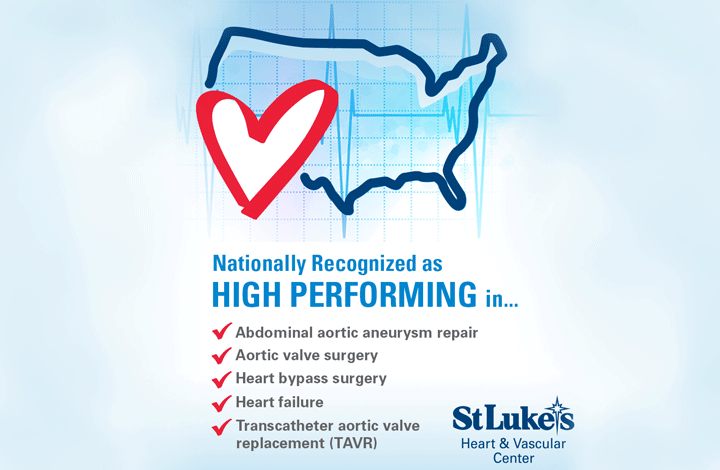 St. Luke's has earned US News & World Report's 2020 "high performing" ratings in the following categories:
Abdominal aortic aneurysm (AAA) repair
Aortic valve surgery
Heart bypass surgery
Heart failure
Transcatheter aortic valve replacement (TAVR)
There's a reason national healthcare quality rating agencies collect, examine and publish the outcomes of the treatment of complex heart and vascular conditions: heart disease is the number one cause of death in the U.S. and among the most costly to treat. Heart care involves some of the most complex and demanding procedures in medicine, requiring years of training and experience by these specialists, as well as collaboration and support from the teams of professionals who work together to provide high-quality results.
This year's U.S. News & World Report five "high performing" ratings confirm why St. Luke's Heart and Vascular Center ranks the highest in the Lehigh Valley and favorably among their peers nationally. Our physicians' vast knowledge, excellent skills and lengthy experience reflect the extraordinary talents unrivaled in the Lehigh Valley. The ratings reflect high patient survival, low infection and readmission rates, favorable patient experience, technology availability and more variables.
Here's why St. Luke's Heart and Vascular Center achieved this outstanding distinction: It starts with an excellent and skilled team, says Raymond Durkin, MD, Network Chairman for Cardiovascular Medicine. "Our doctors and staff have extensive experience. They are well-educated and talented, and they work well work together, treating a high volume of patients. By covering 10 hospitals and 25 offices throughout the St. Luke's Network, our doctors treat a high volume of patients from basic preventative care to life saving procedures and surgeries. In fact, we do the most in the region."
Whether they're considering heart bypass surgery or a valve repair or replacement procedure, the team of cardiologists, interventional cardiologists and cardiothoracic surgeons at St. Luke's collaborates and confers with each other to review the patients' medical history, symptoms and physical condition and diagnostic studies when deciding which treatment would provide the highest patient benefit.
"Our program performs 700-800 heart surgeries each year, and we often work side-by-side in the office, hospital, operating room or hybrid operating room to achieve the best outcomes with the most precise and least invasive approach," says Stephen Olenchock, DO, chief of cardiothoracic surgery and pioneer of innovative heart valve repair and replacement procedures like Transcatheter Aortic Valve Replacement (TAVR) at St. Luke's. "That results in high survival rates, short lengths of stay and low readmissions, so the patient is happier and with less pain and can return to their desired activities sooner."
Dr. Olenchock and the TAVR team have completed more than 200 non-surgical valve procedures so far this year.
St. Luke's heart failure team comprises board-certified cardiologists, nurse practitioners, physician assistants and nurses who work closely together with their patients to plan their best care path, both medical and surgical. As a result, St. Luke's patients with this widespread condition, which affects all ages, receive first-rate, life-prolonging care, adds Dr. Durkin.
"Heart failure accounts for 2 percent of all healthcare spending nationally, and has a 20 percent readmission rate," he explains. "St. Luke's survival rate is among the best in the U.S. and patient readmission rates are better than the national average for this disease."
The diagnosis and repair of life-threatening abdominal aortic aneurysm (AAA) can be urgent, delicate and demanding. But teamwork, technology and a focus on data enable St. Luke's vascular surgeons and interventional radiologists to excel in this life-saving treatment.
"Using the latest imaging and minimally invasive devices in the hybrid operating room, we are able to provide 80 percent of our AAA patients with endovascular repairs requiring only tiny incisions, which promotes better patient survival, shorter length of stay, low infection rates and a faster healing," says vascular surgeon and medical director of the Vascular Center Jay Fisher, MD, adding, "We always review and share our outcomes data with programs nationwide, so we can learn how to continually improve what we do for the benefit of our patients and our network."
Media Contact:
Sam Kennedy, Corporate Communications Director, 484-526-4134, samuel.kennedy@sluhn.org
About St. Luke's
Founded in 1872, St. Luke's University Health Network (SLUHN) is a fully integrated, regional, non-profit network of more than 16,000 employees providing services at 12 hospitals and 300+ outpatient sites. With annual net revenue greater than $2 billion, the Network's service area includes 11 counties: Lehigh, Northampton, Berks, Bucks, Carbon, Montgomery, Monroe, Schuylkill and Luzerne counties in Pennsylvania and Warren and Hunterdon counties in New Jersey. Dedicated to advancing medical education, St. Luke's is the preeminent teaching hospital in central-eastern Pennsylvania. In partnership with Temple University, St. Luke's created the Lehigh Valley's first and only regional medical school campus. It also operates the nation's longest continuously operating School of Nursing, established in 1884, and 38 fully accredited graduate medical educational programs with 347 residents and fellows. St. Luke's is the only Lehigh Valley-based health care system to earn Medicare's five- and four-star ratings (the highest) for quality, efficiency and patient satisfaction. St. Luke's is both a Leapfrog Group and Healthgrades Top Hospital and a Newsweek World's Best Hospital. U.S. News & World Report ranked St. Luke's #1 in the Lehigh Valley and #6 in the state. Two of IBM Watson Health's 100 Top Hospitals are St. Luke's hospitals. St. Luke's University Hospital has earned the 100 Top Major Teaching Hospital designation from IBM Watson Health eight times total and six years in a row. St. Luke's has also been cited by IBM Watson Health as a 50 Top Cardiovascular Program. Utilizing the Epic electronic medical record (EMR) system for both inpatient and outpatient services, the Network is a multi-year recipient of the Most Wired award recognizing the breadth of the SLUHN's information technology applications such as telehealth, online scheduling and online pricing information. St. Luke's is also recognized as one of the state's lowest cost providers.