News
Geisinger St. Luke's Brings Nationally Recognized Breast Imaging Program to Orwigsburg
July 23, 2020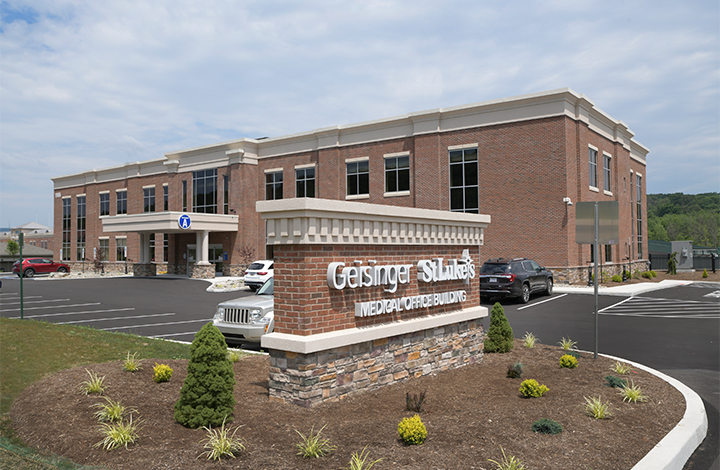 Geisinger St. Luke's is making leading-edge breast diagnostics and imaging more convenient and comfortable for patients in the Schuylkill and Northern Berks County area.
This month Geisinger St. Luke's opened a diagnostic breast imaging facility. Located in the Medical Office Building at 1165 Centre Turnpike Route 61 in Orwigsburg, Geisinger St. Luke's Breast Imaging is specifically designed to serve patients in Schuylkill and surrounding areas who are in need of screening and diagnostic mammograms or advanced breast imaging.
"The new state-of-the-art Geisinger St. Luke's women's imaging suite brings a nationally recognized breast imaging program to Schuylkill and the surrounding community," explains Gabe Kamarousky, Geisinger St. Luke's President.
"We offer the latest 3D breast imaging and screening services in a warm, welcoming atmosphere that is close to home. We understand that most patients have anxiety about getting their mammograms, so we focus on patient comfort and care. Every element of our facility design and program is patient-driven."
Geisinger St. Luke's takes a customized approach to breast screening.
"We develop an individualized screening program for each woman based on her individual risk factors," says Michele Giletto, St. Luke's University Health Network's Director of Women's Imaging. "A combination of carefully chosen exams may lead to a significant increase in early cancer discovery, while decreasing the amount of unnecessary return visits and biopsies."
At Geisinger St. Luke's Breast Imaging, mammograms are performed within the calming surrounds of the SensorySuite®, which is designed to provide a more relaxing mammography experience for women, allowing them to choose the environmental ambiance.
"To support patients in the local community, both screening and diagnostic imaging will be available in the new suite," Giletto says. "In the suite, sights, sounds and smells of the seaside, garden or waterfall encourage a sense of well-being and calm, which aid in reducing some of the awkwardness a patient may feel during a mammogram."
Low-dose 3D mammography provides images of the breast in slices from many different angles, and can find smaller, invasive cancers better than traditional 2D mammograms. This is beneficial to the 40% of women with dense breasts, which can hide cancer on a mammogram and may cause cancer to go undetected.
Other advanced imaging technologies and services available at Geisinger St. Luke's Breast Imaging include:
The Senographe Pristina mammography system, which offers a more comfortable patient experience;
The Dueta patient-assisted compression device, which allows women to control breast compression during THEIR mammogram;
On-site ultrasound-guided breast biopsy and same-day breast biopsy;
Breast MRI; and
Bone-density testing (DEXA) to screen for osteoporosis.
"A team of fellowship-trained breast imagers, as well as dedicated breast sonographers and technologists provide the best clinical and compassionate care available," Giletto says.
"Women who require higher-level diagnostic breast imaging have access to dedicated breast imaging specialists. And, of course, as with all Geisinger and St. Luke's facilities, safety is a top priority. During these extraordinary times, we are taking every measure to keep patients safe during their visit, from masking and screening to thoroughly sanitizing equipment between patients."
To schedule an appointment with Geisinger St. Luke's Breast Imaging, call St. Luke's Central Scheduling toll-free at 800-801-7745.
###
Media Contact:
Sam Kennedy, Corporate Communications Director, 484-526-4134, samuel.kennedy@sluhn.org
About St. Luke's
Founded in 1872, St. Luke's University Health Network (SLUHN) is a fully integrated, regional, non-profit network of 14,000 employees providing services at 10 hospitals and over 300 outpatient sites. With annual net revenue of $1.9 billion, the Network's service area includes 10 counties: Lehigh, Northampton, Berks, Bucks, Carbon, Montgomery, Monroe and Schuylkill counties in Pennsylvania and Warren and Hunterdon counties in New Jersey. Dedicated to advancing medical education, St. Luke's is the preeminent teaching hospital in central-eastern Pennsylvania. In partnership with Temple University, St. Luke's created the region's first and only regional medical school campus. It also operates the nation's longest continuously operating School of Nursing, established in 1884, and 28 fully accredited graduate medical educational programs with 226 residents and fellows. St. Luke's is the only health care system in central-eastern Pennsylvania to earn Medicare's five-star rating (the highest) for quality, efficiency and patient satisfaction. St. Luke's has earned the 100 Top Major Teaching Hospital designation from IBM Watson Health (formerly Truven Health Analytics) repeatedly – six times total and four years in a row including 2018. It has also been cited by IBM Watson Health as a 50 Top Cardiovascular Program. Utilizing the EPIC electronic medical record (EMR) system for both inpatient and outpatient services, the Network is a multi-year recipient of the Most Wired award recognizing the breadth of the SLUHN's information technology applications such as telehealth, online scheduling and online pricing information. St. Luke's is also recognized as one of the state's lowest cost providers.
About Geisinger
Geisinger is committed to making better health easier for the more than 1.5 million consumers it serves. Founded more than 100 years ago by Abigail Geisinger, the system now includes 13 hospital campuses, a 600,000-member health plan, two research centers and the Geisinger Commonwealth School of Medicine. With 32,000 employees and 1,800 employed physicians, Geisinger boosts its hometown economies in Pennsylvania and New Jersey by billions of dollars annually. Learn more at geisinger.org or connect with us on Facebook, Instagram, LinkedIn and Twitter.