News
Dinner by Starlight Presentation Available to View Online
November 12, 2020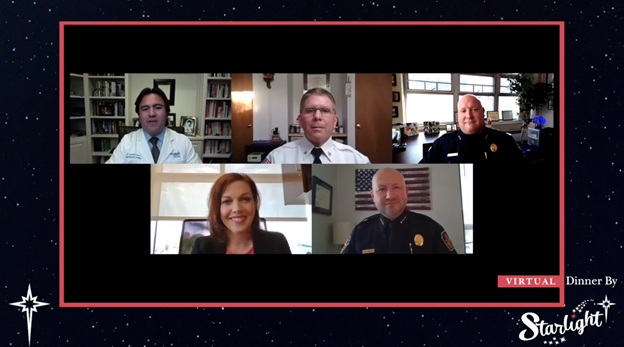 Top row from left to right: Leonardo Claros, MD, FACS, FASMBS, Chief, Bariatric Surgical Section, Chief, Weight Management Center, St. Luke's University Health Network; Chief Jim Wehr, Allentown Fire Department; Chief Eric Gratz, Allentown Emergency Medical Services
Bottom row from left to right: Keri Weintraub MSN, RN, Vice President Patient Care Services, St. Luke's Allentown Campus; Chief Glenn Granitz, Allentown Police Department
Even though this year's Dinner by Starlight took place virtually, the Allentown community found ways to connect and show their support for those being honored. The event, which benefits St. Luke's Allentown Campus, took place in the evening on Thursday, November 5 and had nearly 150 attendees from across the Lehigh Valley. Now, the recorded presentation is available for anyone who may have missed the live broadcast.
VIEW THE 2020 DINNER BY STARLIGHT PRESENTATION
Each year, individual members of the Allentown community are honored as "stars" for their relentless commitment to the city and its residents. This year, however, the Honorary Star — the most prestigious award of the evening — went to the collective community for stepping up to support St. Luke's and each other throughout the COVID-19 pandemic.
The event's Shining Stars — Allentown EMS and the Allentown Police and Fire Departments — were recognized for their dedication to the health and well-being of the city and for their heroic efforts to keep residents safe throughout the pandemic. Attendees watched as Chiefs from each department shared more about their experiences over the past few months.
The work being done by Allentown first responders and at St. Luke's Allentown Campus is especially meaningful to Dinner by Starlight's Premier Sponsor, BSI Corporate Benefits. "With all the challenges the City of Allentown has faced over the last decade, our team has been steadfast in our representation of all City employees and their families, including the men and women first responders," said Anthony (Tony) DaRe, Chief Executive Officer, BSI Corporate Benefits. "Dinner by Starlight is a great event to lift us above the noise and to remind us all that we are a lot closer than the world makes us think."
After the first responder panel, viewers were introduced to Gabrielle (Gabby), a former St. Luke's nurse, who shared her family's experience with the St. Luke's Allentown Campus Neonatal Intensive Care Unit (NICU) when her adopted daughter needed special care in her first few weeks of life.
"I knew she was loved before I even met her," shared Gabby in her testimonial about her daughter Hailey. "Your baby is being cared for by some of the greatest people. They are caring for the whole family."
The NICU at St. Luke's Allentown Campus was the 2020 Dinner by Starlight beneficiary. Gifts made by the event's generous sponsors and attendees will empower enhancements to the NICU facility and services, helping our talented team provide life-saving care for even more babies in need. More than $125,000 was received in donations this year.
"I am very grateful for the tremendous generosity from our all our sponsors to support our dream of building a new NICU," expressed Bill Moyer, St. Luke's Allentown Campus President. "This initiative will have a very positive impact at our hospital and, most importantly, within the Allentown Community."
Strong partnerships and collaboration empower change in Allentown, and that's what Dinner by Starlight is about — highlighting and celebrating individuals and organizations who are doing good work for those in need — a purpose that also resonates strongly with the event's Presenting Sponsors, GOLD Credit Union and Lexus of Lehigh Valley.
Cheryl Bartholomew, President & Chief Executive Officer at GOLD Credit Union shared that she was struck over and over again during the Dinner by Starlight presentation by the similarities between the St. Luke's mission and GOLD's. "We both believe so strongly in community and the power of people coming together for the common good," she said. "To really be part of a community, you need to be accessible to that community, and St. Luke's is. Their Campus is there for the people of Allentown. Our mission at GOLD is to help make financial freedom an accessible reality for all and to transform communities from within. We're proud to team up with St. Luke's to promote both physical and financial health. GOLD is All in for Allentown!"
Peter and Karen Cooper of Lexus of Lehigh Valley expressed similar sentiments. "We were moved by the purpose of the Dinner by Starlight event. Not only does it honor good people doing good work, but it also supports life-saving care at the St. Luke's Allentown Campus. We believe strongly in the impact that good health has on a city, and this event makes such a tangible difference for Allentown families in need. We were proud to be a sponsor."
The recorded presentation will be available through the end of December 2020 at sluhn.org/2020DBS. Donations to the St. Luke's Allentown Campus NICU are being accepted through the link above. For questions about the event or trouble viewing, email DevelopmentOffice@sluhn.org.
Thank you to ASR Media Productions for producing this special event, and to our Premier Sponsor, BSI Corporate Benefits, Inc., as well as LEXUS of Lehigh Valley, GOLD Credit Union, and the many other generous contributors who helped make this year's event possible.