News
Bug Zapper Kills COVID-19 Virus
April 23, 2020
St. Luke's, Lehigh University collaboration leads to clever, life-saving invention.
BETHLEHEM, PA. - Among stories of hope, generosity and togetherness, the COVID-19 pandemic has also given rise to an incredible feat of ingenuity – the invention of the "Bug Zapper" to sterilize masks.
As hospitals and other front-line organizations jumped to secure large quantities of life-saving supplies and personal protective equipment (PPE), there has also been the need to identify quicker, more efficient ways to clean and sterilize those items, particularly the coveted N95 masks.
St. Luke's University Health Network anesthesiologist, Christopher Roscher, MD, anticipated the need and an idea began to form. "It became clear that PPE supplies would become limited as the virus progressed," he says. "St. Luke's supply chain was working on procuring more masks, but my mind went to our sterilizing team."
The St. Luke's Sterile Processing Department, or SPD, is the place where all surgical and medical instruments are sent to be meticulously cleaned, sanitized and packaged for reuse. It's a behind-the-scenes function that is an essential part of the health care system.
"On any given day, we are processing many, many items here at our hospital in Bethlehem," states Taylor Bennett, St. Luke's Network Director of Sterile Processing. "But with the current situation, there is an overwhelming need to process our employees' PPE on a daily basis. We literally have thousands of masks."
For Dr. Roscher, a light went on – literally and figuratively.
"I had been doing private research about finding ways to decontaminate masks for reuse, and peer-reviewed literature suggested that, in a pandemic, UV-C light could be an acceptable strategy to sterilize masks," he says. UV-C is a specific range of UV, or ultra-violet, light and has been shown to deactivate viruses and other pathogens by causing changes in their DNA.
Through a mutual contact, Dr. Roscher got in touch with Nelson Tansu, PhD, Lehigh University's Director and Endowed Chair of its Center for Photonics and Nanoelectronics (CPN).
"What St. Luke's was looking for was a high-throughput sterilization system," said Dr. Tansu. "Together with our two teams, we started a collaborative design process which was completed in record time."
The two organizations joined forces through a series of Zoom meetings and hundreds of emails, to design, fabricate, install and test the device – all within a matter of two weeks – and all while maintaining social distancing protocols.
The end result: a way to effectively and efficiently sterilize 200 masks every 8 minutes!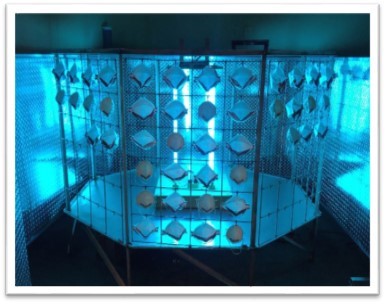 The "Bug Zapper" in action.
"Our existing units were not designed for large-scale use. They could only sterilize about 30 masks at a time," stated Eric Tesoriero, DO, anesthesiologist for St. Luke's and a collaborator on the project. "Because of this new device, we are now able to offer mask sterilization to key members of our community – like our EMS and paramedic partners."
The unit, engineered by Lehigh students and staff and assembled at St. Luke's by biomedical engineer Jay Johnson, has been affectionally named the "Bug Zapper" not only due to its appearance, but due to its COVID-killing properties.
"It is incredible that this project moved at such a rapid speed," remarks Dr. Tansu. "I have been in the engineering and innovations world for 20+ years and this is definitely 'record speed.' It wouldn't have happened so quickly without all the member of our team working together."
The team ranged from PhDs to MDs and even included an unexpected contributor – Axel Tansu, Dr. Tansu's adolescent son. In fact, it was Axel's contribution that allowed the unit to have such a high-throughput rate.
"Our original design was cylindrical in shape, to ensure even exposure of the light on all surfaces," explains Dr. Tansu. "However, that would have required the SPD staff to individually rotate all 200 of the masks 180 degrees half-way through the process."
"Axel came to me and said, 'Dad, what about an octagon?' And sure enough, he was right. The octagonal sides allow the staff to easily 'flip' the frame, rotating 24 masks at a time – thus only eight touchpoints versus 200."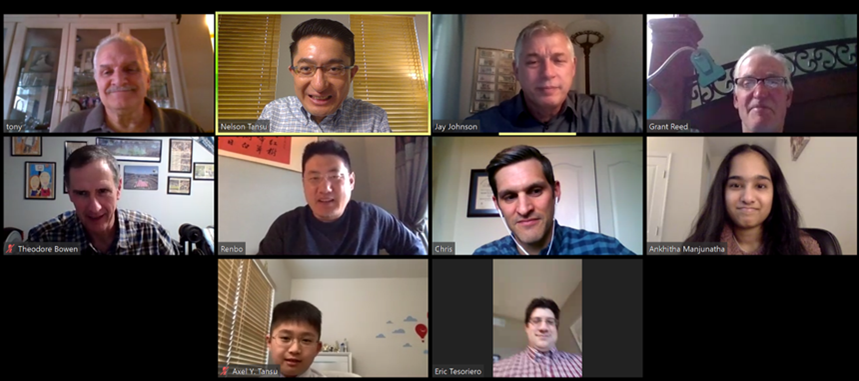 The St. Luke's/Lehigh University team of inventors (L-R): Anthony Jeffers, Nelson Tansu, Jay Johnson, Grant Reed, Theodore Bowen, Renbo Song, Christopher Roscher, Ankhitha Manjunatha, Axel Y. Tansu, Eric Tesoriero Not pictured: Adela Gozali Yose
A patent to protect the team's intellectual design has been filed. And a celebration for the collaborators to meet, in-person, will be planned once it is safe to do so. Until then, the Bug Zapper will be hard at work, helping to protect the frontline workers at St. Luke's and beyond.
This, like so many other stories, offers a ray of hope during the pandemic – showcasing that the human mind and spirit can overcome anything – especially when working together for a great cause. Afterall, as the famous philosopher Plato understood thousands of years ago, necessity is the mother of invention.
###
Link to B-roll:
https://vimeo.com/409630986/ed4c3b1175
Media Contact
Media Contact: Kate Raymond, 484-526-4131, kate.raymond@sluhn.org
About St. Luke's
Founded in 1872, St. Luke's University Health Network (SLUHN) is a fully integrated, regional, non-profit network of more than 15,000 employees providing services at 11 hospitals and 300 outpatient sites. With annual net revenue greater than $2 billion, the Network's service area includes 11 counties: Lehigh, Northampton, Berks, Bucks, Carbon, Montgomery, Monroe, Schuylkill and Luzerne counties in Pennsylvania and Warren and Hunterdon counties in New Jersey. Dedicated to advancing medical education, St. Luke's is the preeminent teaching hospital in central-eastern Pennsylvania. In partnership with Temple University, St. Luke's created the Lehigh Valley's first and only regional medical school campus. It also operates the nation's longest continuously operating School of Nursing, established in 1884, and 34 fully accredited graduate medical educational programs with 263 residents and fellows. St. Luke's is the only Lehigh Valley-based health care system with Medicare's five- and four-star ratings (the highest) for quality, efficiency and patient satisfaction. St. Luke's is both a Leapfrog Group and Healthgrades Top Hospital and a Newsweek World's Best Hospital. In 2019, three of IBM Watson Health's 100 Top Hospitals were St. Luke's hospitals. St. Luke's University Hospital has earned the 100 Top Major Teaching Hospital designation from IBM Watson Health seven times total and five years in a row. St. Luke's has also been cited by IBM Watson Health as a 50 Top Cardiovascular Program. Utilizing the Epic electronic medical record (EMR) system for both inpatient and outpatient services, the Network is a multi-year recipient of the Most Wired award recognizing the breadth of the SLUHN's information technology applications such as telehealth, online scheduling and online pricing information. St. Luke's is also recognized as one of the state's lowest cost providers.