News
BSI Corporate Benefits Pledges Major Match Donation for St Lukes Sacred Heart
January 22, 2020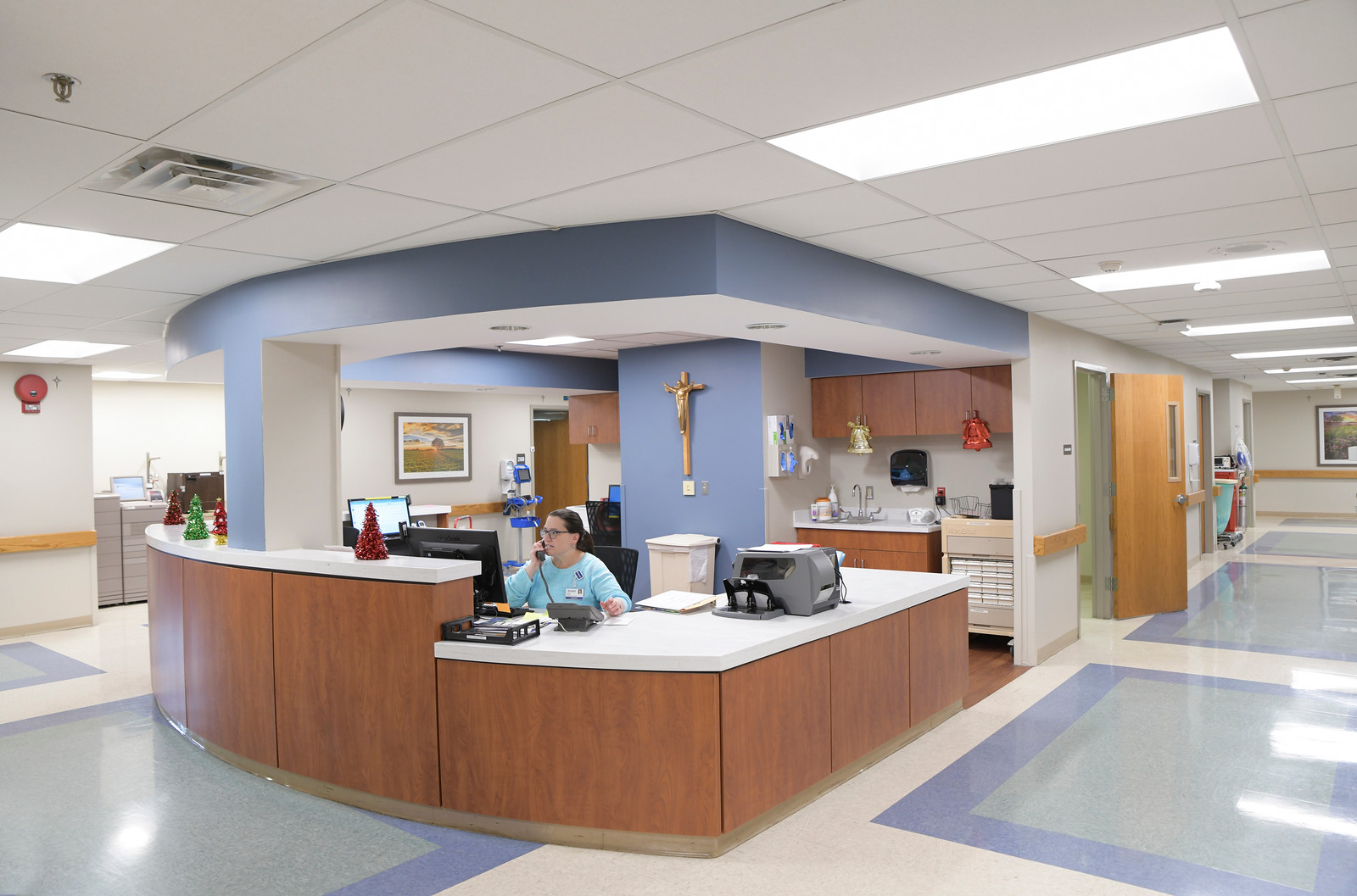 Remodeled floor at St. Luke's Sacred Heart, providing care to residents of downtown Allentown.
For Anthony (Tony) DaRe, a connection with the city of Allentown began long before he was even born. His parents were Allentown Central Catholic High School sweethearts, and instilled within him the importance of supporting the special community they called home.
Now serving as the Chief Executive Officer at Lehigh Valley's BSI Corporate Benefits, Tony is more committed than ever to revitalizing and caring for Allentown's residents – and he has chosen to partner with St. Luke's University Health Network to propel that mission forward. BSI has made a notable multiyear commitment to advance the work being done at St. Luke's Sacred Heart Campus by matching every Heart of the City Campaign leadership gift of $1,000 or more – up to $250,000.
"I am deeply committed to St. Luke's both professionally and personally," shares Mr. DaRe. "My family immigrated to the United States more than 100 years ago and settled in Allentown, and it has been our home ever since. My children were born at St. Luke's, and years later, when my middle daughter experienced a significant medical emergency, St. Luke's was there to care for her."
DaRe, who founded BSI Corporate Benefits in Detroit in 2003, chose to move the headquarters to the Lehigh Valley in 2010 to help meet the needs of employers looking for trustworthy and comprehensive health insurance for their employees.
"As the representative of our clients' multi-million-dollar healthcare spends, BSI stands committed to working with organizations like St. Luke's, which have demonstrated a commitment to providing transparent, affordable pricing while maintaining a nationally-recognized level of care," explains Mr. DaRe. (See video: https://vimeo.com/376823467)
Of significant importance to Tony and his BSI team, is the work being done in Allentown at St. Luke's Sacred Heart Campus. Nearing the middle of its $3 million Heart of the City fundraising campaign, the hospital is undergoing much-needed facility improvements, while implementing new specialized services, behavioral health resources, and enhancements to the surrounding neighborhood – all to ensure that the residents of downtown Allentown have a welcoming, trusted place to receive their care, regardless of their socioeconomic status.
"So much about healthcare has become simply 'processing' individuals and you really lose the human component of how personal healthcare is to individuals and their families, especially in their time of need," says Mr. DaRe. "St. Luke's holding its Sacred Heart Campus to the highest standard will raise the bar for everyone, and that's critical to our mission here at BSI."
The partnership between BSI and St. Luke's will also help educate local company executives on the importance of practicing healthier lifestyle behaviors, ultimately encouraging participants to extend those learnings to their employees. Tony has a personal interest in wellness and maintaining a healthy lifestyle. After discovering the benefits of the St. Luke's ExecuHealth program – a fully integrated, one-day executive physical – he will serve as a program advocate to ensure that other local executives can take advantage of this same opportunity. Together, BSI and St. Luke's are making great strides to build a healthier Lehigh Valley – beginning with the Allentown community.
"Supporting a high-quality, low-cost hospital system in the heart of our city changes the lives of Allentown residents and aims to lower company healthcare costs by eliminating the need to travel to Philadelphia or New York," says Mr. DaRe. "High-quality care can now be achieved right in their own backyards."
To learn more or make your gift to support the St. Luke's Sacred Heart Campus Heart of the City campaign, visit sluhn.org/HeartoftheCity.