News
Temple/St. Luke's Medical Students Matched to Residency Programs Nationwide
March 15, 2019
"Match Day" takes place March 15 at Lewis Katz School of Medicine at Temple University
Bethlehem, PA (3/16/2019) – Joshua Hitchings will be the first doctor in his family, but he's seen a lot of aging and illness in his young 26 years. The Bethlehem native, born at St. Luke's Hospital, watched his mother care for his grandfather in their home during the man's last years of life. Cancer claimed his uncle and father while Josh was in his first year in medical school, leaving another indelible impression on him. For him, the choice of medicine was never in doubt.
He plans to spend his next three years as a medical resident (physician in training), before he begins practice as an internist in Bethlehem, helping patients keep healthy or finding illness early enough to treat. "I want to stay close to my family and friends," he says.
Hitchings is one of 29 graduating Temple/St. Luke's School of Medicine students. Having completed four years of intense training, they are eagerly anticipating "Match Day," the traditional, anxiety-causing day when med-school grads and hospitals across the country learn who's going to which residential program.
He and fellow classmate, Dhanalakshmi (Dhanu) Thiyagarajan, will assemble at Lewis Katz School of Medicine in Philadelphia, on March 15, just before noon. Beginning at the stroke of 12, the matches will be revealed, bringing smiles, tears, joy and occasional disappointment to the med students, depending on results.
"National Match Day is an unforgettable milestone for every medical student across the country," said Joel Rosenfeld, MD, M.Ed, FACS, Chief Academic Officer, St. Luke's University Health Network and Senior Associate Dean and Professor of Surgery, Lewis Katz School of Medicine. "We are proud to have trained our graduating class of 2019, and we are extremely pleased to see our students moving on to some of the most highly regarded residency programs in the nation, including St. Luke's."
Acceptance to St. Luke's residency programs is highly competitive. In addition to longstanding programs at St. Luke's other campuses, a new wing at St. Luke's Anderson Campus in Bethlehem Township will accommodate a major expansion of the Network's graduate medical education program, almost doubling the number of residents and fellows trained within St. Luke's to over 400 – the largest program in the Lehigh Valley.
"This year we interviewed and matched with more people with local ties, which is ideal because there is a stronger possibility of them staying here if they train here – meaning more physicians particularly in high-demand specialties to help care for our community," said J.P. Orlando, Ed.D, St. Luke's Associate Chief Academic Officer.
Hitchings' top choices for his internal medicine residency are: St. Luke's University Health Network, Pennsylvania Hospital, Temple University Hospital and Brown University. He says he's motivated by the challenges and teamwork of medicine to "get up every morning and help people."
Thiyagarajan, 25, just returned from a month-long health mission in India, birthplace of her parents, though they now all live in Bethlehem. She plans to specialize in obstetrics-gynecology, as it will "give me the opportunity to care for women from their teens to old age." Long term, she wants to combine biomedical engineering, her major in college, with OBGYN to develop inexpensive and innovative technology that will treat the neediest females in the poorest places on the planet. This was not her first mission trip; she also went to the Philippines last year to treat the poor there. She hopes to do her residency at St. Luke's or the University of Virginia.
"I'm excited for all of them," Dr. Rosenfeld said. "Today is a tribute to the students' hard work over the past four years and to the excellent teaching, advice and counsel of our faculty."
"After working with these students the past four years, I look forward to seeing their growth into excellent, well-trained physicians," Dr. Rosenfeld added. "Of those who leave us for their residencies, some will in just a few years return to the Lehigh Valley, infusing the region with new medical expertise that will improve the overall health of our community."
The 2019 Temple/St. Luke's class, will graduate May 10 at the Kimmel Center in Philadelphia. The medical school will welcome the incoming Class of 2023 in August for its White Coat Ceremony.
For more information about Temple/St. Luke's please see www.slhn.org/som and for other graduate medical education programs at St. Luke's University Health Network, please see gme.sluhn.org.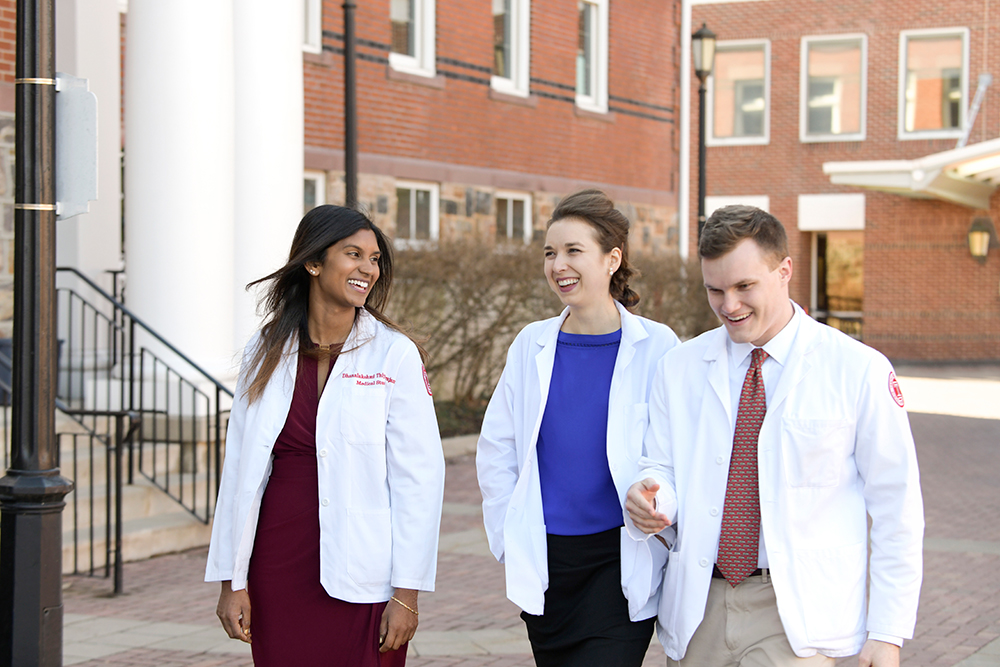 Temple/St. Luke's 4th year medical students enjoy some last minute time together outside St. Luke's University Hospital – Bethlehem. L-R: Dhanu Thiyagarajan, Lauren Stone and Joshua Hitchings.
2019 Match Results
Programs/Specialties
Anesthesiology
Emergency Medicine
Family Medicine
General Surgery
Internal Medicine
Medicine- Preliminary
Neurological Surgery
Neurology
Obstetrics-Gynecology
Orthopedic Surgery
Plastic Surgery
Psychiatry
Radiology- Diagnostic
Surgery- Preliminary
Transitional Year
Institutions
St. Luke's University Hospital - Bethlehem
Brigham & Women's Hospital
Drexel Univ. COM/ Hahnemann Univ Hospital
Geisinger Health System
Harbor-UCLA Medical Center
Icahn SOM Beth Israel
Jackson Memorial Hospital
Kaiser Permanente- Santa Rosa
Kaiser Permanente- Oakland
Orlando Health
Penn State Hershey Medical Center
Pennsylvania Hospital
San Antonio Military Medical Center
Temple University Hospital
Thomas Jefferson University
U Florida COM- Jacksonville
U Illinois COM- Chicago
U Utah Affiliated Hospitals
UC Irvine Medical Center
UC San Diego Medical Center
UPMC
Vidant Medical Center/East Carolina Univ
Philanthropic support allows St. Luke's University Health Network to deliver world-class care that makes a difference every day for every patient. Make a gift online to a St. Luke's cause that's meaningful to you, or call the Development Office at 484-526-3067 to learn more.
Media Contact:
Sam Kennedy, Corporate Communications Director, 484-526-4134, samuel.kennedy@sluhn.org
About St. Luke's
Founded in 1872, St. Luke's University Health Network (SLUHN) is a fully integrated, regional, non-profit network of more than 15,000 employees providing services at 10 hospitals and more than 320 outpatient sites. With annual net revenue greater than $2 billion, the Network's service area includes 10 counties: Lehigh, Northampton, Berks, Bucks, Carbon, Montgomery, Monroe and Schuylkill counties in Pennsylvania and Warren and Hunterdon counties in New Jersey. Dedicated to advancing medical education, St. Luke's is the preeminent teaching hospital in central-eastern Pennsylvania. In partnership with Temple University, St. Luke's created the region's first and only regional medical school campus. It also operates the nation's longest continuously operating School of Nursing, established in 1884, and 28 fully accredited graduate medical educational programs with 226 residents and fellows. St. Luke's is the only health care system in central-eastern Pennsylvania to earn Medicare's five-star rating (the highest) for quality, efficiency and patient satisfaction. In 2018, St. Luke's was named a Top Hospital in the Teaching Hospital category by the Leapfrog Group. It has repeatedly earned the 100 Top Major Teaching Hospital designation from IBM Watson Health (formerly Truven Health Analytics) – seven times total and five years in a row including 2019. It has also been cited by IBM Watson Health as a 50 Top Cardiovascular Program. Utilizing the Epic electronic medical record (EMR) system for both inpatient and outpatient services, the Network is a multi-year recipient of the Most Wired award recognizing the breadth of the SLUHN's information technology applications such as telehealth, online scheduling and online pricing information. St. Luke's is also recognized as one of the state's lowest cost providers.