News
Teaching College Courses a Natural Fit For St. Luke's Chief Compliance and Privacy Officer
July 08, 2019
Growing up in the projects on the South Side of Chicago, Nicole Huff would help her younger siblings learn to read. Later, in high school, she was part of a peer ministry that would tutor elementary students.
Huff's love of sharing knowledge would ultimately bring her to St. Luke's University Health Network as Chief Compliance and Privacy Officer and, eventually, as an adjunct professor at DeSales University and Moravian College.
She said being a college professor dovetails with her role at St. Luke's, where her duties include guiding staff on following health care regulations and on making ethical decisions regarding patient care.
"I'm an educator, even on my job," Huff said.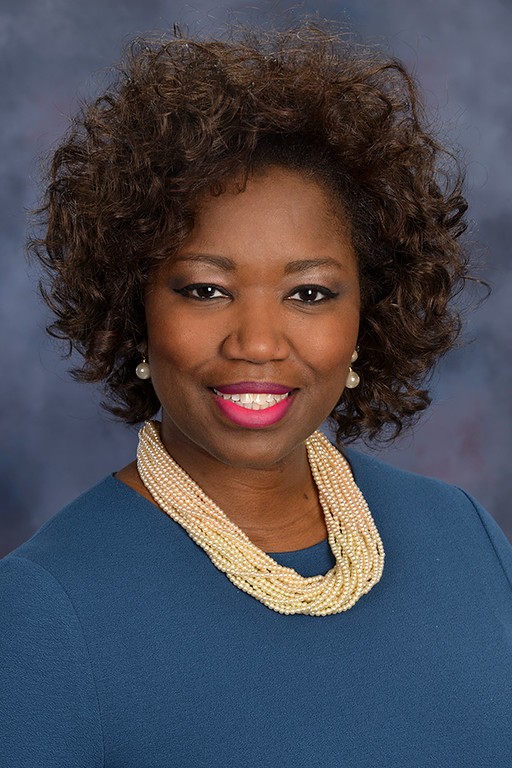 Huff credits her late mother Deborah McCall for saving whatever she could to send her and her older sister Denise to Catholic school. "She knew education was a way for us to rise above our circumstances," Huff said.
From there, Huff earned a bachelor's degree in business administration-accounting from Loyola University of Chicago. After graduating, Huff got a job in in the private sector to bolster her accounting skills then switched to her real passion -- health care accounting and compliance.
She said her desire to work in health care grew out of the positive experience she had receiving asthma care in the emergency room as a child. She said wanted to be in a position to advocate for children with barriers to health care.
As she built her on-the-job skills, Huff earned a master's degree in health care administration from the University of Dallas. She didn't think about teaching until she started studying for her doctorate in health administration (DHA) at Central Michigan University. But it quickly became a goal for her.
"Teaching has come naturally to me whether it is at home, on the job, in the community or in the classroom," Huff said.
Huff earned her DHA in 2013, a year after joining St. Luke's and moving to the Lehigh Valley with her two sons, Xavier, now 19, and Julius, now 13. By 2014, she was in front of the classroom.
Huff teaches about two graduate level classes a year to students ranging from physicians to students fresh to health care. Her subjects include managed care, health law, health economics, bioethics and finance.
Huff said she brings a global perspective to her classes, encouraging students to have an open mind to industry ideas both in the U.S. and abroad. She underscores the need for health administrators to be well versed on diverse subjects and be confident in their ability to use their knowledge while on the job.
"If you are a health care leader, then lead and don't be biased," she said. "Try to remove your personal feelings when it comes to making decisions on how to handle things. That means do your research to help make a more informed decision."
Huff said teaching is one of her ways of putting St. Luke's commitment to community into practice – by helping to train leaders for the ever-growing health care sector. But she said she gets just as much out of it as the students do. "I learn because my students bring a wealth of information based on the assignments they have to do."
About St. Luke's
Founded in 1872, St. Luke's University Health Network (SLUHN) is a fully integrated, regional, non-profit network of more than 15,000 employees providing services at 10 hospitals and 300 outpatient sites. With annual net revenue greater than $2 billion, the Network's service area includes 10 counties: Lehigh, Northampton, Berks, Bucks, Carbon, Montgomery, Monroe and Schuylkill counties in Pennsylvania and Warren and Hunterdon counties in New Jersey. Dedicated to advancing medical education, St. Luke's is the preeminent teaching hospital in central-eastern Pennsylvania. In partnership with Temple University, St. Luke's created the Lehigh Valley's first and only regional medical school campus. It also operates the nation's longest continuously operating School of Nursing, established in 1884, and 28 fully accredited graduate medical educational programs with 226 residents and fellows. St. Luke's is the only Lehigh Valley-based health care system with Medicare's five- and four-star ratings (the highest) for quality, efficiency and patient satisfaction. St. Luke's is both a Leapfrog Group and Healthgrades Top Hospital and a Newsweek World's Best Hospital. In 2019, three of IBM Watson Health's 100 Top Hospitals were St. Luke's hospitals. St. Luke's University Hospital has earned the 100 Top Major Teaching Hospital designation from IBM Watson Health seven times total and five years in a row. St. Luke's has also been cited by IBM Watson Health as a 50 Top Cardiovascular Program. Utilizing the Epic electronic medical record (EMR) system for both inpatient and outpatient services, the Network is a multi-year recipient of the Most Wired award recognizing the breadth of the SLUHN's information technology applications such as telehealth, online scheduling and online pricing information. St. Luke's is also recognized as one of the state's lowest cost providers.