News
St. Luke's Sponsors High School Sports News Site
September 27, 2019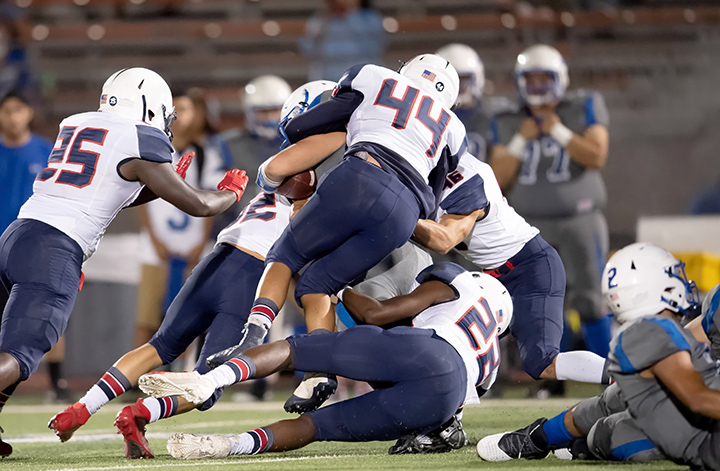 Al Di Carlo, former assistant sports director at Service Electric 2 Sports, has launched a new website, D11SPORTS.COM, to cover and promote high school athletics in the Lehigh Valley, with St. Luke's serving as a sponsor and partner.
Student Reporters from their respective high schools work as sideline reporters who are part of a unique educational program sponsored by St. Luke's Sports Medicine for the website. This year, the website is covering 10 High School Football Games of the Week, utilizing multi-camera broadcasts, replays and graphics.
The D11SPORTS.COM website, through the help of students, will also be covering other sports like soccer, field hockey, volleyball, tennis, along with basketball and wrestling throughout District 11, whether it is in Carbon County with Lehighton High School, Northampton County with Saucon Valley, or into New Jersey with Phillipsburg High School.
"My expertise is in broadcast journalism and teaching," Di Carlo said. "It's a win-win. The students do the stories, myself and my partner Dave Mika from Eastern Pa. Football filter them and upload them to the website, and it's good to go! We also provide broadcasting and journalism tips along with timely feedback to help the student reporters improve their work."
"It's great to see the students develop at a daily and weekly pace and share their stories with the help of our website. Dave does a great job communicating with the students and getting their stories published.
Di Carlo said the coolest thing for the students – and their families – is the online link with the students' names to all the work they completed for D11SPORTS.COM.
"It builds their resume for college. Their grandparents, parents, friends and other family members, can click on their name and see everything they've done for D11SPORTS.COM and the Community."
Along with the student internship program, D11SPORTS.COM is excited about its new streaming service for games. Fans, friends and relatives who can't get to games whether they are out of town or involved in hectic lives, can log in and watch the games as they are streamed.
"More and more people are going to streaming services and looking for those opportunities to watch local sports," explained John Hauth, Senior Director of Sports Medicine Relationships, St. Luke's University Health Network.
"This gives them the opportunity to watch them. This provides access for people who may not otherwise get to a game or see their grandson or granddaughter play and is a wonderful extension of our educational mission."
Hauth said the relationship between St. Luke's and D11SPORTS.COM grew out of the sports medicine relationship with District 11 itself, along with providing athletic trainers for so many of the high schools in Eastern Pennsylvania.
Di Carlo said about 35 students and 15 schools are onboard with D11SPORTS.COM, and the plan is to add more in the days and weeks ahead.
"This is more than broadcast journalism," Di Carlo said. "It helps students interact with their peers and helps improve their communication skills.
"I'm all about giving back," he added, "and this is a great forum for me to do it, to help that next generation of broadcasters learn the craft. Seeing the reactions on social media from not only parents and grandparents, but from students and school administrators, is heartwarming. When you get administrators retweeting stories from their students, you know it's going to help the success of the students."
Di Carlo is excited to team up with both Mika and St. Luke's, an organization that loves to think outside the box.
"John Hauth and St. Luke's Chief Marketing Officer Ken Szydlow and their teams have been great to bounce ideas off of as we continue to build a new platform that will take our student reporters and D11SPORTS.COM to the next level," Di Carlo said.