News
Knee Replacement? Piece of Cake for this Baker
May 13, 2019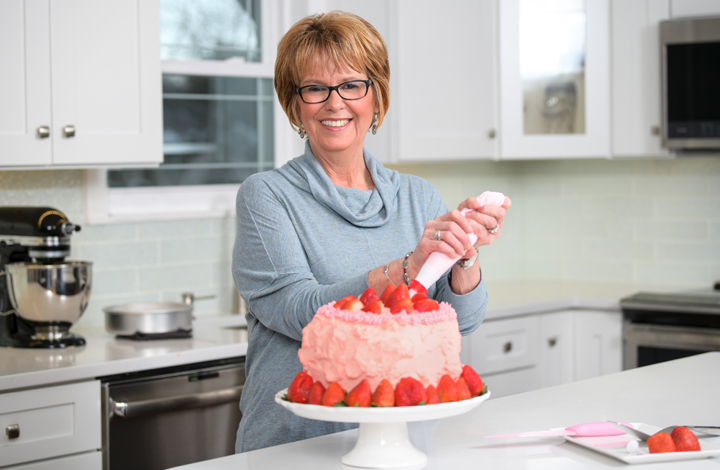 Gloria Calvert has worked on her feet in restaurants for most of her life, and since 1999 for her son's Lutzi's Restaurant in Easton as the primary baker and hostess. But at age 70, knee pain was starting to slow her down and diminish her quality of life.
She was examined and treated by two orthopedic physicians at a regional orthopedic practice, but they simply prescribed wearing a boot or a knee brace, which didn't offer any real relief or solution. "I was in constant pain for nearly a year," said Gloria, who is on her feet working 10-12 hours a day. "My knee was so swollen, I could barely walk."
Until this past June when she turned to the extraordinary orthopedic care team at St. Luke's, beginning with surgeon Adam Sadler, DO, of St. Luke's Orthopedic Care.
"She came to me as most people typically do, complaining of activity related knee pain," Dr. Sadler remembered. "She was experiencing pain in her right knee, and activities that she had enjoyed were becoming more difficult to do because of the increased pain."
Using St. Luke's cut-last approach to orthopedics, Dr. Sadler treated her conservatively at first to manage the pain and strengthen the muscles around the knee, but the pain continued. X-rays and a physical examination confirmed severe osteoarthritis, and conservative treatments would not provide long lasting relief in order to continue doing the things she enjoyed, like baking all the homemade items on the restaurant menu.
Gloria decided to accept Dr. Sadler's recommendation of a total knee replacement for the right knee, and has been referring other people with similar knee pain to Dr. Sadler ever since.
"Interestingly enough, Gloria was a great candidate for a tissue-sparing approach to total knee replacement where you don't have to cut some of the tendons and muscles to do the procedure," Dr. Sadler explained.
"In this procedure, you do not cut the extensor mechanism as you do with traditional knee replacement procedures," he said of the tissue-sparing procedure which is less destructive and can lead to less swelling and pain, along with a quicker recovery. "Basically, you move the extensor mechanism out of the way, do your work, and then slide it back when you are finished."
Not everyone is a candidate for that, and Dr. Sadler follows specific criteria to make sure it's safe and effective.
Dr. Sadler called Gloria the evening before surgery to assure her everything would be fine.
"Dr. Sadler knew I was anxious about the surgery, and his personal phone call meant the world to me," she said. "He's a wonderful young man."
Gloria had the surgery in mid-June and was discharged the following evening. St. Luke's Home Health sent a nurse and physical therapist the next day.
When the physical therapist rang the doorbell, Gloria went to the door and answered it. The therapist asked to see Gloria, and she said, 'I'm Gloria.'
"The therapist said to her, 'Are you serious,'" Dr. Sadler said. "She couldn't believe she answered the door like it was just another normal day."
"I felt good and they were amazed that I could bend my knee to a 90-degree angle so soon after surgery," Gloria said. "I did not have a lot of pain after surgery, just some discomfort."
Gloria went to physical therapy at Physical Therapy at St. Luke's, the Sullivan Trail location in Forks Township, for two weeks and worked with physical therapist James Ritter, PT, DPT, CSES, C-EP.
"My therapist James was really great with me, but I was doing so well after the surgery, I only needed to go for two weeks," Gloria said.
"Gloria was consistently motivated and always put forth her best effort. It was evident that she was putting in the work at home performing her exercises," says Dr. Ritter. "She very quickly demonstrated eccentric quadriceps control which is one of the hardest aspects to get back following a total knee arthroplasty. She was a pleasure to work with and certainly was an extraordinary patient!"
In August, Gloria went on a Caribbean cruise with her daughter and family and enjoyed it pain-free. "I walked all over the beaches and islands and felt great," she said.
"My experience was unbelievable," she said. "The doctor, the hospital, the recovery, the whole thing."
Dr. Sadler feels the same about his patient.
"I'm thankful to Gloria," he said. "She sends me three to four personal referrals a week because of her post-op experience and her role at the restaurant. I owe her a lot. She tells me people can't believe that she recovered so quickly, but her recovery is also due to her being an active part of the process.
"She had to put the work in to get the good results, excellent function, and a pain-free return to her active life. I'm very proud of her."