News
Keeping Healthy a Breeze for Procrastinating Allentown World Traveler
October 09, 2019
Sharon Smith led a jet-set life for years, flying across the country and around the world for both work and pleasure. But she put off taking time to drive a few blocks from her Allentown home for routine medical checkups. Not until she had what she describes as "scary symptoms," that could signal heart problems, which are common in her family.
Now the 61-year-old retired vice president for internet tech firms – and current dog sitter – is back on track, receiving regular preventive care and routine tests from SLUHN to make sure she's healthy enough to keep travelling during her well-earned retirement.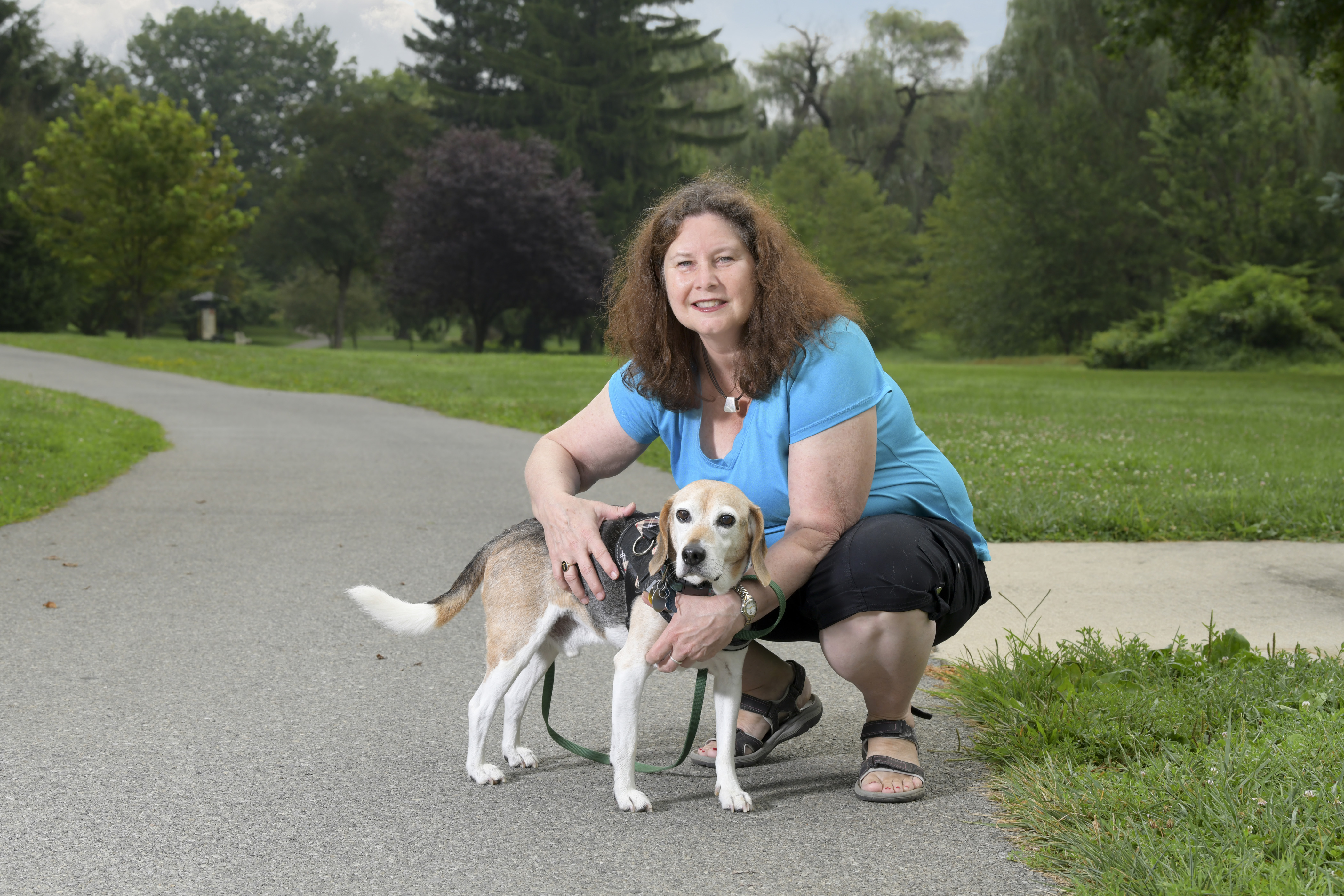 Her about-face came, in part, because of easy access and a convenient appointment with her primary care doctor, Frank Matrone, DO, to have her heart tested. Though no damage was found, he sent Sharon for other tests.
"During my visit at Dr. Matrone's office, my mammogram also was scheduled for the very next day at nearby St. Luke's Allentown, which took only 30 minutes," says Smith. "It was great!"
A follow-up heart scan recently revealed it's in tip-top condition, which brought her relief.
She keeps up with her exercise, walking her pups in Trexler Park several times a week, and will soon schedule a routine colonoscopy at St. Luke's, though she might need a gentle nudge to set it up. "I'm a procrastinator," she admits.
With this clean bill of health, Smith is looking forward to her month-long trip to Africa in January. This will be the eighth time she's visiting the continent, and likely not her last, now that St. Luke's providers are a regular part of her schedule.
"I neglected my health for years, but no longer," she says. "St. Luke's makes that easy." Meanwhile she hopes medical science will discover a cure for procrastination.
About St. Luke's
Founded in 1872, St. Luke's University Health Network (SLUHN) is a fully integrated, regional, non-profit network of more than 15,000 employees providing services at 10 hospitals and 300 outpatient sites. With annual net revenue greater than $2 billion, the Network's service area includes 11 counties: Lehigh, Northampton, Berks, Bucks, Carbon, Montgomery, Monroe, Schuylkill and Luzerne counties in Pennsylvania and Warren and Hunterdon counties in New Jersey. Dedicated to advancing medical education, St. Luke's is the preeminent teaching hospital in central-eastern Pennsylvania. In partnership with Temple University, St. Luke's created the Lehigh Valley's first and only regional medical school campus. It also operates the nation's longest continuously operating School of Nursing, established in 1884, and 34 fully accredited graduate medical educational programs with 263 residents and fellows. St. Luke's is the only Lehigh Valley-based health care system with Medicare's five- and four-star ratings (the highest) for quality, efficiency and patient satisfaction. St. Luke's is both a Leapfrog Group and Healthgrades Top Hospital and a Newsweek World's Best Hospital. In 2019, three of IBM Watson Health's 100 Top Hospitals were St. Luke's hospitals. St. Luke's University Hospital has earned the 100 Top Major Teaching Hospital designation from IBM Watson Health seven times total and five years in a row. St. Luke's has also been cited by IBM Watson Health as a 50 Top Cardiovascular Program. Utilizing the Epic electronic medical record (EMR) system for both inpatient and outpatient services, the Network is a multi-year recipient of the Most Wired award recognizing the breadth of the SLUHN's information technology applications such as telehealth, online scheduling and online pricing information. St. Luke's is also recognized as one of the state's lowest cost providers.