News
Just Born Quality Confections Supports New St. Luke's Healthy Living Initiative
March 19, 2019
St. Luke's got a sweet visit on Tuesday, February 26, when the famous PEEPS mobile rolled up to Priscilla Payne Hurd Pavilion at St. Luke's University Hospital-Bethlehem. Spectators snapped photos of the car parked out front. It was a special occasion, as representatives from Just Born Quality Confections presented a check for $5,000 to support the Mobile Market Voucher Pilot Program, a new St. Luke's Healthy Living Initiative developed in partnership with the Kellyn Foundation.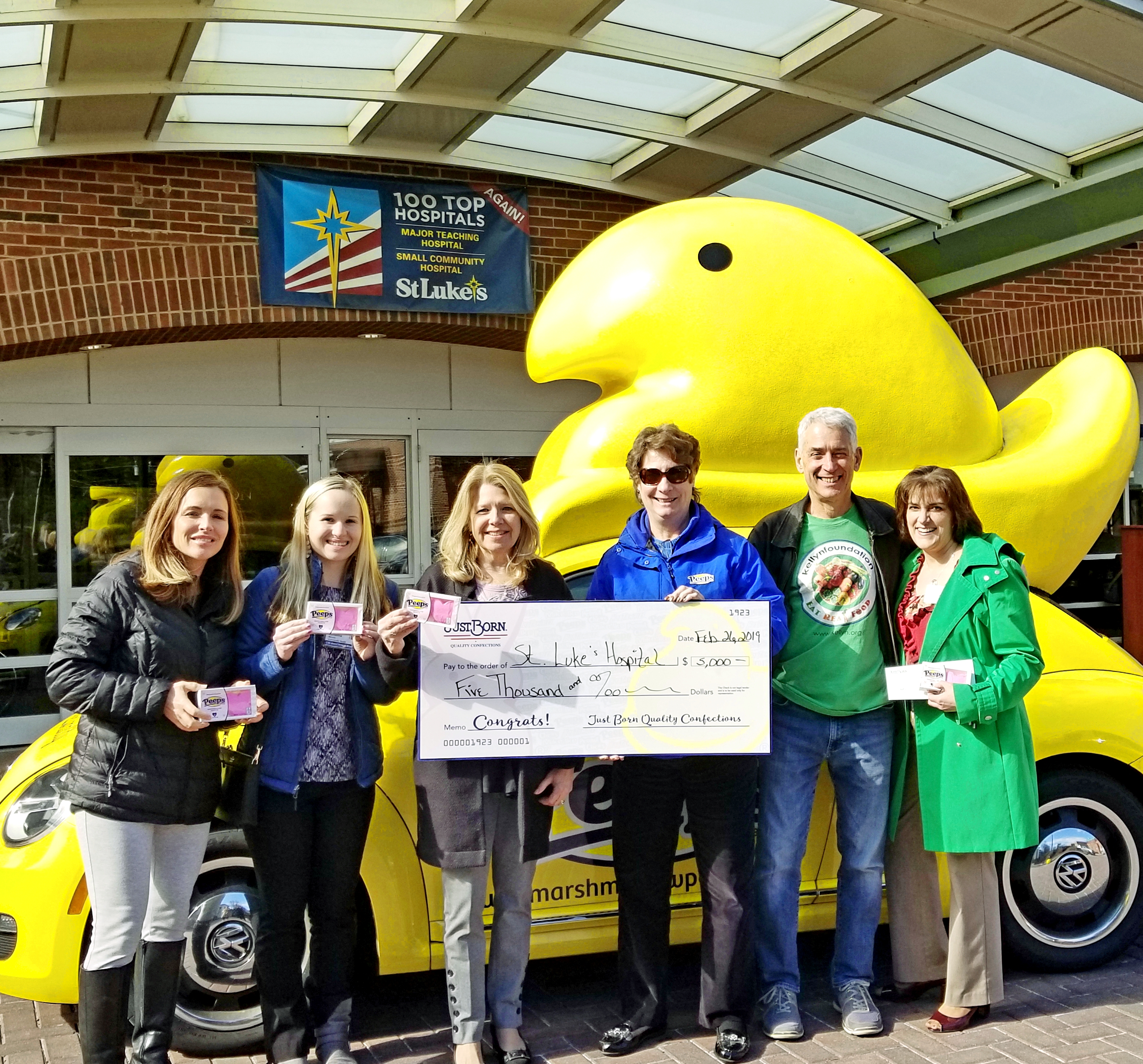 Photo (left to right): Shannon Veneziano, St. Luke's Clinical Coordinator; Samantha Bouton, St. Luke's Community Health Intern; Kathy Paulik Ramson, RN, CCRN, St. Luke's Network Director of Healthy Living and Chronic Disease Initiatives; Carol Saegar, Just Born Quality Confections Corporate Affairs Manager; Eric Ruth, Kellyn Foundation Co-Founder and CEO; Carla Arbushites, St. Luke's Assistant Vice President for Development.
The grant enables St. Luke's and the Kellyn Foundation to provide a select group of diabetic patients at the Fowler Community Wellness Center / Hispanic Center of the Lehigh Valley with access to fresh produce throughout the 2019 growing season (June through October). Patients can also participate in plant-based cooking classes to encourage clean eating habits at home, and the center's kitchen staff will be trained on the preparation of healthy senior meals.
"Through this program, we can help remove the barriers that our patients face when evaluating their meal options," says Dr. Kathy Paulik Ramson, RN, CCRN, St. Luke's Network Director of Healthy Living and Chronic Disease Initiatives. "Empowering our patients to make healthier choices has a significant impact on the state of their overall well-being–both physically and mentally."
The pilot program kicks off this summer, and will conclude in the fall with a celebration for participants–which will also serve as an opportunity to measure the outcomes of this period of cleaner eating for the center's patients. The goal is to expand the program to a wider network of patients and move the needle on improving diet and chronic disease prevention throughout the community.
Philanthropic support allows St. Luke's University Health Network to deliver world-class care that makes a difference every day for every patient. Make a gift online to a St. Luke's cause that's meaningful to you, or call the Development Office at 484-526-3067 to learn more.
About Just Born Quality Confections
Just Born Quality Confections is a third-generation family-owned company. Just Born is the maker of some of America's most beloved and iconic brands – PEEPS®, MIKE AND IKE®, HOT TAMALES® and GOLDENBERG'S® PEANUT CHEWS®. In 1923, the founder, Sam Born, opened a small candy-making and retail store in Brooklyn, New York, where he marketed the freshness of his daily-made candy with a sign that declared, "Just Born." Together with Born's brothers-in-law, Irv and Jack Shaffer, the company thrived in spite of the economic depression of the 1930s and, in 1932, moved its operations to Bethlehem, PA, which is still home to their iconic candy brands. All Just Born candies are proudly made in the U.S.A. For more information, please visit www.justborn.com and see the breadth of candy and high-quality branded items at www.peepsandcompany.com.
About the Kellyn Foundation
The Kellyn Foundation is a 501(c)(3) non-profit corporation with a mission to develop, support, facilitate and implement programs that encourage family and community physical and emotional wellness. It focuses on healthy lifestyles with positive outcomes that can be sustained and taught to future generations, while helping to reduce the individual, family, community and national chronic disease burden.
About St. Luke's
Founded in 1872, St. Luke's University Health Network (SLUHN) is a fully integrated, regional, non-profit network of more than 15,000 employees providing services at 10 hospitals and over 320 outpatient sites. With annual net revenue greater than $2 billion, the Network's service area includes 10 counties: Lehigh, Northampton, Berks, Bucks, Carbon, Montgomery, Monroe and Schuylkill counties in Pennsylvania and Warren and Hunterdon counties in New Jersey. Dedicated to advancing medical education, St. Luke's is the preeminent teaching hospital in central-eastern Pennsylvania. In partnership with Temple University, St. Luke's created the Lehigh Valley's first and only regional medical school campus. It also operates the nation's longest continuously operating School of Nursing, established in 1884, and 28 fully accredited graduate medical educational programs with 226 residents and fellows. St. Luke's is the only Lehigh Valley-based health care system with Medicare's five- and four-star ratings (the highest) for quality, efficiency and patient satisfaction. St. Luke's is both a Leapfrog Group and Healthgrades Top Hospital. In 2019, three of IBM Watson Health's 100 Top Hospitals were St. Luke's hospitals. St. Luke's University Hospital has earned the 100 Top Major Teaching Hospital designation from IBM Watson Health seven times total and five years in a row. St. Luke's has also been cited by IBM Watson Health as a 50 Top Cardiovascular Program. Utilizing the Epic electronic medical record (EMR) system for both inpatient and outpatient services, the Network is a multi-year recipient of the Most Wired award recognizing the breadth of the SLUHN's information technology applications such as telehealth, online scheduling and online pricing information. St. Luke's is also recognized as one of the state's lowest cost providers.