News
Hospice Doc's Cross-State Bike Ride Spreads Urgent Message
August 16, 2019
When Ric Baxter, MD, pedals away from St. Luke's University Hospital Network's (SLUHN) Hospice House in Saucon Valley on Sept. 2, beginning his trans-Pennsylvania bike trip, he'll be taking an urgent message to the people he meets along the way: Don't Wait.
Don't wait to enjoy those things you've been putting off: the vacation, the new home, the relationship. Do them soon, or you might never achieve them. Don't wait to spend time with people who are important to you. Our time is limited, so delaying might mean putting this off forever. Don't wait to seek medical care, which can keep you healthy, make you stronger or bring you comfort if you're facing a complex or terminal illness.
Dr. Baxter has wanted to make this solo trip for a year or so. He is 67 years old and has a passion for riding his bike to stay active. Knowing it's likely now or never that he'll be able to take this 800-mile journey, he is not waiting!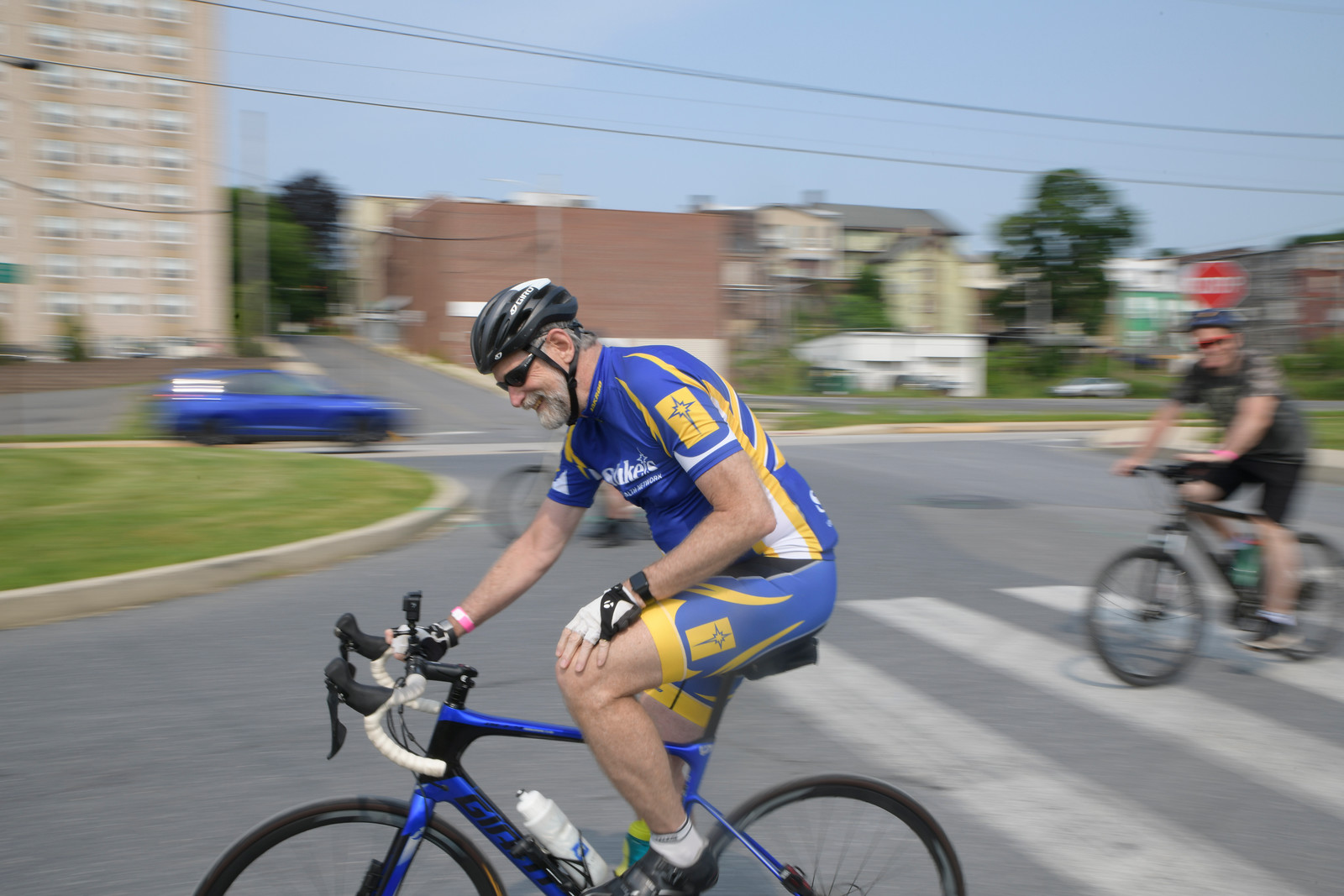 The SLUHN Hospice and Palliative Medicine specialist and Emmaus resident, aims to use the month during his two-wheeled tour to share this carpe diem message with his audiences along the trip. To people who are facing complex illnesses or their final days, Dr. Baxter advises them to request Palliative or Hospice Care, which has been shown to both prolong life and make the final days more valuable.
When his own father was gravely ill, Dr. Baxter took him into his home and provided him hospice care during the last several weeks of his life. This gave their family time to spend enriching periods together, making the elder Baxter's final days more comfortable to be with his family.
Dr. Baxter is heeding his own advice, taking four weeks off from his work with St. Luke's to make this journey, something he hasn't done during his 40-year medical career. As he gets a glimpse of what retirement might bring in two years, he'll also use the hours on his saddle to remember family members and patients whom he's had the privilege to treat during their final days.
Over the course of four weeks, Dr. Baxter will visit hospice facilities, family, friends and public institutions, many in out-of-the-way places. He'll ride some 50 miles each day over five-six hours, taking his two-wheeler through bucolic fields, over challenging hills and into busy and sleepy towns. He will celebrate his 68th birthday on Sept. 7 in Ellisburg, Potter County, where his wife Martha will meet him.
His itinerary will include stops in Monroe County at the SLUHN hospital in Stroudsburg. From there, his bike and his strength will take him westward. During the final two-day stretch of the trip, Dr. Baxter will visit Harrisburg, Lancaster, Valley Forge, Philadelphia and Quakertown, before finishing where he began.
When he returns to the Hospice House at the end of his month-long sojourn, Dr. Baxter hopes he'll be refreshed psychologically and spiritually, if not physically. It's quite likely the experience will have a lasting effect on him. Like the preceding 40 years in a profession that has taught him, among other lessons, the urgency of meeting his own needs as he meets those of his patients.
Don't Wait Tour Stops:
Bethlehem

Monroe

Miners

Lansford

Danville

Williamsport

Wellsboro

Coudersport/Ellisberg

Warren

Erie

Meadville

Clarion

Butler

Pittsburg

Altoona

Hershey

Altoona

Chambersburg/Lewistown

Harrisburg

Lancaster

Valley Forge

Philadelphia

Quakertown
# # #
About St. Luke's
Founded in 1872, St. Luke's University Health Network (SLUHN) is a fully integrated, regional, non-profit network of more than 15,000 employees providing services at 10 hospitals and 300 outpatient sites. With annual net revenue greater than $2 billion, the Network's service area includes 11 counties: Lehigh, Northampton, Berks, Bucks, Carbon, Montgomery, Monroe, Schuylkill and Luzerne counties in Pennsylvania and Warren and Hunterdon counties in New Jersey. Dedicated to advancing medical education, St. Luke's is the preeminent teaching hospital in central-eastern Pennsylvania. In partnership with Temple University, St. Luke's created the Lehigh Valley's first and only regional medical school campus. It also operates the nation's longest continuously operating School of Nursing, established in 1884, and 34 fully accredited graduate medical educational programs with 263 residents and fellows. St. Luke's is the only Lehigh Valley-based health care system with Medicare's five- and four-star ratings (the highest) for quality, efficiency and patient satisfaction. St. Luke's is both a Leapfrog Group and Healthgrades Top Hospital and a Newsweek World's Best Hospital. In 2019, three of IBM Watson Health's 100 Top Hospitals were St. Luke's hospitals. St. Luke's University Hospital has earned the 100 Top Major Teaching Hospital designation from IBM Watson Health seven times total and five years in a row. St. Luke's has also been cited by IBM Watson Health as a 50 Top Cardiovascular Program. Utilizing the Epic electronic medical record (EMR) system for both inpatient and outpatient services, the Network is a multi-year recipient of the Most Wired award recognizing the breadth of the SLUHN's information technology applications such as telehealth, online scheduling and online pricing information. St. Luke's is also recognized as one of the state's lowest cost providers.