News
Free Summer Lunches for Kids and Teens at St. Luke's Quakertown
June 19, 2019
As the school year comes to an end in Quakertown, St. Luke's University Health Network launched its new Summer Meals Program—running from June 17 to August 30—to make sure no child goes without a nutritious lunch during the summer months.
From 11:30 am – 1:30 pm on Monday through Friday (no meals available on Thursday, July 4), all children and teens ages 18 and younger can visit St. Luke's Quakertown Campus for a free healthy meal.
The new program is part of the Network's focus on addressing the social determinants of health—economic and social conditions that impact health risks and outcomes in the community. At the conclusion of its 2019 Community Health Needs Assessment (CHNA), St. Luke's identified improving access to care and reducing health disparities as one of its top priorities. Food security was consistently cited as a barrier to care and well-being across network communities.
During the 2017-18 school year, more than half of Quakertown Elementary School children were eligible to receive free or reduced-cost lunches. These children benefit from meals at school that they may otherwise go without. Over the summer, these meals are no longer accessible.
"Children can't succeed in school or at home without receiving proper meals," says Dr. Kathy Paulik Ramson, RN, CCRN, St. Luke's Network Director of Healthy Living and Chronic Disease Initiatives. "When school lets out and the meals they need are no longer available, they are at immediate risk of going hungry. This program is an example of community organizations coming together and doing their part to improve the health and well-being of our most food-insecure children."
In coordination with the Pennsylvania Department of Education and the United States Department of Agriculture, St. Luke's Quakertown Campus and Metz Culinary will assemble lunches to be distributed by community health staff and volunteers. Penn Community Bank, an organization known for its commitment to serving the Quakertown community, made a generous gift to support program enhancements.
Earlier this month, Penn Community Bank President and Chief Executive Officer, Jeane M. Vidoni, and Chief Relationship Officer, Todd R. Hurley, presented a check for $15,162 at St. Luke's Quakertown Campus, where the program is taking place.
"This is a cause that is near and dear to us at Penn Community," explains Mr. Hurley. "We are proud to be able to support our community's children in this meaningful way. When our employees learned about the program and Penn Community's initial $10,000 contribution, many of them chose to make their own personal gifts to offer even more support—it was truly a team effort."
The new program supplements the work that St. Luke's is doing to improve access to care for at-risk children, in partnership with local school districts. As part of the Healthy Kids, Bright Futures initiative, underinsured children can take advantage of medical and dental services through the network's fleet of mobile vans, and benefit from educational programs and healthy living resources.
The Summer Meals Program kicks off on Monday, June 17 in the ground floor vending area of St. Luke's Quakertown Campus. Fresh produce from local farms will be available on Wednesdays. Special options will be provided for children with food allergies or intolerances.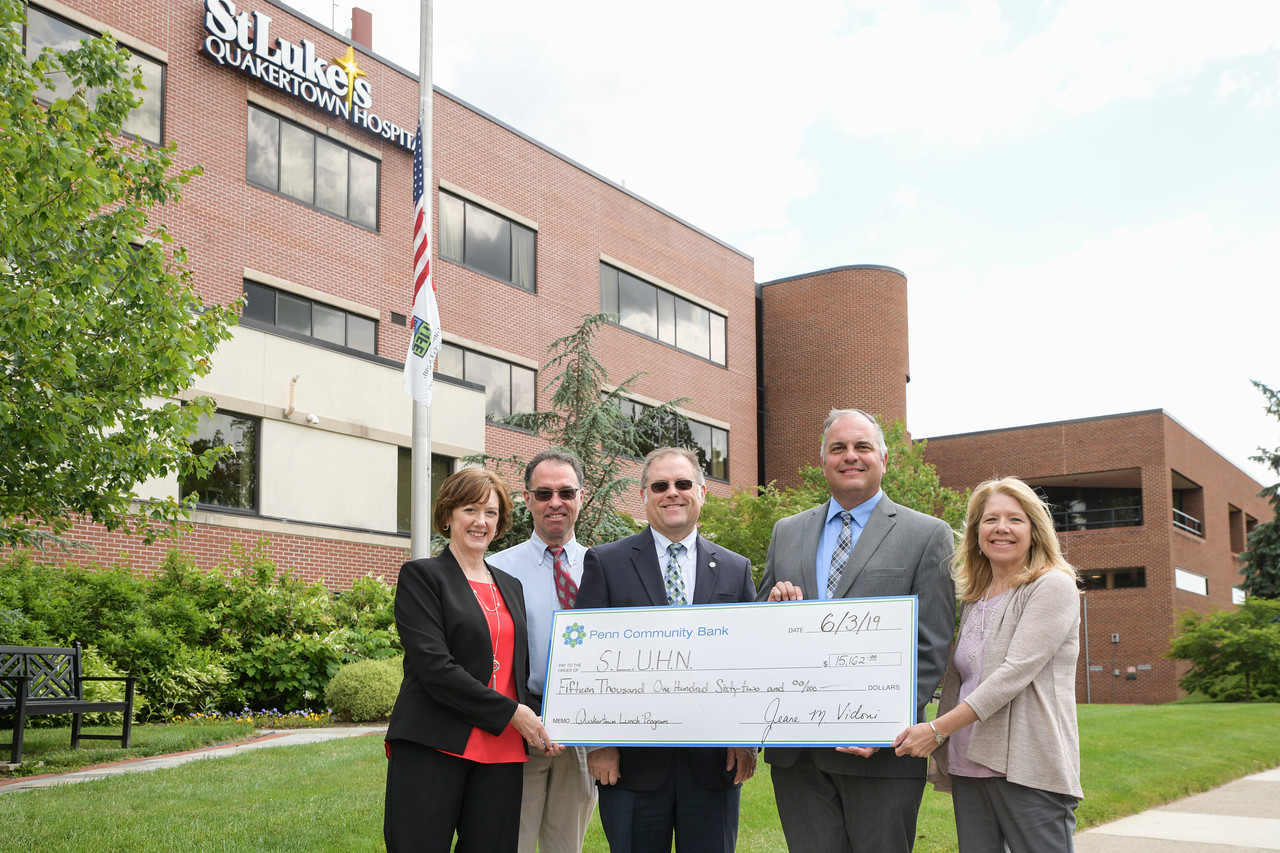 Photo Caption (left to right): Jeane M. Vidoni, Penn Community Bank President and Chief Executive Officer; David Scarantino, Metz Culinary Management General Manager/Director of Dining Services; Todd R. Hurley, Penn Community Bank Executive Vice President and Chief Relationship Officer; Dennis Pfleiger, St. Luke's Quakertown Campus President; Dr. Kathy Paulik Ramson, RN, CCRN, St. Luke's Network Director of Healthy Living and Chronic Disease Initiatives.
Philanthropic support allows St. Luke's University Health Network to deliver world-class care that makes a difference every day for every patient. Make a gift online to a St. Luke's cause that's meaningful to you, or call the Development Office at 484-526-3067 to learn more.
About Penn Community Bank
Penn Community Bank holds more than $2 billion in assets, employs more than 325 people, and offers banking, lending, insurance and investments at 25 bank branches and two administrative centers throughout Bucks and Montgomery counties, Pennsylvania. As an independent, mutual financial institution, Penn Community Bank is not publicly traded and operates with its long-term mission in mind: to help businesses grow and prosper, to provide financial resources to individuals and families throughout their lifetimes, to strengthen the local economy, and to partner with local organizations to act as a catalyst for positive growth in every market it serves.
About St. Luke's
Founded in 1872, St. Luke's University Health Network (SLUHN) is a fully integrated, regional, non-profit network of more than 15,000 employees providing services at 10 hospitals and 300 outpatient sites. With annual net revenue greater than $2 billion, the Network's service area includes 10 counties: Lehigh, Northampton, Berks, Bucks, Carbon, Montgomery, Monroe and Schuylkill counties in Pennsylvania and Warren and Hunterdon counties in New Jersey. Dedicated to advancing medical education, St. Luke's is the preeminent teaching hospital in central-eastern Pennsylvania. In partnership with Temple University, St. Luke's created the Lehigh Valley's first and only regional medical school campus. It also operates the nation's longest continuously operating School of Nursing, established in 1884, and 28 fully accredited graduate medical educational programs with 226 residents and fellows. St. Luke's is the only Lehigh Valley-based health care system with Medicare's five- and four-star ratings (the highest) for quality, efficiency and patient satisfaction. St. Luke's is both a Leapfrog Group and Healthgrades Top Hospital and a Newsweek World's Best Hospital. In 2019, three of IBM Watson Health's 100 Top Hospitals were St. Luke's hospitals. St. Luke's University Hospital has earned the 100 Top Major Teaching Hospital designation from IBM Watson Health seven times total and five years in a row. St. Luke's has also been cited by IBM Watson Health as a 50 Top Cardiovascular Program. Utilizing the Epic electronic medical record (EMR) system for both inpatient and outpatient services, the Network is a multi-year recipient of the Most Wired award recognizing the breadth of the SLUHN's information technology applications such as telehealth, online scheduling and online pricing information. St. Luke's is also recognized as one of the state's lowest cost providers.