News
Dinner by Starlight Supports Breast Center, Honors Dr. Joseph Russo
November 13, 2019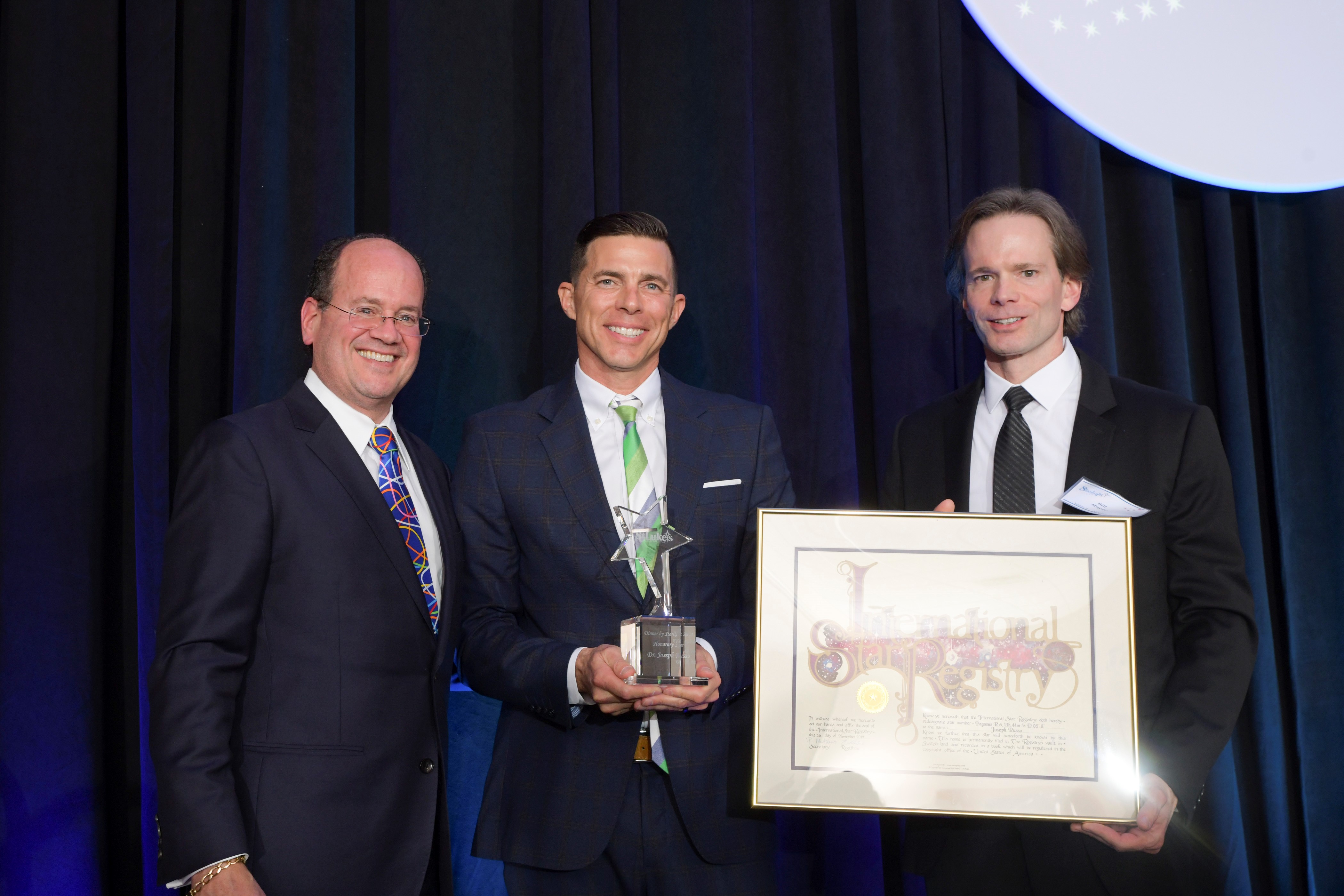 Photo (left to right): Buddy Lesavoy Esq., MBA, JD, Lesavoy Butz & Seitz LLC and Chairman of the Board of Governors of the St. Luke's Allentown Campus; Dr. Joseph Russo, Section Chief of Women's Imaging, St. Luke's; Bill Moyer, President, West Region & Allentown Campus, St. Luke's.
The stars were shining bright at the recent St. Luke's University Health Network Dinner by Starlight event. More than 300 St. Luke's staff members, physicians, and community leaders came together to celebrate the continued growth of the Allentown Campus, three Shining Stars, and this year's Honorary Star – the Network's own Dr. Joseph Russo.
Dinner by Starlight is an annual fundraiser that provides a special opportunity to honor Allentown community members who make a difference in the lives of others through their gifts of time, talent, and treasure. The event raised nearly $120 thousand, which will support the new St. Luke's Regional Breast Center–West End, a full-service diagnostic facility offering mammograms, ultrasounds, breast biopsy procedures, onsite radiologists, and a breast nurse navigator. The center – a GE world showcase – offers a comprehensive array of services under one roof and highlights multiple fellowship-trained mammographers.
"Last year, our team provided a record number of imaging exams to our patients," explained Michele Giletto, Network Director, Women's Imaging for St. Luke's, during her event remarks. She went on to share that support from Dinner by Starlight "will allow us to serve our patients with even higher level breast imaging, while creating access closer to home."
The new center is a project near and dear to Dr. Joseph Russo, Section Chief of Women's Imaging for St. Luke's University Health Network and the event's Honorary Star. Since being named Section Chief in 2005, Dr. Russo has been instrumental in establishing St. Luke's Regional Breast Centers.
"Over 30 years ago, when breast cancer awareness and mammography were in their infancy, a close family member lost her battle," states Dr. Russo. "More recently, my mother-in-law took advantage of St. Luke's digital screening mammography, during which a small cancer was discovered and completely removed. Awareness is at the heart of what I do, and I actively promote the power of breast imaging to save lives."
St. Luke's Regional Breast Center–West End will meet a growing need in the Allentown community. Caregivers and patients alike have sought a one-stop-shop for breast screening services – from initial exam through follow-up and supportive care. The center will meet this need close to home. Bill Moyer, President, West Region & Allentown Campus for St. Luke's, addressed event attendees with a network update, sharing that "we have seen tremendous interest and growth in our services across the network. As more and more patients put their trust in St. Luke's, it is important to be able to provide easy access to those services."
In addition to recognizing Dr. Russo, Dinner by Starlight celebrated three Shining Stars – Mary Griffin, Gerry Sherry, and Lauren Weintraub – for the impact they are making on the Allentown community. Mary Griffin founded The Caring Place to remove local children from troubled environments and provide them an opportunity for a brighter future. Gerry Sherry, a dedicated volunteer, has made significant contributions to Meals on Wheels of the Greater Lehigh Valley as well as the National Alliance on Mental Illness. Lauren Weintraub volunteers her time in the St. Luke's Neonatal Intensive Care Unit, working alongside nurses to bring comfort to new parents during an emotional time.
St. Luke's would like to recognize the Dinner by Starlight Premier Sponsor, BSI Corporate Benefits, as well as the many other generous event supporters and attendees. They are all deeply committed to the St. Luke's Allentown Campus, surrounding community, and the overall success of this important evening.
About St. Luke's
Founded in 1872, St. Luke's University Health Network (SLUHN) is a fully integrated, regional, non-profit network of more than 15,000 employees providing services at 10 hospitals and 300 outpatient sites. With annual net revenue greater than $2 billion, the Network's service area includes 11 counties: Lehigh, Northampton, Berks, Bucks, Carbon, Montgomery, Monroe, Schuylkill and Luzerne counties in Pennsylvania and Warren and Hunterdon counties in New Jersey. Dedicated to advancing medical education, St. Luke's is the preeminent teaching hospital in central-eastern Pennsylvania. In partnership with Temple University, St. Luke's created the Lehigh Valley's first and only regional medical school campus. It also operates the nation's longest continuously operating School of Nursing, established in 1884, and 34 fully accredited graduate medical educational programs with 263 residents and fellows. St. Luke's is the only Lehigh Valley-based health care system with Medicare's five- and four-star ratings (the highest) for quality, efficiency and patient satisfaction. St. Luke's is both a Leapfrog Group and Healthgrades Top Hospital and a Newsweek World's Best Hospital. In 2019, three of IBM Watson Health's 100 Top Hospitals were St. Luke's hospitals. St. Luke's University Hospital has earned the 100 Top Major Teaching Hospital designation from IBM Watson Health seven times total and five years in a row. St. Luke's has also been cited by IBM Watson Health as a 50 Top Cardiovascular Program. Utilizing the Epic electronic medical record (EMR) system for both inpatient and outpatient services, the Network is a multi-year recipient of the Most Wired award recognizing the breadth of the SLUHN's information technology applications such as telehealth, online scheduling and online pricing information. St. Luke's is also recognized as one of the state's lowest cost providers.