News
Community gets inside look at Geisinger St. Luke's Hospital
November 07, 2019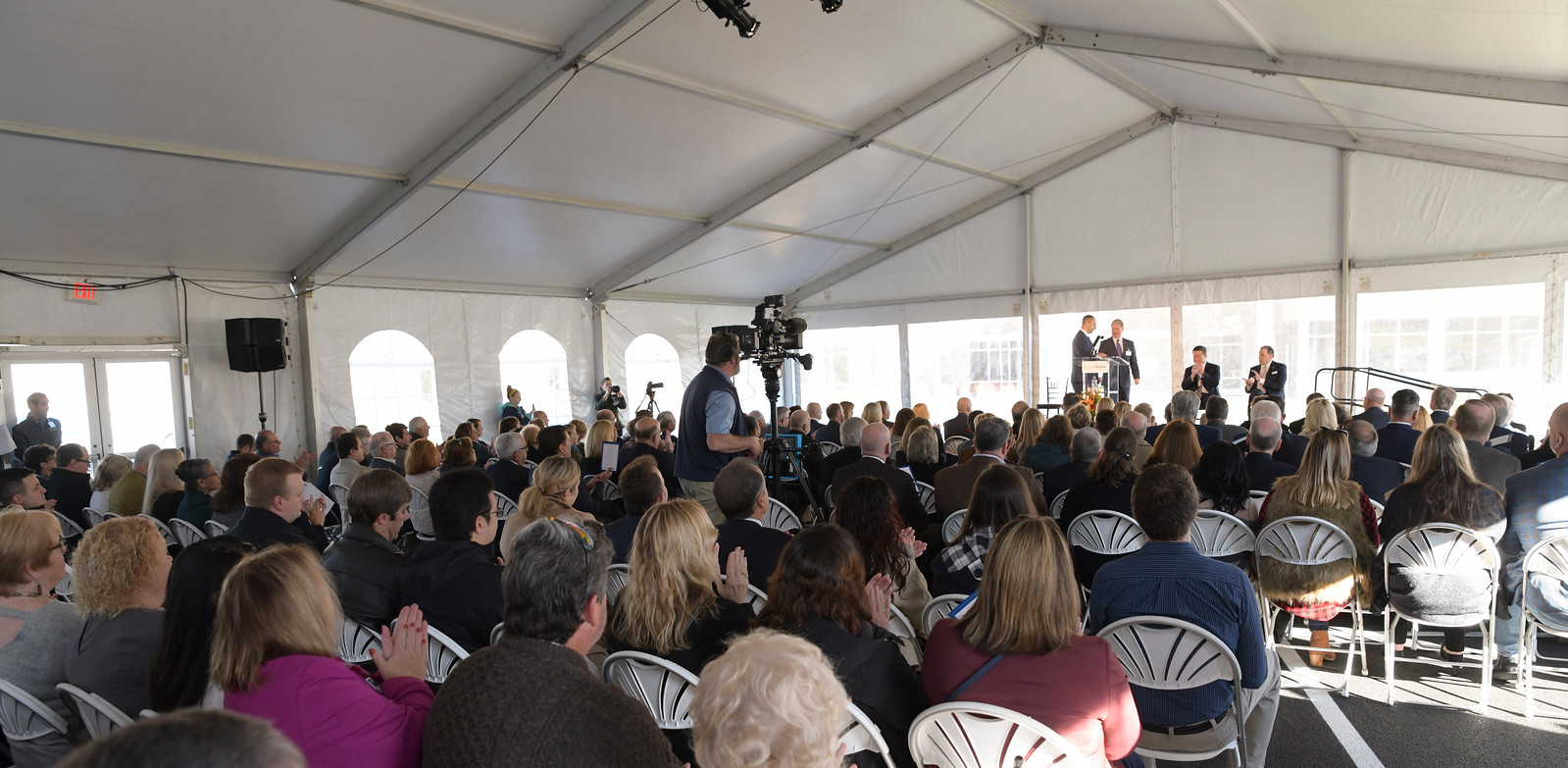 The Geisinger St. Luke's Hospital campus was packed with community members on Saturday, each eager to get an inside look at Schuylkill County's first hospital to open in more than 90 years. The Geisinger St. Luke's Hospital Pre-Opening Celebration gave neighbors a chance to see what the hospital will offer once it opens and to learn how care and collaboration are coming together to make health care more accessible.
Geisinger St. Luke's Hospital will officially open in mid-November. Once open, the hospital will provide surgery, radiology, lab and additional services, as well as an emergency department, medical/surgical suites and an intensive care unit. Patients at the pre-opening celebration got a chance to see the state-of-the-art equipment and the features that make the hospital unique.
"We're here to care for the community and wanted to give them a first look at the hospital," said Gabriel Kamarousky, president of Geisinger St. Luke's Hospital. "It's great to see how excited the community is for this facility to open. We've been talking about this hospital opening for so long, and we're almost there. This facility is going to change health care in Schuylkill and Berks counties, and the surrounding area."
The hospital features private patient rooms, both in the emergency department and the in-patient rooms. Convenience was at the center of the hospital's design, with a private patient pick-up area on one end of the hospital and outpatient services located on the first floor near the lobby.
Currently, employees are undergoing training and team building exercises. Over 200 employees have been hired, with additional staff expected to be hired as operations ramp up. Construction activity will continue at the hospital after it opens, as demand for services grow. Construction started on the hospital campus in spring 2018, with more than 200 constructions jobs having been created throughout the project.
The facility is a first-of-its-kind collaboration in Pennsylvania, with Bethlehem, Pa.-based St. Luke's University Health Network and Danville, Pa.-based Geisinger building and equally co-owning the hospital.
###
About St. Luke's
Founded in 1872, St. Luke's University Health Network (SLUHN) is a fully integrated, regional, non-profit network of 14,000 employees providing services at 10 hospitals and over 300 outpatient sites. With annual net revenue of $1.9 billion, the Network's service area includes 10 counties: Lehigh, Northampton, Berks, Bucks, Carbon, Montgomery, Monroe and Schuylkill counties in Pennsylvania and Warren and Hunterdon counties in New Jersey. Dedicated to advancing medical education, St. Luke's is the preeminent teaching hospital in central-eastern Pennsylvania. In partnership with Temple University, St. Luke's created the region's first and only regional medical school campus. It also operates the nation's longest continuously operating School of Nursing, established in 1884, and 28 fully accredited graduate medical educational programs with 226 residents and fellows. St. Luke's is the only health care system in central-eastern Pennsylvania to earn Medicare's five-star rating (the highest) for quality, efficiency and patient satisfaction. St. Luke's has earned the 100 Top Major Teaching Hospital designation from IBM Watson Health (formerly Truven Health Analytics) repeatedly – six times total and four years in a row including 2018. It has also been cited by IBM Watson Health as a 50 Top Cardiovascular Program. Utilizing the EPIC electronic medical record (EMR) system for both inpatient and outpatient services, the Network is a multi-year recipient of the Most Wired award recognizing the breadth of the SLUHN's information technology applications such as telehealth, online scheduling and online pricing information. St. Luke's is also recognized as one of the state's lowest cost providers.
About Geisinger
Geisinger is committed to making better health easier for the more than 1.5 million consumers it serves. Founded more than 100 years ago by Abigail Geisinger, the system now includes 13 hospital campuses, a 600,000-member health plan, two research centers and the Geisinger Commonwealth School of Medicine. With 32,000 employees and 1,800 employed physicians, Geisinger boosts its hometown economies in Pennsylvania and New Jersey by billions of dollars annually. Learn more at geisinger.org or connect with us on Facebook, Instagram, LinkedIn and Twitter.