News
A broken wrist couldn't keep Claudia from doing what she loves
March 12, 2019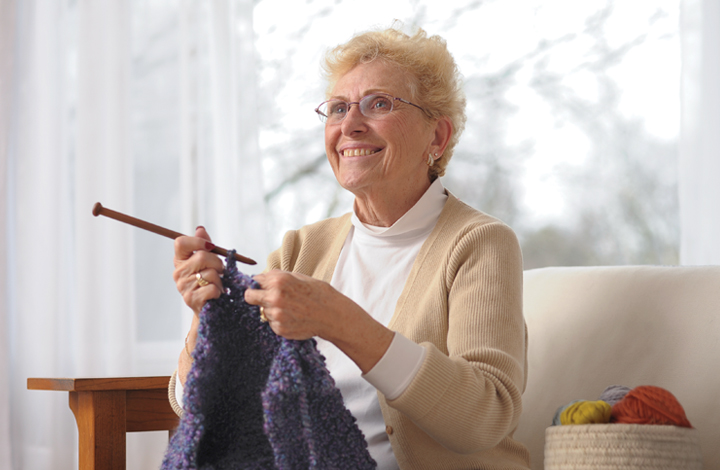 It seemed so routine as Claudia Carr hung curtains at her Bath home in November – and then it was not.
"I was backing up and tripped and fell to my left side," the former nurse recalled. "I put out my left arm to break my fall, and I ended up fracturing the two bones in my left wrist, the radius and the ulna."
Claudia, 72, immediately went to St. Luke's Care Now in Bethlehem, where X-rays revealed the fracture. She was referred to hand surgeon Anastassia Newbury, MD, of St. Luke's Orthopedic Care for the follow-up treatment that would eventually lead to an extraordinary recovery.
Dr. Newbury examined Claudia and the X-rays and noted that the fracture was stable, but she wanted to see her back in a week to make sure the bones stayed in anatomic alignment. Upon Claudia's return visit to Dr. Newbury, the distal radius fracture had displaced, and surgery became necessary.
"She is such an active person, and she would benefit from having as much wrist motion as possible," explained Dr. Newbury, who performed a surgery that required a metal plate secured by screws. "Claudia was an absolute pleasure as a patient."
Claudia, who retired after 50 years as a full-time nurse six years ago, and as a part-time national accreditor for vascular ultrasound just two years ago (after 24 years doing that), took the need for surgery in stride.
Claudia said that, unfortunately, osteoporosis played a role in her injury. She broke her left hip two years ago and had that replaced by another St. Luke's Orthopedic Care surgeon, Patrick J. Brogle, MD, with a great outcome.
"There were no two ways around the wrist surgery," she reasoned of the outpatient surgery. "I had it done on a Friday, and I will tell you that in all my years, I never had a physician call me the next day to see how I was doing, and she called me on Saturday. I was impressed with how much she cared."
"She's a rock star," Dr. Newbury said of Claudia. "As someone who was in healthcare, Claudia was very upbeat about the whole process."
"Who doesn't love hearing that," Claudia rhetorically asked. "Here I am at 72 being called a rock star!"
Claudia, who enjoys crocheting and painting despite rheumatoid arthritis, said that the St. Luke's team, from pre-op to post-op to follow-up, made her feel confident.
"Dr. Newbury is so bright and has such fresh, innovative ideas," Claudia said. "She is extremely competent and confident in her abilities and it comes across. She is so warm and likable and genuinely cares for the welfare of her patients. She wants to see them achieve their best outcome possible."
Dr. Newbury normally recommends her patients for physical therapy, but said that Claudia was doing so well on her own and back to normal function, it wasn't necessary.
"I think she is incredibly grateful for everything she has and has such a positive attitude," Dr. Newbury said. "She understood the process of first not needing surgery, and then needing surgery, and that there was going to be pain, and that there was going to be work on her part, and she put her best attitude and effort into it."
Claudia walked away impressed by the spirit and cooperation from her St. Luke's team.
"Everyone at the hospital was so helpful, so on top of things," Claudia said "They all work together so well. It's wonderful to see these good, caring attributes so evident in people in this age of technology."