News
Why are February Newborns Sporting Special Red Hats at St. Luke's?
February 02, 2018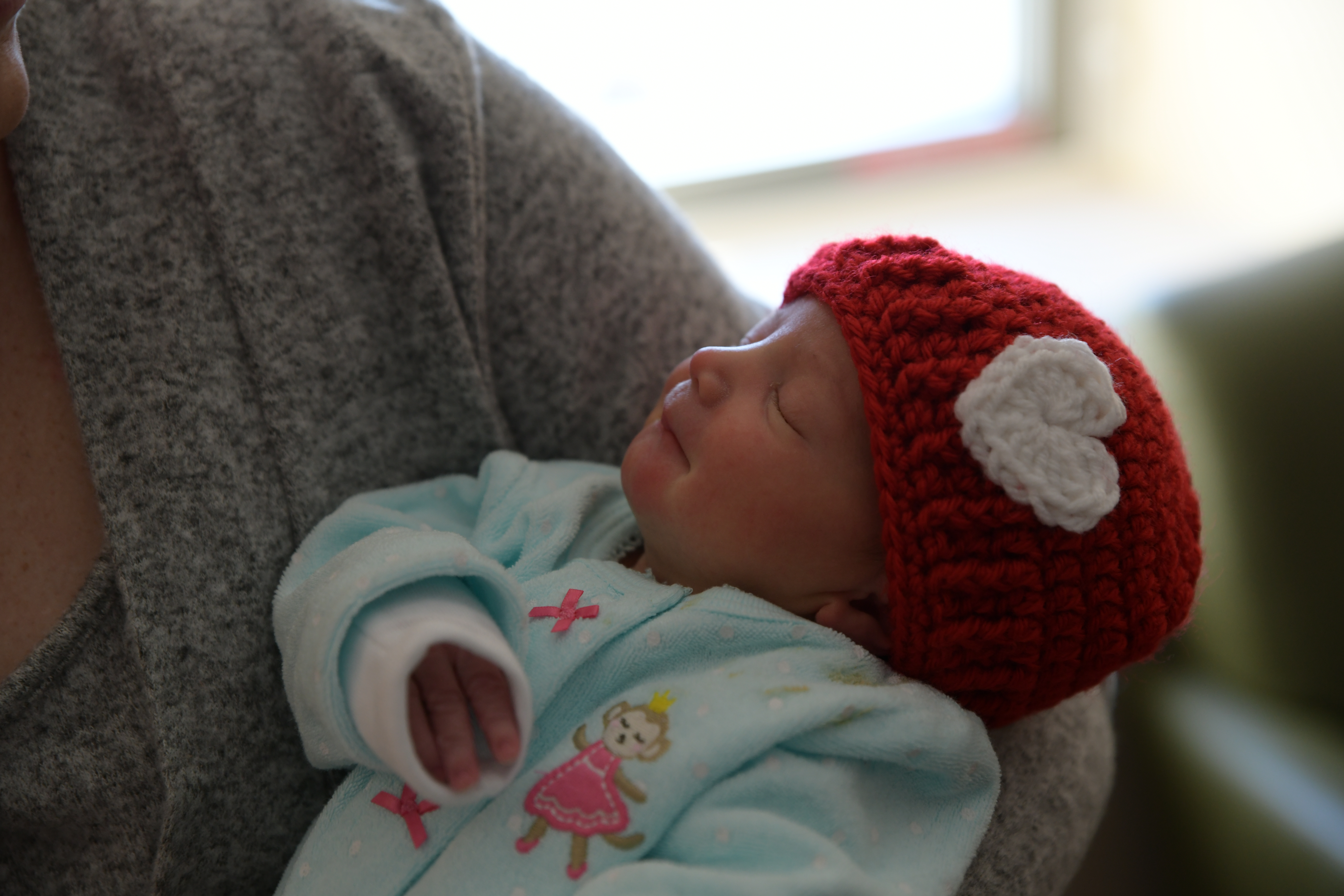 The American Heart Association promotes wearing red in the month of February as part of "American Heart Month" to raise awareness about heart disease. But heart disease also impacts the lives of the smallest patients too, which is why, for the past three years, St. Luke's University Hospital-Bethlehem and St. Luke's Allentown Campus have participated in the American Heart Association "Little Hats, Big Hearts" program by giving out red knitted hats for newborns to wear in the nurseries.
The American Heart Association collects the red hats all year long from hundreds of volunteer knitters and distributes them in February to raise awareness about diseases that affect babies' hearts. Congenital heart defects, which include major heart or blood vessel abnormalities that exist at birth, impact about 40,000 babies each year.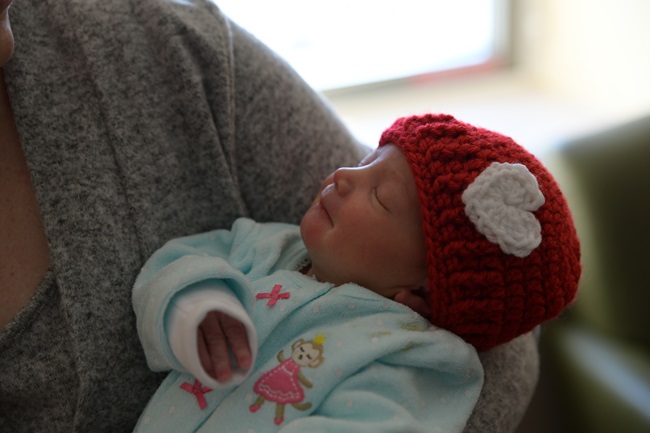 ---
"The St. Luke's maternal fetal medicine and maternal and newborn staff look forward to this donation every year," says Jared King, Service Line Administrator, Women's and Children's Services. "Our team is continually screening for congenital heart defects prenatally and caring for babies, and families, affected by heart abnormalities. The American Heart Association's initiative touches home for our team and we are grateful for their efforts to help spread awareness about heart diseases."
What started as a social media campaign has grown in size and awareness with over 100 volunteer knitters donating their creations to babies locally and nationwide. The AHA provides a pattern to follow and directions for different size hats ranging from very tiny for preemies to bigger hats for newborns. Some knitters even create their own patterns, adding a special touch to each hat.
"We're so grateful to all of our knitters who make this program possible. We've had hundreds of emails inquiring about the program and we've received more donations this year than in the past," says Dawn Fernandez, social events director for the Lehigh Valley Chapter of the American Heart Association. "St. Luke's will receive 320 hats to help raise awareness about heart diseases that can affect preemies and newborns."
Media Contact:
Sam Kennedy, Corporate Communications Director, 484-526-4134, samuel.kennedy@sluhn.org
About St. Luke's
Founded in 1872, St. Luke's University Health Network is a fully integrated, regional, non-profit network providing services at nine hospitals and nearly 300 outpatient sites. With annual net revenue of $1.7 billion, the network's service area includes 10 counties: Lehigh, Northampton, Carbon, Schuylkill, Bucks, Montgomery, Berks and Monroe counties in Pennsylvania and Warren and Hunterdon counties in New Jersey. Dedicated to advancing medical education, St. Luke's is a major teaching hospital – the only one in the Greater Lehigh Valley. In partnership with Temple University, St. Luke's created the region's first and only regional medical school campus. It also operates the nation's longest continuously operating School of Nursing, established in 1884, and 23 fully accredited graduate medical educational programs with 189 residents. Repeatedly, including 2017, St. Luke's earned Truven's 100 Top Major Teaching Hospital and 50 Top Cardiovascular Program designations, in addition to other honors for clinical excellence. St. Luke's, utilizing the EPIC electronic medical record (EMR) system, is a multi-year recipient of the Most Wired award recognizing the breadth of St. Luke's information technology applications such as telehealth, online scheduling and online pricing information. St. Luke's is also recognized as one of the state's lowest cost providers.