News
Temple/St. Luke's Medical Students Graduate on May 14
May 14, 2018
Bethlehem, PA (5/14/2018) – During the four years of medical school training, students can either study, sleep or have a social life, but never all three, jokes Joel Rosenfeld, MD, M.Ed, FACS, Chief Academic Officer, St. Luke's University Health Network, and Senior Associate Dean, Lewis Katz School of Medicine (LKSOM) at Temple University.
After four years of intense study and clinical experience, twenty nine Temple/St. Luke's medical students graduated on May 14, 2018 at the Kimmel Center in Philadelphia.
"Graduation is truly a culmination of many years of hard work and preparation," said Dr. Rosenfeld. "From high school through college and then throughout medical school, medical students have to be singularly focused and committed in order to succeed. I am very pleased that our students have met these challenges, far exceeded our expectations and have proved themselves ready for the next step of their training in their chosen residency programs."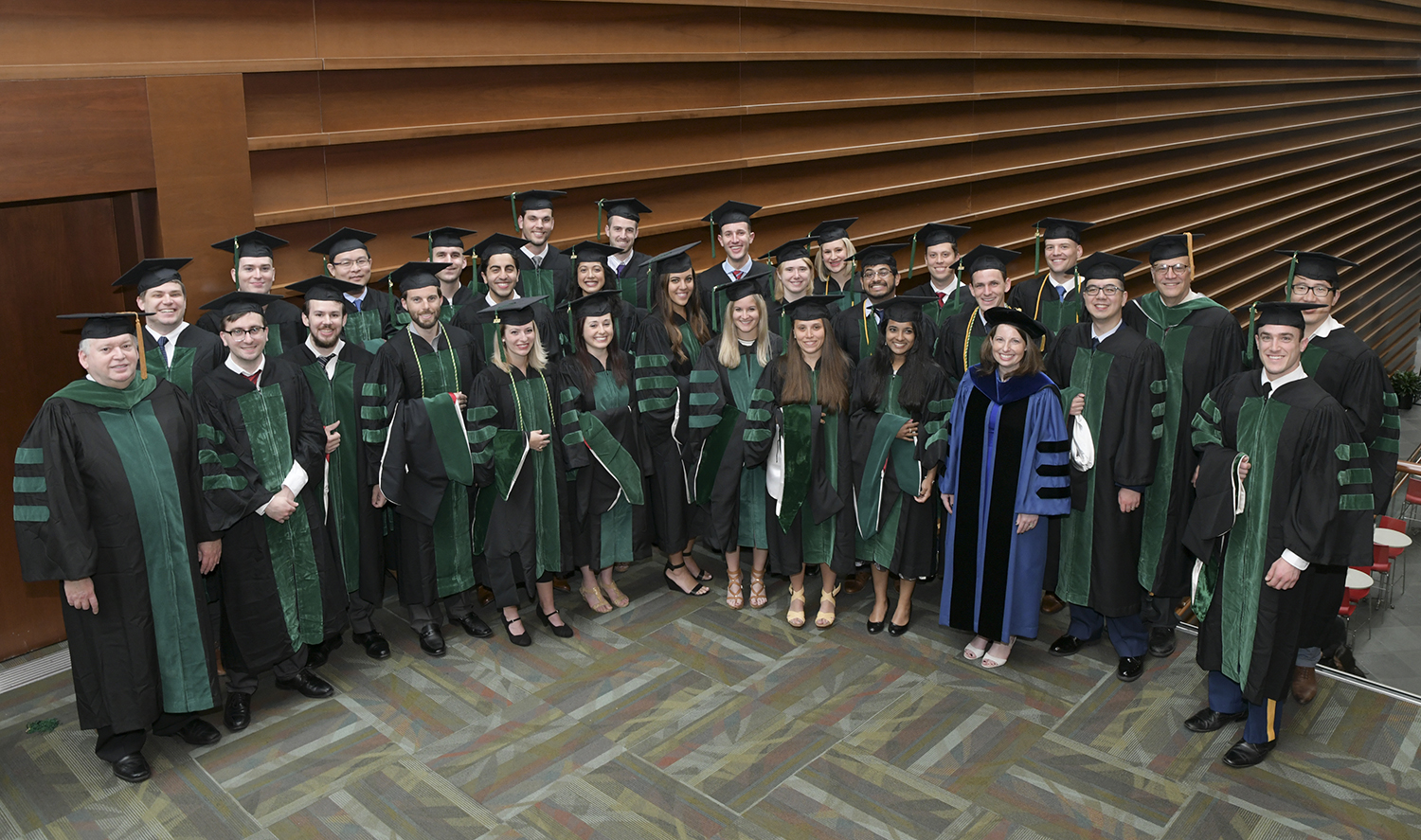 Members of the Temple/St. Luke's School of Medicine Class of 2018 pose for a photograph with faculty shortly after graduation on Monday, May 14 at the Kimmel Center in Philadelphia.
---
St. Luke's Students Win Awards – Local Physician Honored
At an award ceremony for 200 graduates of the Lewis Katz School of Medicine at Temple University, St. Luke's students received top honors. Jonathan Hunt won The J. Robert Willson Research Award – awarded in memory of J. Robert Willson, M.D., Professor and Chair of the Department of Obstetrics and Gynecology from 1947 to 1963. The recipient of this award exemplifies outstanding critical and analytic thinking, strong interest in research, and great promise for pursuing a career in the reproductive sciences.
Jonathan was also honored with The School of Medicine Service Award – awarded to a member of the graduating class who, through leadership and service, has made outstanding contributions to the life of the medical school.
David Strauss of Orefield took home the A. Richard Kendell Award for Excellence in Urology – established by A. Richard Kendell, M.D. '56, this award recognizes outstanding aptitude and interest in the field of Urology.
James Anasti, MD, Director of Student Activities for Temple/St. Luke's and Clinical Professor OB/GYN for LKSOM, was recognized with the Drs. Henry P. and M. Page Laughlin Award for excellence in clinical teaching, as selected by Temple/St. Luke's students.
Four Temple/St. Luke's graduates were inducted into the Alpha Omega Alpha Honor Medical Society and five students were inducted in the Gold Humanism Honor Society.
Alpha Omega Alpha Honor Medical Society
Jonathan Hunt
Charles (CJ) Kidd, of Bethlehem
Daenielle Lang
Kelsey Sullivan Row*
*inducted in the Third Year
Gold Humanism Honor Society
Alvin George
Jonathan Hunt
Shelby Sferra
Alexandra Stough
Brian Warden
Six Temple/St. Luke's Medical Students to Continue Studies at St. Luke's University Hospital - Bethlehem for Residencies
On March 16, fourth year medical students all over the country "matched" their residency applications with prospective health institutions to determine residency training programs, the next step after graduating from medical school.
"National Match Day is truly a milestone for every medical student across the country. This is the day when medical residency programs match with their highest-ranked medical students, and fourth year medical students learn where they will continue their professional development," explained Dr. Rosenfeld.
Dr. Rosenfeld continued, "We are extremely pleased with how well our students have matched. This is a tribute to their hard work over the past four years and to the excellent teaching, advice and counsel of our faculty."
Six students will continue their medical education in St. Luke's Graduate Medical Education programs, according to Dr. Rosenfeld. Data demonstrates that 50 percent of physicians will practice medicine within 100 miles of where they attend medical school and complete residencies.
Robert Langan, MD, Program Director, Family Medicine Residency Program, St. Luke's University Health Network, said, "St. Luke's University Health Network and the Lewis Katz School of Medicine made a joint investment in the future of the health of the Lehigh Valley by joining together to produce a medical school with the stated purpose of attracting high quality individuals who will learn, train and – and we hope stay - to practice medicine in the Lehigh Valley."
For more information about the Temple/St. Luke's School of Medicine please visit https://www.slhn.org/som and for other graduate medical education programs at St. Luke's University Health Network, please visit https://www.slhn.org/gme
Temple University's Lewis Katz School of Medicine celebrates their 116th commencement ceremony at the Kimmel Center for the Performing Art. View photos here: https://stlukes.smugmug.com/Medical-Education/2018-Graduation/
Media Contact:
Sam Kennedy, Corporate Communications Director, 484-526-4134, samuel.kennedy@sluhn.org
About St. Luke's
Founded in 1872, St. Luke's University Health Network (SLUHN) is a fully integrated, regional, non-profit network of 14,000 employees providing services at 10 hospitals and over 300 outpatient sites. With annual net revenue of $1.9 billion, the Network's service area includes 10 counties: Lehigh, Northampton, Berks, Bucks, Carbon, Montgomery, Monroe and Schuylkill counties in Pennsylvania and Warren and Hunterdon counties in New Jersey. Dedicated to advancing medical education, St. Luke's is the preeminent teaching hospital in central-eastern Pennsylvania. In partnership with Temple University, St. Luke's created the region's first and only regional medical school campus. It also operates the nation's longest continuously operating School of Nursing, established in 1884, and 28 fully accredited graduate medical educational programs with 226 residents and fellows. St. Luke's is the only health care system in central-eastern Pennsylvania to earn Medicare's five-star rating (the highest) for quality, efficiency and patient satisfaction. St. Luke's has earned the 100 Top Major Teaching Hospital designation from IBM Watson Health (formerly Truven Health Analytics) repeatedly – six times total and four years in a row including 2018. It has also been cited by IBM Watson Health as a 50 Top Cardiovascular Program. Utilizing the EPIC electronic medical record (EMR) system for both inpatient and outpatient services, the Network is a multi-year recipient of the Most Wired award recognizing the breadth of the SLUHN's information technology applications such as telehealth, online scheduling and online pricing information. St. Luke's is also recognized as one of the state's lowest cost providers.