News
St. Luke's Residents Take Top Prize at the Academic International Medicine Conference
August 15, 2018
Imagine being in labor and having to send a family member out to purchase a suturing kit. Or going to an emergency room for deep cut, but having to bring your own gauze.
In the hospitals of Gambia, Africa's smallest country, it's BYOS (bring your own supplies) for individuals who cannot afford the expense of private clinics.
St. Luke's third year family medicine resident, Naffie Ceesay, MD, got quite the eye-opening experience during a volunteer mission. So much so, that it inspired her to recruit fellow family medicine resident Thomas Wojda, MD to help turn her experience into a research project. Their poster, which advocates for the training of family physicians abroad, took top honors at the third annual Academic International Medicine Congress in Brooklyn, NY.
"I knew conditions in Africa would be starkly different than here in America," stated Dr. Ceesay. "But it was incredibly humbling and sobering to witness it firsthand."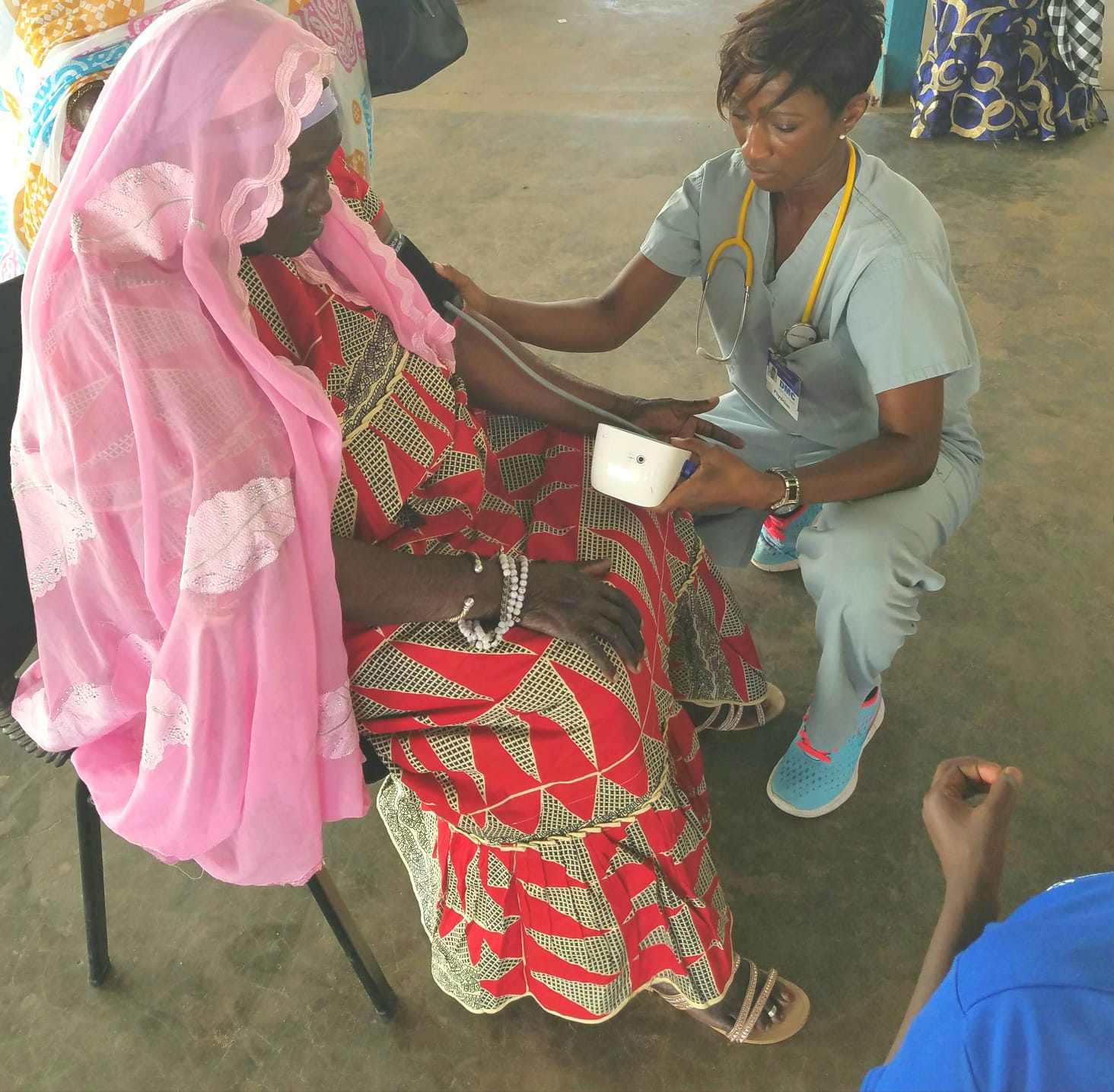 Dr. Ceesay with Gambian patient
Prior to her journey, Dr. Ceesay and fellow residents worked to gather a multitude of supplies, including blood pressure cuffs, bandages, saline, scalpels, antibiotics and common medications such as pain relievers and asthma inhalers. St. Luke's Warren Campus donated a large majority of the supplies – with Brother's Brother Foundation and Americares contributing as well.
During her trip, she saw nearly 80 patients a day and encountered a wide range of diseases and illnesses, both common and unique. The supplies she sent over were incredibly valuable and distributed almost immediately.
Dr. Ceesay notes that her experience helped hone her clinical and leadership skills, as labs and imaging results were limited if not non-existent. Additionally, practicing in this setting helped build confidence in practicing independently. "Dr. Wojda and I feel that a global rotation would be an excellent addition to any family medicine residency program," she stated. "I gained as much as I gave."
Drs. Ceesay and Wojda's poster beat out other entries from residents across the nation, including entries from schools like Columbia, Temple, Cornell, Rutgers and Harvard.
###
Media Contact:
Sam Kennedy, Corporate Communications Director, 484-526-4134, samuel.kennedy@sluhn.org
About St. Luke's
Founded in 1872, St. Luke's University Health Network (SLUHN) is a fully integrated, regional, non-profit network of 14,000 employees providing services at 10 hospitals and over 300 outpatient sites. With annual net revenue of $1.9 billion, the Network's service area includes 10 counties: Lehigh, Northampton, Berks, Bucks, Carbon, Montgomery, Monroe and Schuylkill counties in Pennsylvania and Warren and Hunterdon counties in New Jersey. Dedicated to advancing medical education, St. Luke's is the preeminent teaching hospital in central-eastern Pennsylvania. In partnership with Temple University, St. Luke's created the region's first and only regional medical school campus. It also operates the nation's longest continuously operating School of Nursing, established in 1884, and 28 fully accredited graduate medical educational programs with 226 residents and fellows. St. Luke's is the only health care system in central-eastern Pennsylvania to earn Medicare's five-star rating (the highest) for quality, efficiency and patient satisfaction. St. Luke's has earned the 100 Top Major Teaching Hospital designation from IBM Watson Health (formerly Truven Health Analytics) repeatedly – six times total and four years in a row including 2018. It has also been cited by IBM Watson Health as a 50 Top Cardiovascular Program. Utilizing the EPIC electronic medical record (EMR) system for both inpatient and outpatient services, the Network is a multi-year recipient of the Most Wired award recognizing the breadth of the SLUHN's information technology applications such as telehealth, online scheduling and online pricing information. St. Luke's is also recognized as one of the state's lowest cost providers.