News
St Lukes Monroe Celebrates 2 Years of Service to the Community
November 29, 2018
St. Luke's Monroe Campus in Stroudsburg recently celebrated two years of exceptional service to the community. Since it officially opened in October 2016, the hospital has cared for more than 50,000 Monroe County residents, allowing people to receive the highest level of care close to home.
Now in its third year, St. Luke's Monroe Campus continues to fulfill St. Luke's University Health Network's mission of providing high-quality, low-cost health care to the residents of Monroe County and the Poconos. The campus has offered easy access to hospital-based and outpatient facilities, and created 750 economy-boosting jobs for Monroe County residents.
"Our ties with the community are very strong and continue to strengthen every day," says Don Seiple, President of St. Luke's Monroe Campus. "St. Luke's Monroe Campus is the first new hospital in Monroe County in 100 years. Residents have responded enthusiastically to St. Luke's medical expertise, leading-edge technology and overall attention to their health and the well-being of the region.
"We have developed strong partnerships with the residents here as we continue to invest generously in the community with both the financial support and resources we provide to many nonprofit and educational partners."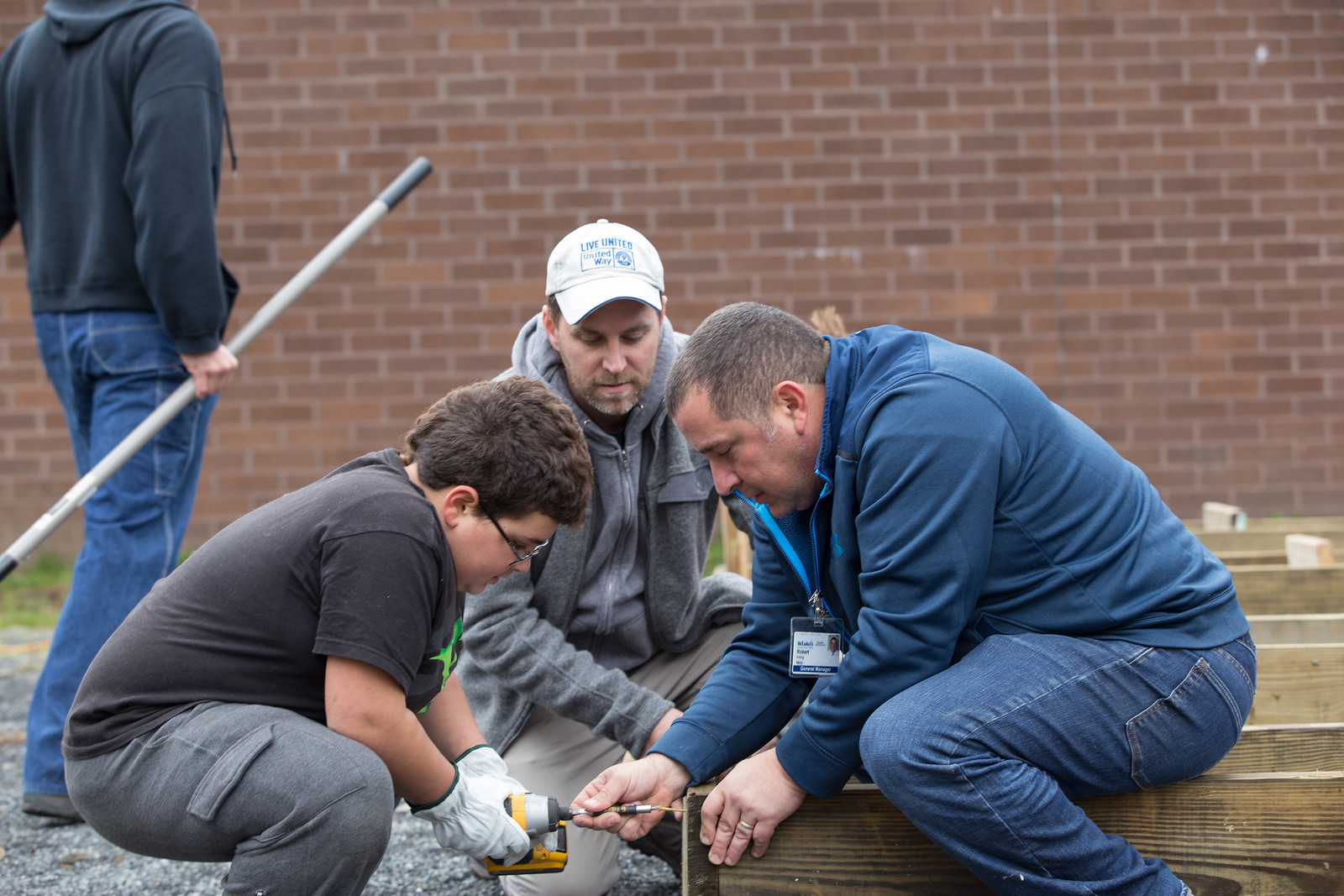 Volunteers construct garden beds.
An example of this collaboration took place on October 20, when St. Luke's Monroe worked with more than a dozen local community groups and families to build six raised garden beds as part of The Mountain Center's outdoor classroom. The initiative is part of a school garden and nutrition education program funded, in part, by a grant from United Way of Monroe County.
"The Mountain Center location will allow us to maximize the use of the garden and impact the lives of all members of the community while still providing the school-based programming that is a core part of our Adopt-a-School program of Healthy Kids, Bright Futures," says Todd Nemura, St. Luke's Community Health Liaison Manager. "We are building a sustainable community garden for students, families and seniors for year-round learning and harvesting of healthy, fresh, local produce."
Nemura explains that Healthy Kids, Bright Futures is one of the five main focus areas for the St. Luke's Department of Community Health & Preventive Medicine, and includes a variety of programs and services for children "from cradle to career."
In addition to the community school garden and nutrition education program, a vision program provides eye exams and glasses at no charge for more than 260 children in Monroe County, a dental program brings a full-service mobile dental clinic to provide services for 160 local children, and a literacy promotion program brings hospital staff and elementary students together to celebrate Dr. Seuss' birthday.
"Other programs – such as after-school fitness and career development – are also in the works," Nemura adds.
These programs will have a profound impact on the local community for years to come. Beyond these programs, other recent developments at St. Luke's Monroe Campus include:
Earning stroke accreditation from the Joint Commission, a key designation that reflects an organization's commitment to meeting high performance standards.
Opening its new $22 million Cancer Center and Medical Office Building, which expands the breadth of offerings at St. Luke's Monroe Campus to include medical, surgical and gynecologic oncology, radiation therapy, infusion (chemotherapy), imaging, orthopedics and a sleep lab.
Opening St. Luke's Regional Breast Center-Monroe, a diagnostic breast imaging facility for patients in need of screening and diagnostic mammograms or advanced breast imaging. The facility has a new mammography system that features remote control, allowing patients to control their own breast compression with help of a technologist.
"We are extremely proud of all that we have accomplished in St. Luke's Monroe Campus' first two years of operation with the tremendous support of the community," Seiple says. We're extremely excited about what we will accomplish together in the future."
About St. Luke's
Founded in 1872, St. Luke's University Health Network (SLUHN) is a fully integrated, regional, non-profit network of more than 14,000 employees providing services at 10 hospitals and more than 300 outpatient sites. With annual net revenue greater than $2 billion, the Network's service area includes 10 counties: Lehigh, Northampton, Berks, Bucks, Carbon, Montgomery, Monroe and Schuylkill counties in Pennsylvania and Warren and Hunterdon counties in New Jersey. Dedicated to advancing medical education, St. Luke's is the preeminent teaching hospital in central-eastern Pennsylvania. In partnership with Temple University, St. Luke's created the region's first and only regional medical school campus. It also operates the nation's longest continuously operating School of Nursing, established in 1884, and 28 fully accredited graduate medical educational programs with 226 residents and fellows. St. Luke's is the only health care system in central-eastern Pennsylvania to earn Medicare's five-star rating (the highest) for quality, efficiency and patient satisfaction. St. Luke's has earned the 100 Top Major Teaching Hospital designation from IBM Watson Health (formerly Truven Health Analytics) repeatedly – six times total and four years in a row including 2018. It has also been cited by IBM Watson Health as a 50 Top Cardiovascular Program. Utilizing the EPIC electronic medical record (EMR) system for both inpatient and outpatient services, the Network is a multi-year recipient of the Most Wired award recognizing the breadth of the SLUHN's information technology applications such as telehealth, online scheduling and online pricing information. St. Luke's is also recognized as one of the state's lowest cost providers.