News
St. Luke's Launches 'Stop the Bleed' Program after State Trooper Saves Own Life with Tourniquet
March 01, 2018
Inspired by Pennsylvania State Trooper Cpl. Seth Kelly's life-saving example, St. Luke's University Health Network will provide its inaugural Stop the Bleed training on Tuesday, March 6th for the Northampton County Sheriff's Department.
Part of a nationwide campaign launched by the White House, Stop the Bleed trains people how to help during a severe-bleeding incident before medical and emergency professionals arrive on-scene. The program teaches techniques that include dressing the wound and the use of a tourniquet – as Cpl. Kelly did to help save his own life after being shot during a roadside stop.
WHAT: St. Luke's inaugural 'Stop the Bleed' training
WHO: The St. Luke's Trauma Division will introduce Stop the Bleed. St. Luke's will provide training and distribute Stop the Bleed Kits and tourniquets to the Northampton County Sheriff's Department and its deputies.
WHERE: Northampton County Court House, 669 Washington St., Easton, PA 18042
WHEN: 1 p.m., Tuesday, March 6
Severe bleeding is a common cause of death during emergency situations and traumatic accidents such as mass shootings, car accidents and home or industrial accidents, with nearly 35 percent of fatalities occurring before victims even arrive at the hospital, according to the National Trauma Institute.
Cpl. Kelly was shot November 7th after a routine traffic stop on Route 33 in Plainfield Township, Northampton County. A bullet pierced an artery in his leg. Dr. Peter Thomas, one of the trauma surgeons who treated Kelly at St. Luke's University Hospital-Bethlehem, credited Cpl. Kelly's quick thinking for helping to save his own life – because he applied a tourniquet to his leg.
"No one should die from uncontrolled bleeding," Dr. Thomas said. "Teaching 'first care providers' how to apply tourniquets can help save more lives and significantly reduce deaths that can occur in the time it takes for patients to be transported to the nearest trauma center."
Following three surgeries, Cpl. Kelly spent 23 days recovering at St. Luke's University Hospital in Bethlehem. He and his wife, Philomena, recently donated $5,000 to help support St. Luke's Stop the Bleed program.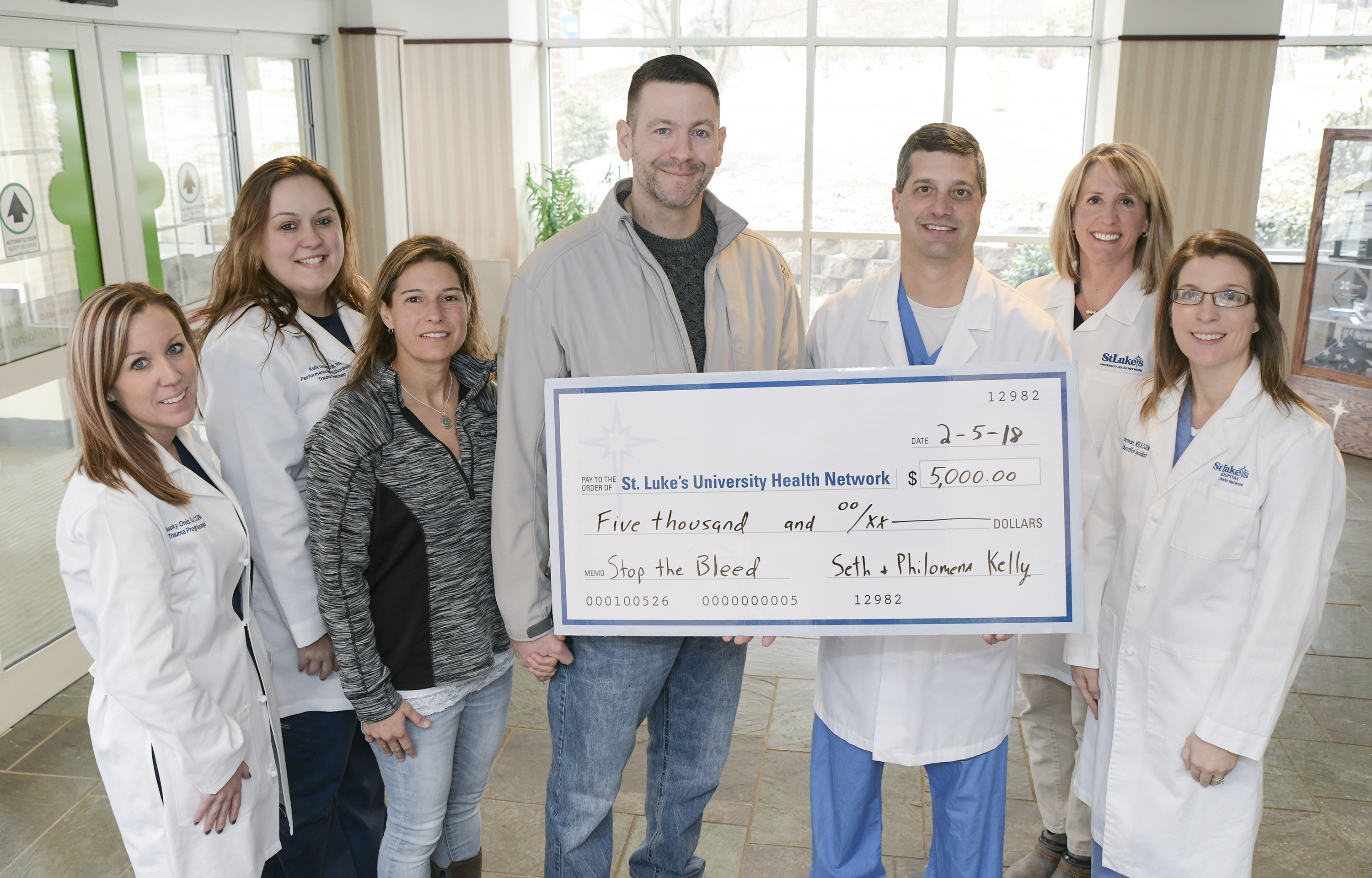 Photo caption: Cpl. Seth Kelly (left center) presenting $5,000 check to St. Luke's Trauma surgeon Dr. Peter Thomas (right center) to support St. Luke's Stop the Bleed program. From left to right: Rebecca Wilde-Onia, Trauma Program Manager; Kelly Donatelli, Trauma Performance Improvement Coordinator; Philomena Kelly; Cpl. Seth Kelly; Dr. Peter Thomas, Director of Trauma; Andrea Nesfeder, Trauma Outreach Coordinator; Nicole Lohrman, Trauma PI & Education Coordinator.
---
St. Luke's Stop the Bleed Initiative aims to provide free trauma and bleeding prevention education to first responders, including police departments, schools and community organizations such as PTAs, Boy/Girl Scouts, civic groups and other non-profit organizations. In addition, St. Luke's is proud to partner with our community in this effort to provideStop the Bleed control kits designed for use in the event of a bleeding emergency. Equipped with tourniquets and bleeding control dressings, the St. Luke's Stop the Bleed control kits will serve as an important companion to standard first aid kits and AEDs and contain all of necessary supplies and resources needed to respond to and treat bleeding emergencies that may result from traumatic injuries.
Media Contact:
Sam Kennedy, Director of Corporate Communications, (484) 526-4134, samuel.kennedy@sluhn.org
About St. Luke's
Founded in 1872, St. Luke's University Health Network is a fully integrated, regional, non-profit network of 14,000 employees providing services at 10 hospitals and over 315 outpatient sites. With annual net revenue of $1.9 billion, the network's service area includes 10 counties: Lehigh, Northampton, Carbon, Schuylkill, Bucks, Montgomery, Berks and Monroe counties in Pennsylvania and Warren and Hunterdon counties in New Jersey. Dedicated to advancing medical education, St. Luke's is a major teaching hospital – the only one in the Greater Lehigh Valley. In partnership with Temple University, St. Luke's created the region's first and only regional medical school campus. It also operates the nation's longest continuously operating School of Nursing, established in 1884, and 23 fully accredited graduate medical educational programs with 190 residents. St. Luke's is the only health care network in central-eastern Pennsylvania to earn Medicare's five-star rating (the highest) for quality, efficiency and patient satisfaction. Repeatedly, including 2017, St. Luke's earned Truven's 100 Top Major Teaching Hospital and 50 Top Cardiovascular Program designations, in addition to other honors for clinical excellence. St. Luke's, utilizing the EPIC electronic medical record (EMR) system, is a multi-year recipient of the Most Wired award recognizing the breadth of St. Luke's information technology applications such as telehealth, online scheduling and online pricing information. St. Luke's is also recognized as one of the state's lowest cost providers.