News
St. Luke's Extraordinary Care for an Extraordinary Dancer
March 26, 2018
When world-renowned prima ballerina Jennie Somogyi suffered not one, but two potentially career-ending injuries less than two years apart, she knew where to find the extraordinary care to get her back in motion and on stage.
After tearing her right Achilles tendon in 2012 and then rupturing the left posterior tibial tendon in 2013, Jennie placed her rehabilitation in the hands of Tim Miller, PT, DPT, OCS, SCS, CSCS, Regional Director, Physical Therapy at St. Luke's.
Jennie and Miller, who is a board-certified orthopedic and sports physical therapist, worked together over the course of more than 280 physical therapy sessions combined, and Jennie went back on stage for one final curtain call in an Oct. 11, 2015 farewell with the New York City Ballet Company in a performance of George Balanchine's Liebeslieder Walzer.
Jennie was born in Easton and raised in Alpha, NJ. She resides in Pohatcong Township, N.J. with husband Brian, daughter Madelyn and son Jack.
A ballet prodigy almost from the start, she began her athletic career at age 6 with the Allentown Parkettes gymnastics team, who suggested she take ballet classes. By age 9, she earned a full scholarship to the School of American Ballet in New York City, the nation's premier dance school, and trained with Madame Nina Youskevitch, a protégé of Bronislava Nijinska.
By 15, she was offered an apprenticeship with the New York City Ballet, earning a contract the next year as one of the youngest dancers to ever join the company. She served as a principal dancer for 22 years; Mikhail Baryshnikov was one of her thousands of fans.
In 2017, she opened the Jennie Somogyi Ballet Academy on Centre Square in Easton to cater to aspiring dancers. Even that would not have been possible without the extraordinary care she received from Miller and Physical Therapy at St. Luke's.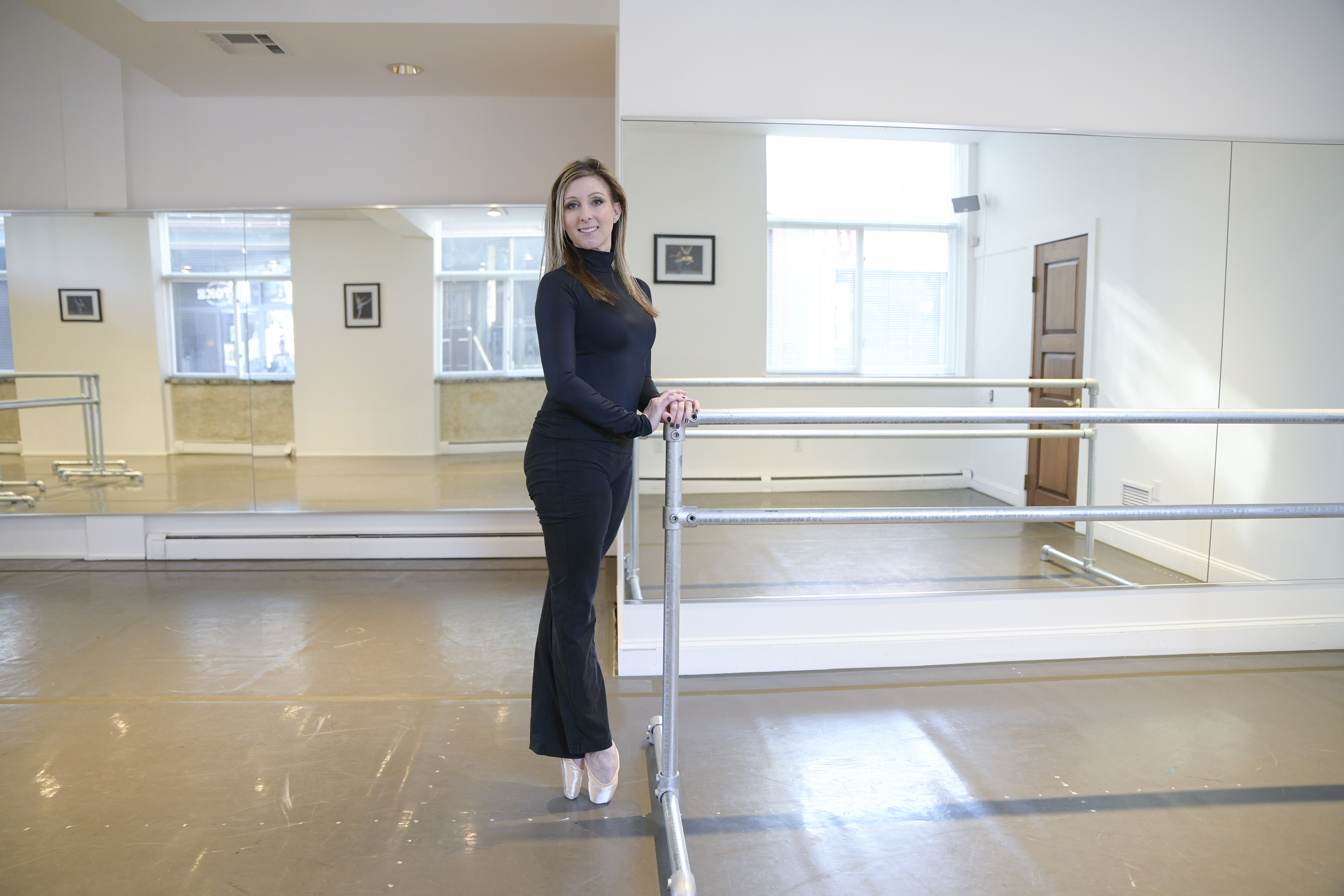 ---
"I wanted to try to get back to where I could hopefully teach ballet, but certainly not to dance" she says of the game plan after tearing her posterior tibial tendon. "Still, I was determined to rehab like I was coming back to dance."
Miller knew even that would be a hard road.
"Just talking to other doctors about dancers her age, it was doubtful she would dance again after the Achilles injury," Miller said. "Many athletes are unable to return to play after an Achilles tear. After the posterior tibial tendon reconstruction, our goal was just to get her back to as close to a normal life as possible."
For a normal person, a torn posterior tibial tendon is debilitating because it can lead to loss of your arch, inability to stand on your toes, weakness, tendinitis and other issues. For a ballerina, it's career-ending. And for Jennie, this was the second time she tore the tendon. Back in 2004, she underwent surgery to remove part of it. Doctors told her that another injury to the tendon would end her career.
After the second injury, one doctor told Jennie "he knew of only one doctor creative enough, talented enough and crazy enough to try something revolutionary," she recalls.
An orthopedic surgeon in Baltimore performed a cadaver tendon transplant to try to prevent future degeneration of the foot and ankle, and called all over the country to find a proper cadaver ligament to use in the reconstruction.
"I was a guinea pig for this particular tendon surgery," she admits. "My surgeon wasn't very confident I would ever dance again. It was more about what I needed to do to be a normal person."
Not only did Miller help Jennie walk normally, but, by designing a physical therapy program with proven exercises and with her common goals in mind, he helped her get back on stage for that farewell performance, and was one of her invited guests.
"To see the standing ovation she received, I knew I was definitely working with a very, very famous performer," Miller says of Jennie's farewell performance.
Rehabilitation, just like with the Achilles the first time, was long and difficult. Getting her en pointe – on the very tip of her toes – took the most dedication.
"Our goal was to just get her back to regular life," Miller says. "A return to ballet was just an outside shot we talked about. I don't think anyone ever expected her to return to ballet after this injury."
They utilized a variety of state-of-the-art equipment and treatment techniques, along with sophisticated work on an underwater treadmill that allowed Jennie to work on moves and exercises with less gravity on her joints, but more resistance to strengthen the muscles while in a protective environment.
"What I liked about Tim was that we could collaborate," Jennie says. "I would say I need to do be able to do this move and show him a photo or video of it."
Miller went about breaking down the moves to determine which muscles fired, in which order and direction, and defined smaller segments in those progressions so that he and Jennie could work toward the ultimate goal of completing the full motion of the moves.
Like any world-class athlete returning from injury, Jennie proved determined to return, and Miller was there to help set goals and steer her rehabilitation through extraordinary care and back into world-class motion.
Media Contact:
Brenda Hageter, Media Relations, (484)-526-3051, Brenda.hageter@sluhn.org
About St. Luke's
Founded in 1872, St. Luke's University Health Network is a fully integrated, regional, non-profit network of 14,000 employees providing services at 10 hospitals and over 315 outpatient sites. With annual net revenue of $1.9 billion, the network's service area includes 10 counties: Lehigh, Northampton, Carbon, Schuylkill, Bucks, Montgomery, Berks and Monroe counties in Pennsylvania and Warren and Hunterdon counties in New Jersey. Dedicated to advancing medical education, St. Luke's is the preeminent teaching hospital in central-eastern Pennsylvania. In partnership with Temple University, St. Luke's created the region's first and only regional medical school campus. It also operates the nation's longest continuously operating School of Nursing, established in 1884, and 28 fully accredited graduate medical educational programs with 226 residents and fellows. St. Luke's is the only health care network in central-eastern Pennsylvania to earn Medicare's five-star rating (the highest) for quality, efficiency and patient satisfaction. Repeatedly, including 2018, St. Luke's has earned the 100 Top Major Teaching Hospital and 50 Top Cardiovascular Program designations from IBM Watson Health (formerly Truven Health Analytics). St. Luke's, utilizing the EPIC electronic medical record (EMR) system, is a multi-year recipient of the Most Wired award recognizing the breadth of St. Luke's information technology applications such as telehealth, online scheduling and online pricing information. St. Luke's is also recognized as one of the state's lowest cost providers.