News
Shattered Leg does not Shatter Patient's Travel Plans
June 08, 2018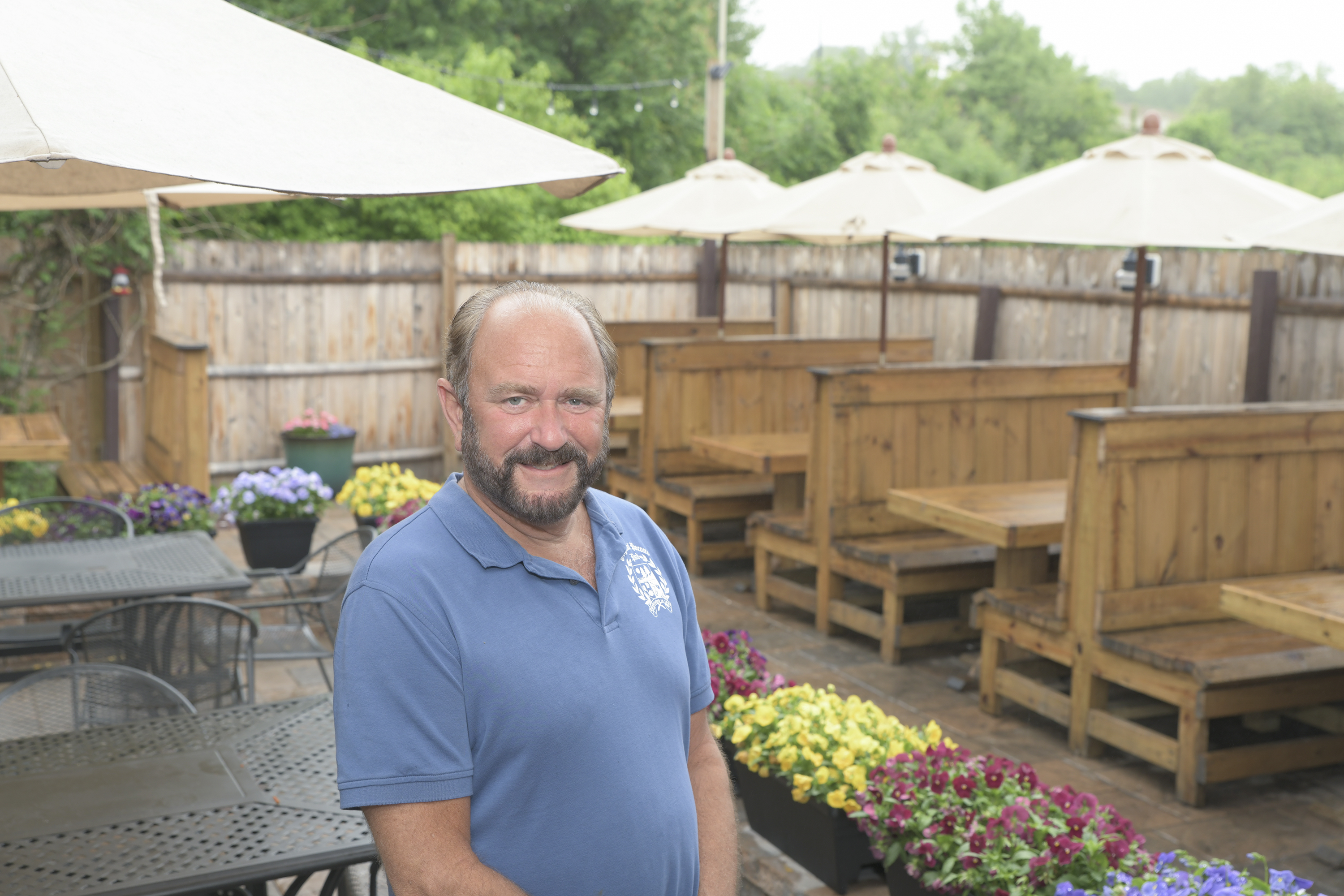 Thanks to St. Luke's extraordinary care, the freak accident that shattered Rick DeFino's leg did not shatter his travel plans.
DeFino was looking forward to a trip to St. Lucia back in February of 2017, when he suffered a nasty slip-and-fall. He and his wife Sharon had hosted a party for friends, and after the guests had gone to their cars to leave, DeFino dashed out the door to give out some cupcakes. But he slipped on a small patch of black ice on the driveway and his lower left leg splayed out in an impossible direction.
"Once I looked at the leg, I knew I wasn't walking," said DeFino, the owner of the Original Pocono Pub and Grill, across the street from St. Luke's Monroe Campus.
A trip to the St. Luke's Emergency Room confirmed that DeFino had suffered a fracture of the tibia and fibula in his left leg, all the way to the ankle, a significant injury that required surgery. The St. Lucia trip was out of the question. But for how long? Forever?
Orthopedic surgeon Leigh Hopkins, MD, of St. Luke's Orthopedic Care performed an open reduction internal fixation, a two-stage operation which involved reducing the dislocation of the bones, and then utilized a plate and screws to hold the broken bones together. The operation took place when DeFino should have been enjoying the Caribbean.
"He had a pretty ugly injury," Dr. Hopkins said, "especially for just carrying cupcakes, but that can happen when you slip on ice. It's an injury that can lead to significant, chronic disability, but he recovered fairly well thanks to physical therapy. These types of injuries normally require a long time to recover. "
DeFino rehabilitated his reconstructed leg with Physical Therapy at St. Luke's.
"The rehab made me focus on the things I needed to focus on," he said. "When I did the therapy for my leg, I thought it really worked. It was really good."
"Rick was always a pleasure to work with in the clinic," said Greg Massie, PT, DPT, OCS of Physical Therapy at St. Luke's in Stroudsburg, who worked with DeFino during his rehab. "Rick did everything and then some that we asked of him. He embraced a mindset that he was not going to allow his injury to affect his quality of life."
Doctor and patient have also struck up an extraordinary friendship.
"When Dr. Hopkins consulted with me before my surgery, I told him, 'Hey, I have a restaurant right across the street from you. We serve breakfast, you ought to try it out," DeFino said, "A week later he brought his wife Jakki in for breakfast, my wife Sharon happened to be there, and we all basically hit it off."
The two couples have been friends ever since.
Even though the St. Lucia trip didn't pan out when planned, Rick and his wife completed a bigger trip with their daughter and mother-in-law last July to Italy, touring Pompeii and the Amalfi Coast.
"My goal was to get walking so that I didn't have to cancel that trip," DeFino said, "I was in a wheelchair for a little while, then a big boot, then a smaller boot, and then a smaller boot."
And this past February, DeFino and his wife were finally able to take that trip to St. Lucia.
The Pocono Pub draws staff and visitors from St. Luke's Monroe Campus on a daily basis, from breakfast and lunch through evening dinner and entertainment. The proximity is also good for DeFino's employees.
On an Easter evening, an employee of the Pocono Pub was working and said he wasn't feeling well. A fellow employee told him to walk the 1,000 or so feet to St. Luke's, where an examination determined he was experiencing a cardiac event that needed immediate care.
"They took extraordinary care of him," DeFino said, "just like they took extraordinary care of me, and probably saved his life."
Media Contact:
Brenda Hageter, Media Relations, (484)-526-3051, Brenda.hageter@sluhn.org
About St. Luke's
Founded in 1872, St. Luke's University Health Network (SLUHN) is a fully integrated, regional, non-profit network of 14,000 employees providing services at 10 hospitals and over 300 outpatient sites. With annual net revenue of $1.9 billion, the Network's service area includes 10 counties: Lehigh, Northampton, Berks, Bucks, Carbon, Montgomery, Monroe and Schuylkill counties in Pennsylvania and Warren and Hunterdon counties in New Jersey. Dedicated to advancing medical education, St. Luke's is the preeminent teaching hospital in central-eastern Pennsylvania. In partnership with Temple University, St. Luke's created the region's first and only regional medical school campus. It also operates the nation's longest continuously operating School of Nursing, established in 1884, and 28 fully accredited graduate medical educational programs with 226 residents and fellows. St. Luke's is the only health care system in central-eastern Pennsylvania to earn Medicare's five-star rating (the highest) for quality, efficiency and patient satisfaction. St. Luke's has earned the 100 Top Major Teaching Hospital designation from IBM Watson Health (formerly Truven Health Analytics) repeatedly – six times total and four years in a row including 2018. It has also been cited by IBM Watson Health as a 50 Top Cardiovascular Program. Utilizing the EPIC electronic medical record (EMR) system for both inpatient and outpatient services, the Network is a multi-year recipient of the Most Wired award recognizing the breadth of the SLUHN's information technology applications such as telehealth, online scheduling and online pricing information. St. Luke's is also recognized as one of the state's lowest cost providers.