News
New St. Luke's Helicopter Takes Flight
July 02, 2018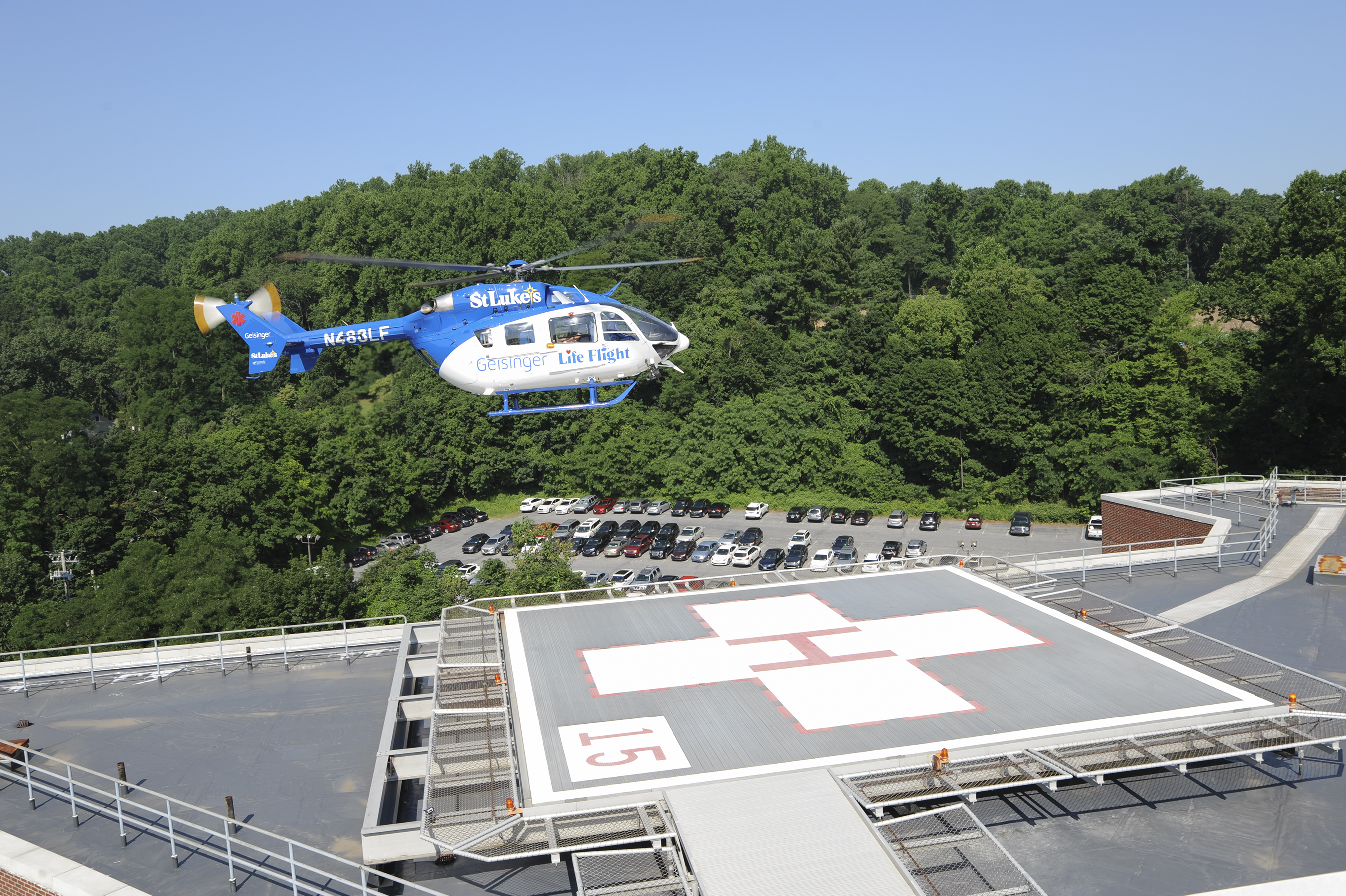 DANVILLE, Pa. – There's a new medical helicopter in the skies above the Lehigh Valley and surrounding communities, as the air medical collaboration between St. Luke's University Health Network and Geisinger takes flight.
As of July 1, Geisinger's Life Flight program is providing air ambulance transportation services for the St. Luke's system. The collaboration features Life Flight 6, a medical helicopter owned by St. Luke's and leased to Geisinger, that is based at Jack Arner Airport near Lehighton, Carbon County. This is the same base utilized by previous air ambulances serving the St. Luke's system.
"St. Luke's new helicopter and the robust services of Geisinger Life Flight will ensure our trauma patients get the best care as quickly as possible when time is of the essence," said Mark R. Lohman, RN, PHRN, Network Director of St. Luke's Emergency & Transport Services.
Life Flight 6 is a state-of-the-art, twin-engine EC145 helicopter manufactured from Airbus Helicopters. The EC145's advanced avionics capabilities allow flight crews to conduct both visual and instrument flights, meaning that regardless of the weather conditions, the pilot is able to safely conduct flights by seeing the flight path in the sky, or by flying with guidance from air traffic control.
The aircraft is night vision goggle-certified and can carry two patients, the care team and specialized medical equipment, including ECMO equipment. (Extracorporeal membrane oxygenation is used for patients with critical heart or lung problems, enabling long-term respiratory support.)
"This is a real exciting time for our program," says Gerald Splitt, Life Flight program director. "These are the best equipped and most capable helicopters in the region. We focus on patients and having the most capable team and equipment to care for them. Our training never stops, so we can provide the best care for newborns through people aged 100 years or older."
Through its 37-year history, Life Flight has transported more than 60,000 patients. The program includes 100 team members and operates nine helicopters out of six bases in Danville, Lehighton, Minersville, State College, Wilkes-Barre/Scranton and Williamsport. Approximately 65 percent of Life Flight flights are transports from one hospital to another, and 35 percent are from medical and trauma incidents throughout the region.
The two health systems are no stranger to collaboration. In a first of its kind venture in Pennsylvania, the two systems are teaming up to build a new hospital, located off Route 61 near Orwigsburg, Schuylkill County. A groundbreaking ceremony will occur later this month. Geisinger and St. Luke's also share an insurance partnership.
About St. Luke's
Founded in 1872, St. Luke's University Health Network (SLUHN) is a fully integrated, regional, non-profit network of 14,000 employees providing services at 10 hospitals and over 300 outpatient sites. With annual net revenue of $1.9 billion, the Network's service area includes 10 counties: Lehigh, Northampton, Berks, Bucks, Carbon, Montgomery, Monroe and Schuylkill counties in Pennsylvania and Warren and Hunterdon counties in New Jersey. Dedicated to advancing medical education, St. Luke's is the preeminent teaching hospital in central-eastern Pennsylvania. In partnership with Temple University, St. Luke's created the region's first and only regional medical school campus. It also operates the nation's longest continuously operating School of Nursing, established in 1884, and 28 fully accredited graduate medical educational programs with 226 residents and fellows. St. Luke's is the only health care system in central-eastern Pennsylvania to earn Medicare's five-star rating (the highest) for quality, efficiency and patient satisfaction. St. Luke's has earned the 100 Top Major Teaching Hospital designation from IBM Watson Health (formerly Truven Health Analytics) repeatedly – six times total and four years in a row including 2018. It has also been cited by IBM Watson Health as a 50 Top Cardiovascular Program. Utilizing the EPIC electronic medical record (EMR) system for both inpatient and outpatient services, the Network is a multi-year recipient of the Most Wired award recognizing the breadth of the SLUHN's information technology applications such as telehealth, online scheduling and online pricing information. St. Luke's is also recognized as one of the state's lowest cost providers.
About Geisinger
Geisinger is an integrated health services organization widely recognized for its innovative use of the electronic health record and the development of innovative care delivery models such as ProvenHealth Navigator®, ProvenCare® and ProvenExperience®. As one of the nation's largest health service organizations, Geisinger serves more than 3 million residents throughout 45 counties in central, south-central and northeast Pennsylvania, and also in southern New Jersey at AtlantiCare, a Malcolm Baldrige National Quality Award recipient. In 2017, the Geisinger Commonwealth School of Medicine and Geisinger Jersey Shore Hospital became the newest members of the Geisinger Family. The physician-led system is comprised of approximately 30,000 employees, including nearly 1,600 employed physicians, 13 hospital campuses, two research centers, and a 583,000-member health plan, all of which leverage an estimated $12.7 billion positive impact on the Pennsylvania and New Jersey economies. Geisinger has repeatedly garnered national accolades for integration, quality and service. In addition to fulfilling its patient care mission, Geisinger has a long-standing commitment to medical education, research and community service. For more information, visit
www.geisinger.org
, or connect with us on
Facebook
,
Instagram
,
LinkedIn
and
Twitter
.