News
New Lighting at Allentown Middle School Thanks to St. Luke's Board Member
September 12, 2018
Sep. 12, 2018 - Suddenly, Francis D. Raub Middle School in Allentown is a much brighter place, literally.
Luke Cunningham, a St. Luke's Allentown Campus board member who serves on the board's Community Initiative Committee, and West Side Hammer Electric have upgraded nearly every light fixture at Raub Middle School. Because the new lighting is energy efficient, it is helping to maintain a comfortable temperature inside classrooms over the initial, summery weeks of the new school year.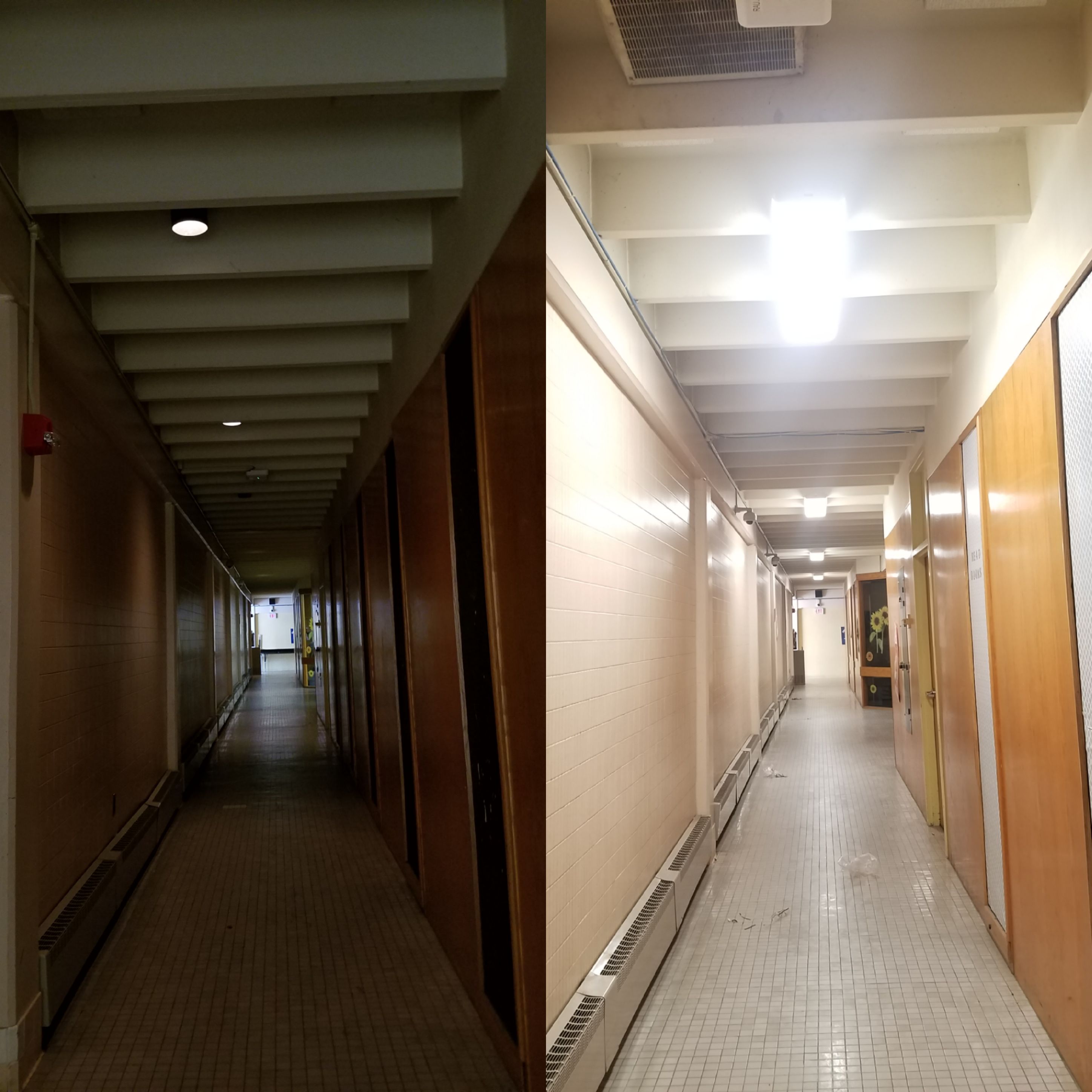 Raub Middle School lighting before and after.
---
Cunningham, who is president of West Side Hammer Electric, led the initiative after seeing a presentation on conditions at the school by Jaclyn Hudak. Hudak is the Raub Middle School Community School Coordinator, which is a position funded by St. Luke's.
Working over the course of three weeks during the summer, West Side Hammer electricians replaced approximately 2,000 fixtures in classrooms, offices, hallways, stairwells, bathrooms, copier rooms, closets and two gymnasiums.
Cunningham and West Side Hammer Electric provided all materials and labor, valued at tens of thousands of dollars, at no cost to the district.
"At St. Luke's, we strive to be community-oriented," said Allentown Campus President William Moyer. "I commend Allentown Campus Board Member Luke Cunningham for setting such a remarkable positive example."
As the Raub Middle School Community School Coordinator, Ms. Hudak works with the support of St. Luke's and other community partners to create, strengthen and maintain the bridge between the school and community. Her work touches on student behavior, attendance, academics, parent engagement, school and neighborhood safety and basic needs for families.
###
About St. Luke's
Founded in 1872, St. Luke's University Health Network (SLUHN) is a fully integrated, regional, non-profit network of more than 14,000 employees providing services at 10 hospitals and more than 300 outpatient sites. With annual net revenue greater than $2 billion, the Network's service area includes 10 counties: Lehigh, Northampton, Berks, Bucks, Carbon, Montgomery, Monroe and Schuylkill counties in Pennsylvania and Warren and Hunterdon counties in New Jersey. Dedicated to advancing medical education, St. Luke's is the preeminent teaching hospital in central-eastern Pennsylvania. In partnership with Temple University, St. Luke's created the region's first and only regional medical school campus. It also operates the nation's longest continuously operating School of Nursing, established in 1884, and 28 fully accredited graduate medical educational programs with 226 residents and fellows. St. Luke's is the only health care system in central-eastern Pennsylvania to earn Medicare's five-star rating (the highest) for quality, efficiency and patient satisfaction. St. Luke's has earned the 100 Top Major Teaching Hospital designation from IBM Watson Health (formerly Truven Health Analytics) repeatedly – six times total and four years in a row including 2018. It has also been cited by IBM Watson Health as a 50 Top Cardiovascular Program. Utilizing the EPIC electronic medical record (EMR) system for both inpatient and outpatient services, the Network is a multi-year recipient of the Most Wired award recognizing the breadth of the SLUHN's information technology applications such as telehealth, online scheduling and online pricing information. St. Luke's is also recognized as one of the state's lowest cost providers.