News
Local Ice Hockey Clubs Team-Up with St. Luke's
March 22, 2018
When Brian Ruff, the head coach of the Northampton High School ice hockey team, saw his player crash head first into the boards, he knew it wasn't good.
"We got out there and he was semi-conscious," remembered Ruff, who is also the president of the Lehigh Valley Scholastic Hockey League. "I was certainly glad there was a Certified Athletic Trainer from St. Luke's there with me to take care of the situation."
The St. Luke's University Health Network athletic trainer evaluated the player for a concussion, removed him from play, and referred him on for further care with a St. Luke's Primary Care Sports Medicine physician who specializes in concussion management.
"Our player was out of action for about three or four weeks and now he's fine, recovered and ready to go," Ruff said.
Male and female scholastic hockey players from middle school through varsity in the Lehigh Valley are benefitting from the care provided by St. Luke's Athletic Trainers.
St. Luke's is providing athletic training care for home games of the Lehigh Valley Scholastic Hockey League, which includes teams from Freedom, Nazareth, Parkland and other high schools in the Lehigh Valley.
Another ice hockey organization, the Lehigh Valley Rebels, also utilizes St. Luke's Athletic Trainers at their home games.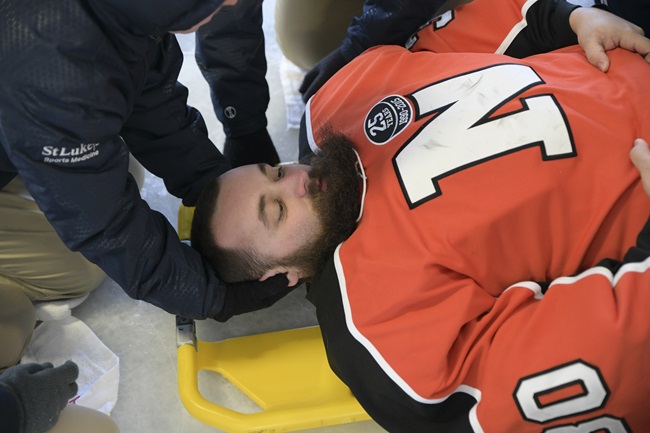 "Just like with all spots, it's very important to have a certified athletic trainer on hand," said Stephenie Stark, Senior Athletic Trainer with St. Luke's, who coordinates all the sports medicine coverage for the games. "You never know what is going to happen, what type of injury may occur. The smallest hit can lead to the most devastating injuries."
Having a certified athletic trainer on hand who can properly evaluate and treat injuries is critical for an athlete's health and well-being, doubly so on ice, because a player who spends too much time down on the ice before being helped off could face other complications from hypothermia.
Middle school and high school games are played at the Steel Ice Center in Bethlehem, the outdoor Bethlehem Municipal Rink, Rink of the Lehigh Valley in Whitehall, and PPL Center in Allentown.
Normally, each site hosts multiple games in succession, and individual St. Luke's Athletic Trainers may staff several games in a row before rotating in a new athletic trainer.
"We provide athletic training outreach and sports medicine care for those games and teams," Stark said. "We're there to evaluate any type of injury from a scrape on the elbow to a concussion or catastrophic injury, and provide any needed care after the fact. We help them facilitate efficient follow up with our emergency room or Care Now physicians and provide easy access to our Sport Medicine Physicians for appointments if it's necessary."
Recently, Stark organized an emergency care ice hockey training session for St. Luke's Athletic Trainers at Bethlehem Municipal Ice Rink. "We went over how to treat a suspected cervical spine injury, how to turn a player over and onto the spine board, and how to get them off the ice," Stark said. "The biggest takeaway was making sure our athletic trainers were able to practice in a controlled environment to ensure quality and efficient care for athletes on the ice, and coordinate with responding EMTs so that we have well-organized care."
In a high-speed, high-collision sport like hockey, injuries are a fact of life. Ribs, knees, elbows and head injuries occur all the time, and even getting hit in the throat with a puck can require a trained medical professional to quickly evaluate the situation and stabilize the athlete while determining if emergency medical services need to be called.
Beyond that, the athletic trainers can refer players to physical therapy, and even non-injured players to sports performance for additional physical conditioning, and recommend nutritional counseling for players who seek better health.
The athletic trainers typically stand between the two teams in a central location and make sure both the home and away coach know who they are in case of any injuries. Many times, coaches ask the athletic trainers to check on players on the bench who just came off the ice and complain of mild injuries or other issues.
"I love the fact that the St. Luke's athletic trainers are here," Ruff said. "They do a great job."
Media Contact:
Brenda Hageter, Media Relations, (484)-526-3051, Brenda.hageter@sluhn.org
About St. Luke's
Founded in 1872, St. Luke's University Health Network (SLUHN) is a fully integrated, regional, non-profit network of 14,000 employees providing services at 10 hospitals and over 300 outpatient sites. With annual net revenue of $1.9 billion, the Network's service area includes 10 counties: Lehigh, Northampton, Berks, Bucks, Carbon, Montgomery, Monroe and Schuylkill counties in Pennsylvania and Warren and Hunterdon counties in New Jersey. Dedicated to advancing medical education, St. Luke's is the preeminent teaching hospital in central-eastern Pennsylvania. In partnership with Temple University, St. Luke's created the region's first and only regional medical school campus. It also operates the nation's longest continuously operating School of Nursing, established in 1884, and 28 fully accredited graduate medical educational programs with 226 residents and fellows. St. Luke's is the only health care system in central-eastern Pennsylvania to earn Medicare's five-star rating (the highest) for quality, efficiency and patient satisfaction. St. Luke's has earned the 100 Top Major Teaching Hospital designation from IBM Watson Health (formerly Truven Health Analytics) repeatedly – six times total and four years in a row including 2018. It has also been cited by IBM Watson Health as a 50 Top Cardiovascular Program. Utilizing the EPIC electronic medical record (EMR) system for both inpatient and outpatient services, the Network is a multi-year recipient of the Most Wired award recognizing the breadth of the SLUHN's information technology applications such as telehealth, online scheduling and online pricing information. St. Luke's is also recognized as one of the state's lowest cost providers.