News
Girl Who Began Life at St. Luke's NICU Awarded Scholarship to Attend St. Luke's Nursing School
December 04, 2018
Abigail Rakos, 19, of Jim Thorpe, plans to begin her career where she spent the first four months of her life – at St. Luke's University Health Network's Bethlehem Campus. A special $22,500 scholarship to attend St. Luke's School of Nursing starting in January has kept her dream plans on course.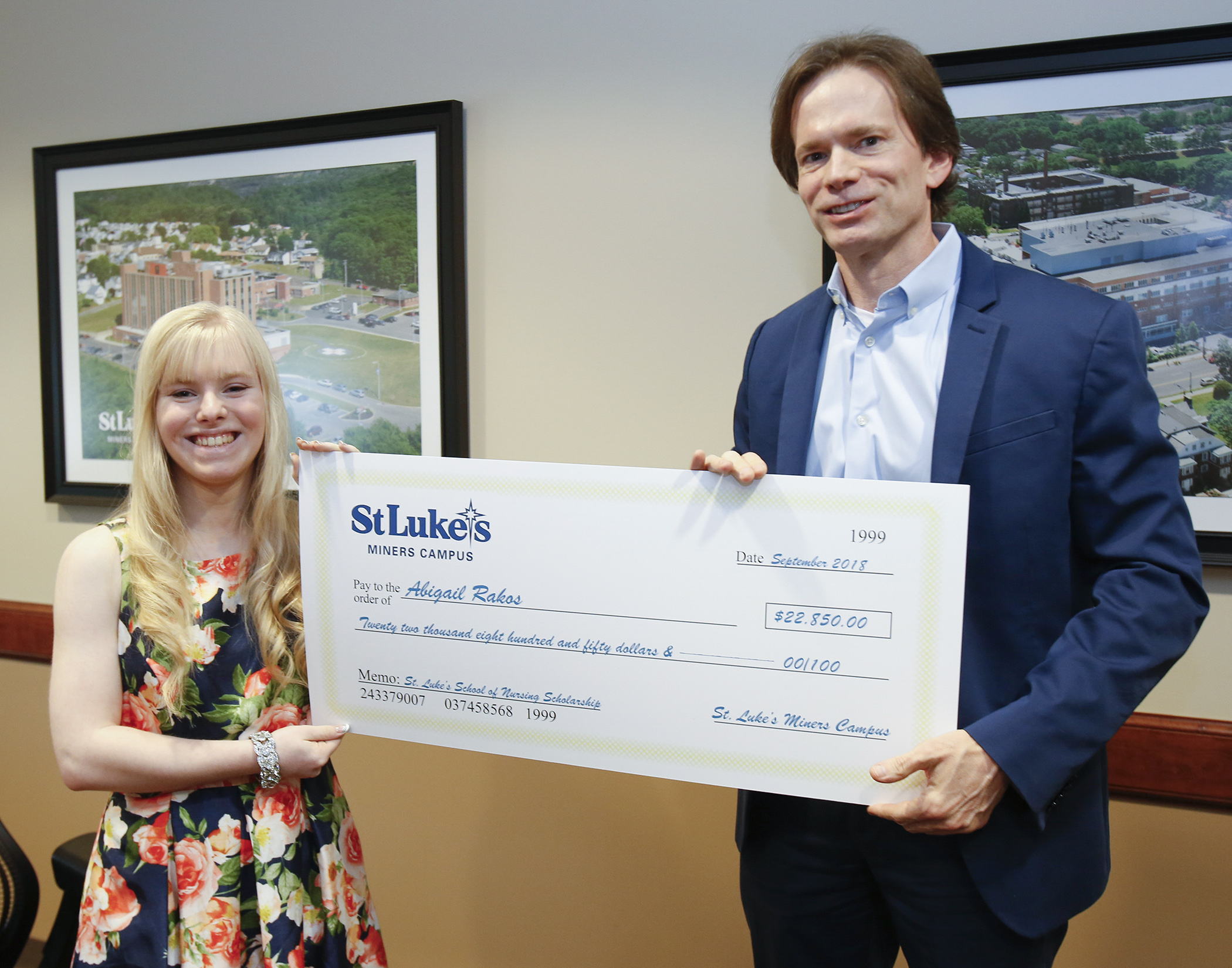 A month before Abby was born, her mother, Debra Rakos, was hospitalized at St. Luke's Bethlehem Campus to manage her placental insufficiency. Abby was born May 13, 1999, weighing only 1 pound 5 ounces.
Debra and Jeff Rakos weren't sure their premature daughter would make it. Doctors were particularly grim when Abby developed sepsis at a week old. But after four months in the Neonatal Intensive Care Unit (NCIU), Abby was sent home. She has grown up with no signs of her precarious beginnings.
The oldest of the three Rakos children, Abby returned often to St. Luke's when her siblings were born. "I was constantly there, and I felt like St. Luke's was my home," Abby says.
As a child, Abby had entertained thoughts of becoming a writer, but becoming a nurse and caring for children especially always won out. "I thought nursing would be better, and I really want to help people and that's what nurses do," she says, speaking from personal experience.
When Abby graduated from Marian Catholic High School in Hometown in 2017, she received a $500 scholarship from St. Luke's Miner's Campus to attend Lehigh Carbon Community College and complete her prerequisites for nursing school. When Abby arrived for the presentation luncheon, she was surprised to learn that she actually had been given a full scholarship, $22,500, to attend St. Luke's School of Nursing.
When Abby graduates from LCCC in December, she will have done so with flying colors, proving to all she was worthy of the honor.
Next step St. Luke's School of Nursing
Abby applied to St. Luke's School of Nursing last fall and learned in November via email and a letter that had been accepted. "I was in the kitchen when I saw that I was accepted, I ran into the living room to tell my dad. My dad was so excited, and he texted my mom. We told my grandmother, too, who was a nurse and she was very happy to hear that I was accepted."
When Abby graduates from St. Luke's School of Nursing, she will work at St. Luke's Miners, possibly in the emergency department, under the terms of her scholarship.
Because St. Luke's has made much in her life possible, Abby wants to eventually work in pediatrics in its Bethlehem Campus and graduate to its neonatal intensive care unit when she's gained the necessary experience. "I'd like to eventually go into the NICU at the Bethlehem campus so I can help others the way they helped me get my start in life," she says. She does plan to go to college to complete her bachelor's degree after earning her nursing certificate at St. Luke's.
Wendy Lazo, president of St. Luke's Miner's Campus, is pleased the health network has such a special relationship with its former patient. "We are honored that Abigail has chosen to pursue both her education and career in nursing with St. Luke's University Health Network," Lazo says. "Her special beginnings coupled with Abigail's empathetic spirit and talent will make for a compassionate, caring nurse for our patients."
###
Philanthropic support allows St. Luke's University Health Network to deliver world-class care that makes a difference every day for every patient. Make a gift online to a St. Luke's cause that's meaningful to you, or call the Development Office at 484-526-3067 to learn more.
About St. Luke's
Founded in 1872, St. Luke's University Health Network (SLUHN) is a fully integrated, regional, non-profit network of more than 14,000 employees providing services at 10 hospitals and more than 300 outpatient sites. With annual net revenue greater than $2 billion, the Network's service area includes 10 counties: Lehigh, Northampton, Berks, Bucks, Carbon, Montgomery, Monroe and Schuylkill counties in Pennsylvania and Warren and Hunterdon counties in New Jersey. Dedicated to advancing medical education, St. Luke's is the preeminent teaching hospital in central-eastern Pennsylvania. In partnership with Temple University, St. Luke's created the region's first and only regional medical school campus. It also operates the nation's longest continuously operating School of Nursing, established in 1884, and 28 fully accredited graduate medical educational programs with 226 residents and fellows. St. Luke's is the only health care system in central-eastern Pennsylvania to earn Medicare's five-star rating (the highest) for quality, efficiency and patient satisfaction. St. Luke's has earned the 100 Top Major Teaching Hospital designation from IBM Watson Health (formerly Truven Health Analytics) repeatedly – six times total and four years in a row including 2018. It has also been cited by IBM Watson Health as a 50 Top Cardiovascular Program. Utilizing the EPIC electronic medical record (EMR) system for both inpatient and outpatient services, the Network is a multi-year recipient of the Most Wired award recognizing the breadth of the SLUHN's information technology applications such as telehealth, online scheduling and online pricing information. St. Luke's is also recognized as one of the state's lowest cost providers.