News
Women's Health How Physical Therapy Can Help You
April 04, 2017

When most people think of physical therapy, they think of rehabbing a knee after a sports injury or strengthening back muscles after an accident, but physical therapy can provide much needed pain and discomfort relief in ways that most people, particularly women, don't realize.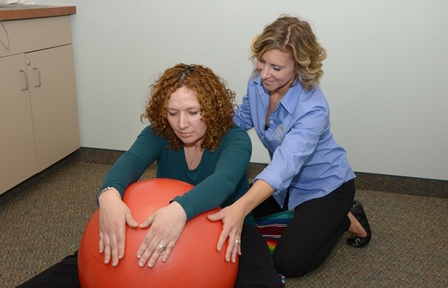 Julie Spencer guides Luz Brandon into a restorative stretch.
---
A woman's body is unique and should be treated as such in terms of physical therapy. Women's health physical therapy specialists
Julie Spencer, PT, DPT
,
Kylene Logorda, PT, DPT
and Lauren Garges, PT, WCS of
Physical Therapy at St. Luke's
, along with their skilled staff, help women suffering from conditions that cause pain and discomfort, diminishing their quality of life. These therapists have specialized education and expertise in evaluating and treating acute and chronic conditions impacting women, like pelvic floor dysfunction, prenatal and postpartum issues, chronic pelvic pain, dysmenorrhea, endometriosis, interstitial cystitis and incontinence. They explore and pursue non-surgical, non-medicinal options that many patients have never considered. For instance, 85 percent of women suffering from bladder or bowel incontinence experience significant improvement after working with St. Luke's women's health physical therapists - that's a tremendous relief for patients afflicted with chronic discomfort, pain and embarrassment.
"Women tend to put off seeking help because they don't know there are any options, they are too self-conscious by the sensitive nature of their issues or they dismiss their problem as a 'normal' part of aging," says Logorda. "But women need to know that they don't have to suffer in silence - there are conservative treatment options and some of them don't involve medication or surgery."
The therapists also stress that there are certain preventative measures to help avoid some women's health issues in the future. "Most women don't think of going to a physical therapist after pregnancy and childbirth because it isn't standardized care in America, but it absolutely should be," says Spencer. "Many of the conditions we deal with, like prolapsed bladder or incontinence, can be prevented with an individualized, proactive plan before any problems manifest. Some of the issues women have in their 40s and 50s are a direct result of not restoring their bodies correctly postpartum."
The therapists and staff provide a laid-back, discreet environment in which patients can discuss their sensitive, women's health issues and create individualized treatment plans - always with the goal of improving function, maintaining or strengthening their muscles and most of all, relieving their chronic pain.
Women also need to know they have direct access to a physical therapist. "In Pennsylvania, women are permitted to see a physical therapist for up to 30 days without a prescription from a physician," says Garges.
About St. Luke's
Founded in 1872, St. Luke's University Health Network (SLUHN) is a non-profit, regional, fully integrated and nationally recognized network providing services at seven hospitals and more than 270 outpatient sites. The network's service area includes Lehigh, Northampton, Carbon, Schuylkill, Bucks, Montgomery, Berks and Monroe counties in Pennsylvania and in Warren County in New Jersey. Dedicated to advancing health education, St. Luke's operates the nation's oldest School of Nursing and 22 graduate medical educational programs and is considered a major teaching hospital, the only one in the region. In partnership with Temple University, St. Luke's created the region's first Medical School. Repeatedly, including 2016, St. Luke's has earned Truven's 100 Top Major Teaching Hospital designation as well as 50 Top Cardiovascular program in addition to other honors for clinical excellence. St. Luke's is a multi-year recipient of the Most Wired award recognizing the breadth of St. Luke's information technology applications such as electronic medical records, telehealth, online scheduling and pricing information. St. Luke's is also recognized as one of the state's lowest cost providers in comparison to major teaching hospitals and other health systems.