News
St. Luke's Sponsored Giraffe Barn to House Second Giraffe!
December 01, 2017

The Lehigh Valley Zoo, a St. Luke's University Health Network partner, announced today that Tatu, a 20 month old giraffe, arrived safely on Tuesday, October 28, 2017. Born on Ground Hog Day (Feb. 2) 2016, Tatu is approaching 2-years old and was recommended to be moved from Greenville Zoo in South Carolina to the Lehigh Valley Zoo in Schnecksville.
St. Luke's sponsored the barn that houses Tatu and Murphy, another giraffe that arrived at the zoo earlier this year.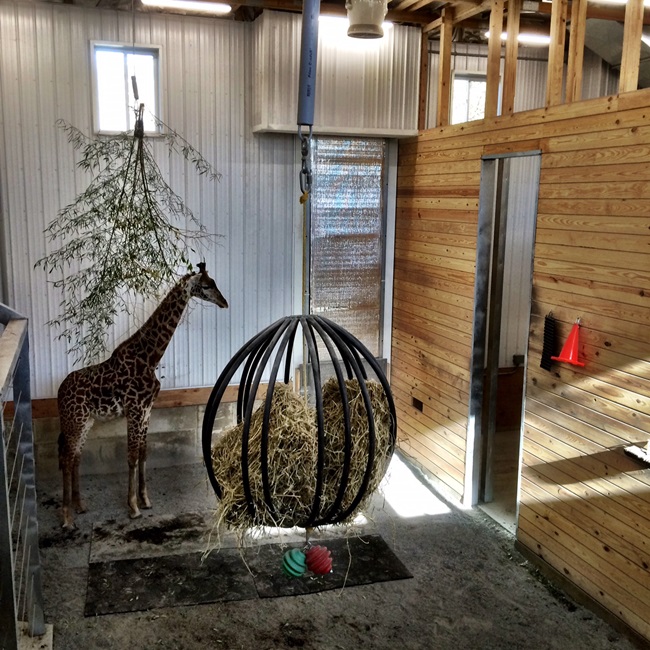 ---
Tatu made the 650-mile trek from Greenville in an extra tall trailer. "To ensure a smooth transition from the Greenville Zoo, we worked together to secure experienced drivers who specialize in large animal transportation for zoos nationwide." Said Melissa Borland, CEO/President of the Lehigh Valley Zoo.
Being that Tatu and Murphy are not familiar with each other, Animal Care staff have worked with leading professionals in the zoo industry to create a successful integration plan between Tatu and Murphy. All interactions are progressing as planned. Members of the Animal Care Team are providing round the clock care, with rotating shifts spending the night sleeping in the barn. Lehigh Valley Zoo General Curator reports: "Our Tatu is doing great, and is already bonding with the keepers over his favorite treats of kale and grain." Murphy and Tatu will be introduced gradually over the next several weeks.
Congratulations to the Lehigh Valley Zoo!
Media Contact:
Sam Kennedy, Corporate Communications Director, 484-526-4134, samuel.kennedy@sluhn.org
About St. Luke's
Founded in 1872, St. Luke's University Health Network (SLUHN) is a fully integrated, regional, non-profit network providing services at seven hospitals and more than 270 outpatient sites in the greater Lehigh Valley. The network's service area includes 10 counties: Lehigh, Northampton, Carbon, Schuylkill, Bucks, Montgomery, Berks and Monroe counties in Pennsylvania and Warren and Hunterdon counties in New Jersey. In partnership with Temple University, St. Luke's created the region's first and only regional medical school campus. Dedicated to advancing health education, St. Luke's operates the nation's oldest School of Nursing and 23 graduate medical educational programs and is considered a major teaching hospital – the only one in its region. Repeatedly, including 2017, St. Luke's earned Truven's 100 Top Major Teaching Hospital and 50 Top Cardiovascular Program designations, in addition to other honors for clinical excellence. St. Luke's is a multi-year recipient of the Most Wired award recognizing the breadth of St. Luke's information technology applications such as electronic medical records, telehealth, online scheduling and pricing information. St. Luke's is also recognized as one of the state's lowest cost providers.