News
St. Luke's Singers Signal Start of Lehigh Valley Holiday Season
November 08, 2017

You know you are home for the holidays when you hear the mellifluous voices of the St. Luke's Singers!
All are invited to the Singers' annual Christmas concert – a proud Lehigh Valley tradition – on Sunday, November 26, at Wesley Methodist Church (2540 Center Street in Bethlehem). Preludes begin at 2:45 p.m. and the concert begins at 3 p.m.
A beloved Lehigh Valley institution, the St. Luke's Singers is a renowned hospital-based choir that performs on behalf of St. Luke's University Health Network, the Lehigh Valley's biggest health care provider – and the region's oldest, founded in Bethlehem, the Christmas City, to care for steel workers in 1872. Through the Singers, listeners gain an appreciation of St. Luke's long and storied history and the Network's deep roots in the community.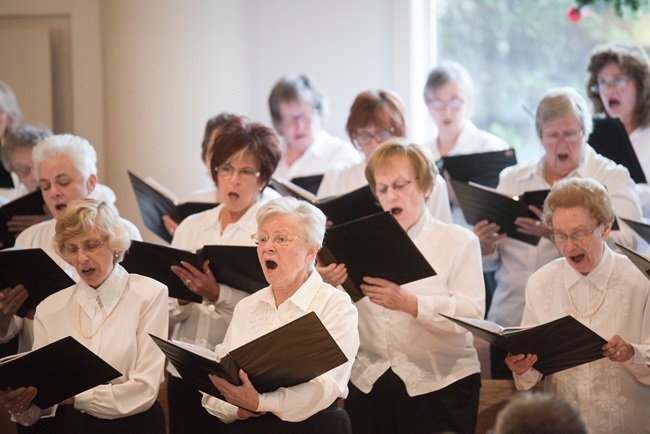 ---
The Singers dulcet tones warm the cockles of our hearts and raise funds for various St. Luke's community programs. Since 1991, the Singers have collected more than a quarter-million dollars for a multitude of altruistic endeavors!
On the 26th, the Singers will perform a varied program from around the world, demonstrating their exceptional range as performers. They will begin with "Personent Hodie" from Germany, "Good People, All Rejoice" quoting a carol from the Provence region of France and the Scottish folk song "What Strangers Are These?"
On the lighter side, the program includes "Waltz for an Open Sleigh," a jazz waltz interpretation of "Jingle Bells" and "Here Comes Santa Claus." The concert closes with Les Brown's holiday swing number, "We Wish You the Merriest," previously recorded by Frank Sinatra.
The St. Luke's Singers will donate the proceeds of the concert to the Visiting Nurse Association Hospice program. Tickets are $12 and are available at the Gift Shops at St. Luke's Allentown, Anderson, Bethlehem and Warren Campuses or by calling (610) 759-6325.
Media Contact:
Sam Kennedy, Corporate Communications Director, 484-526-4134, samuel.kennedy@sluhn.org
About St. Luke's
Founded in 1872, St. Luke's University Health Network (SLUHN) is a fully integrated, regional, non-profit network providing services at seven hospitals and more than 270 outpatient sites in the greater Lehigh Valley. The network's service area includes 10 counties: Lehigh, Northampton, Carbon, Schuylkill, Bucks, Montgomery, Berks and Monroe counties in Pennsylvania and Warren and Hunterdon counties in New Jersey. In partnership with Temple University, St. Luke's created the region's first and only regional medical school campus. Dedicated to advancing health education, St. Luke's operates the nation's oldest School of Nursing and 23 graduate medical educational programs and is considered a major teaching hospital – the only one in its region. Repeatedly, including 2017, St. Luke's earned Truven's 100 Top Major Teaching Hospital and 50 Top Cardiovascular Program designations, in addition to other honors for clinical excellence. St. Luke's is a multi-year recipient of the Most Wired award recognizing the breadth of St. Luke's information technology applications such as electronic medical records, telehealth, online scheduling and pricing information. St. Luke's is also recognized as one of the state's lowest cost providers.