News
Physical Therapy at St. Luke's Expands Reach through Patient-Focused Care
August 21, 2017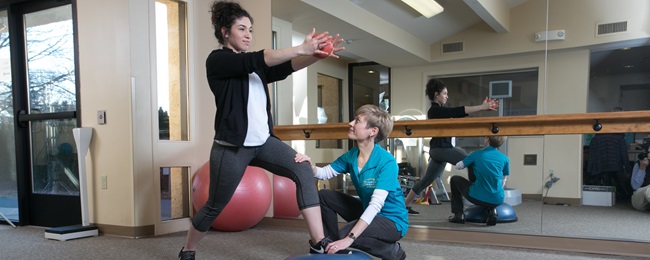 With Physical Therapy at St. Luke's offices openings in Forks Township, Kutztown and New Tripoli, and five more new offices planned by the end of the year, the practice is reaching all corners of the Lehigh Valley and beyond, bringing quality patient-centric care to people right where they live.
From New Jersey out to Kutztown, from the Poconos down to Pennsburg, the well trained board-certified physical therapists of St. Luke's are reaching into the community at 38 locations in an effort to make physical therapy convenient and less time consuming.
"We've grown as the community need has grown," explains Dennis Dougherty, PT and CEO of Physical Therapy at St. Luke's. "Our network of physicians and practices has grown, and we have expanded along with that."
"Making physical therapy accessible for the patient is critical," adds Judy Dougherty, PT, JD, and COO of the practice she and her husband have pioneered and grown through St. Luke's far-reaching network. "The nature of physical therapy is that patients come for a number of visits. We're really trying to encourage our patients to buy-in to the process and be part of it. We want it to be convenient. Everyone is busy, and the Lehigh Valley can be difficult to maneuver around. We're trying to bring the care to the patients in the communities where they live so they can be consistent in their treatment and actively engaged in it. It helps us – and them – get better results."
The Doughertys play a pivotal role in the selection of the physical therapists to ensure that treatment is provided according to best practices based on accepted clinical studies.
"We try to pick winners," Judy Dougherty says. "We pick therapists who are passionate about what they do. Our practice is essentially managed by physical therapists."
Physical Therapy at St. Luke's includes:
• 38 locations with five more planned by the end of the year
• 98 full time physical therapists, and a total staff of 258
• 40 physical therapists board certified in specialties
• Post-therapy fitness memberships to continue exercise with expert advice available.
"We are finding we get better patient outcomes with the specializations," Judy Dougherty says. "Board certified in a specialty means the therapists have to have 2000 hours of experience and have to sit for a day-long test. They are putting in their time to learn more, practice more and help our patients receive the best outcomes."
The community-based, patient-centered philosophy helps improve a patient's results, according to the Doughertys.
"One of the main things that differentiates us from other practices in the region is that our therapists take ownership of the patients' problems and help them through those issues," Dennis Dougherty says.
In the ever-changing health insurance industry, many patients are limited as to how many visits are covered, or burdened by high co-pays and deductibles which makes seeing a specialist like an orthopedic surgeon nearly impossible, let alone two or three-times-a-week visits.
"Our therapists help our patients navigate and manage their insurance issues," Judy Dougherty adds. "They take responsibility to plan care around it."
St. Luke's physical therapists will:
• See a patient without a prescription, often within 48 hours, to provide initial evaluation.
• Recommend patients to the appropriate specialist or surgeon.
• Put patients on a treatment plan even before a patient has seen the doctor.
• Help plan limited visits with take-home programs and consultation when necessary.
In addition to working closely with St. Luke's orthopedists and other doctors, Physical Therapy at St. Luke's has specialists board certified to perform physical therapy and occupational therapy. The therapists treat adults, children and even work with audiology and speech issues in both children and adults.
"We love what we do and we hire people who are passionate about helping people get back to the level of activity they were at before an injury or accident," Judy Dougherty says.
That passion takes Physical Therapy at St. Luke's all over the Lehigh Valley and beyond, with new offices planned for Hamburg, Lehighton, Brodheadsville, Ottsville and Whitehall by the end of the year.
Media Contact:
Sam Kennedy, Corporate Communications Director, 484-526-4134, samuel.kennedy@sluhn.org
About St. Luke's
Founded in 1872, St. Luke's University Health Network (SLUHN) is a non-profit, regional, fully integrated and nationally recognized network providing services at seven hospitals and more than 270 outpatient sites. The network's service area includes Lehigh, Northampton, Carbon, Schuylkill, Bucks, Montgomery, Berks and Monroe counties in Pennsylvania and in Warren County in New Jersey. Dedicated to advancing health education, St. Luke's operates the nation's oldest School of Nursing and 23 graduate medical educational programs and is considered a major teaching hospital, the only one in the region. In partnership with Temple University, St. Luke's created the region's first Medical School. Repeatedly, including 2017, St. Luke's has earned Truven's 100 Top Major Teaching Hospital designation as well as 50 Top Cardiovascular program in addition to other honors for clinical excellence. St. Luke's is a multi-year recipient of the Most Wired award recognizing the breadth of St. Luke's information technology applications such as electronic medical records, telehealth, online scheduling and pricing information. St. Luke's is also recognized as one of the state's lowest cost providers in comparison to major teaching hospitals and other health systems.