News
St. Luke's Miners Campus Helps Local Student with Unique Connection to St. Luke's
August 28, 2017
Once a tiny patient at St. Luke's NICU, she's now a St. Luke's Nursing Scholarship Winner.
For recent local high school graduate Abigail Rakos, life has been jam-packed with challenges, victories and opportunities.
Abby, of Jim Thorpe, was born on May 13, 1999 at St. Luke's University Health Network Fountain Hill Campus. She weighed one pound, five ounces. She spent the first four months of her life in St. Luke's Neonatal Intensive Care Unit (NICU).
"It was a crazy pregnancy," Debra Rakos, Abby's mother, recalls 18 years later as her daughter takes her first steps toward a career in nursing with assistance of a St. Luke's Miners Campus scholarship.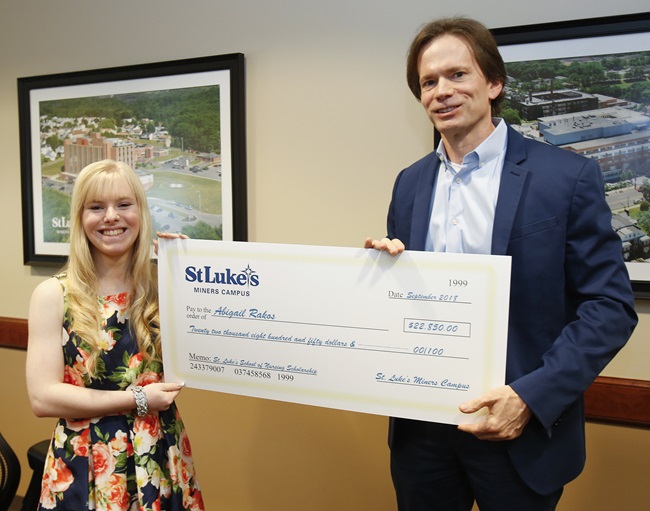 Abigail Rakos and Bill Moyer, president of St. Luke's Miners Campus.
---
Abby was the first child for Debra and her husband Jeff. To say the pregnancy was difficult is an understatement. In addition to a host of complications, the assessment of Debra's high-risk pregnancy and birth chances by her health institution prior to St. Luke's was disheartening. According to Debra, "The doctor at that hospital told us at one point, if the baby lives, it lives. If the baby dies, it dies."
Ultimately, Debra was referred to St. Luke's Bethlehem and a St. Luke's perinatologist, whose attitude was more committed. "He told me he would do everything possible to save the baby."
Once born, Abby's time in St. Luke's NICU was equally emotional and turbulent for her parents. "Remember the part in E.T. where he's dying and his whole body is the color gray? At one point early on, that's what Abby looked liked," says Jeff. "The doctors were evaluating treatment options with the outcome looking bleak."
"We were told to go home and wait. There was nothing else we could do," Jeff continues. "Later that afternoon, the phone rang…"
This May, Abby celebrated her 18th birthday looking ahead to her graduation from Marian Catholic High School in Hometown and planning her future as a nurse. "Spending time in doctors' offices and hospitals is how my life went," says Abby. "I was inspired by all these people who helped me. So growing up, I wanted to help people. I still do."
Where many people find hospitals can be intimidating, Abby feels quite differently. "St. Luke's Hospital is a second home to me. I love it!"
Her remarkable life was about to intersect with St. Luke's again.
"Abby applied for one of the St. Luke's scholarships we offer to local students," says Bill Moyer, president of St. Luke's Miners Campus. "During a discussion between us and her Marian Catholic High School guidance counselor, the story about her life, and life-saving connection to St. Luke's, unfolded. I was very moved by Abby's story and we wanted to do something to help her."
"We have a long history of commitment to both education and the local community," Moyer continues, "Helping Abby on her path to becoming a nurse was a way for St. Luke's to continue our tradition. She's very caring, passionate, dedicated and can communicate well. Abby has all the qualities that will make her a great nurse."
"Our community has a huge need for more nurses," adds Moyer. "As St. Luke's continues to grow, we see the demand increasing for nurses in emergency rooms, medical/surgical, operating rooms and critical care."
She received a $500 scholarship from the St. Luke's Miners Campus to pursue her education and dream. She will be using it to help take her pre-requisite courses at Lehigh Carbon Community College beginning this fall. After that, she hopes to attend St. Luke's School of Nursing and, ultimately become a nurse at St. Luke's Miners Campus.
Upon admission to the School of Nursing, St. Luke's has also promised Abby an additional $22,500 scholarship.
"When Abby was in the St. Luke's NICU, the nurses became our extended family," says Abby's mom today. St. Luke's looks forward to one day welcoming Abby into its nursing family.
"There were so many people that took care of me," Abby reflects. "Now I want to give back."
Media Contact:
Sam Kennedy, Corporate Communications Director, 484-526-4134, samuel.kennedy@sluhn.org


About St. Luke's
Founded in 1872, St. Luke's University Health Network (SLUHN) is a non-profit, regional, fully integrated and nationally recognized network providing services at seven hospitals and more than 270 outpatient sites. The network's service area includes Lehigh, Northampton, Carbon, Schuylkill, Bucks, Montgomery, Berks and Monroe counties in Pennsylvania and in Warren County in New Jersey. Dedicated to advancing health education, St. Luke's operates the nation's oldest School of Nursing and 23 graduate medical educational programs and is considered a major teaching hospital, the only one in the region. In partnership with Temple University, St. Luke's created the region's first Medical School. Repeatedly, including 2017, St. Luke's has earned Truven's 100 Top Major Teaching Hospital designation as well as 50 Top Cardiovascular program in addition to other honors for clinical excellence. St. Luke's is a multi-year recipient of the Most Wired award recognizing the breadth of St. Luke's information technology applications such as electronic medical records, telehealth, online scheduling and pricing information. St. Luke's is also recognized as one of the state's lowest cost providers in comparison to major teaching hospitals and other health systems.