News
St. Luke's Introduces Behavioral Health Services at Primary Care Practices
October 10, 2017
A patient's mental health can have a direct impact on physical health and vice versa. Stress, bereavement, depression and mental and emotional distress can cause serious physical strain; continuous stress can increase the risk of heart disease, depression and more. One in five adults suffers from some type of mental illness in a given year and only 44 percent of adults and less than 20 percent of children and adolescents actually get the treatment they need for mental and emotional health issues. The new integrated behavioral health program within St. Luke's University Health Network's primary care offices seeks to change that.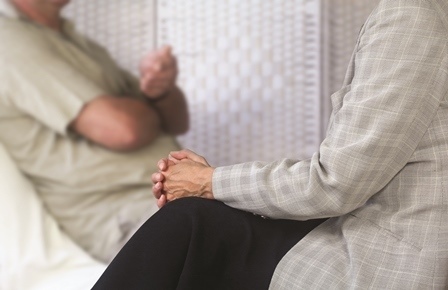 ---
Behavioral Health Services are now available at some St. Luke's family practices
The goal of the
integrated behavioral health program
is to introduce and establish patients to behavioral and emotional therapy. Often patients seek help from their primary care physicians (PCP) as a first line of communication regarding mental health issues, which is why St. Luke's started the behavioral health integration program, now available within nine primary care offices throughout the St. Luke's network:
•
St. Luke's William Penn Family Practice Center
•
Medical Associates of Bethlehem
•
Bub & Associates Family Medical Center
•
South Mountain Family Practice
•
Saucon Valley Family Practice
•
St. Luke's Warren Palmer Family Practice
•
St. Luke's Macungie Medical Group
•
St. Luke's ABW Pediatric Associates
•
Timothy Scharle, MD, St. Luke's Internal Medicine
"Primary care physicians see more patients for depression and anxiety than psychiatry doctors do," says
Louis Cimorelli, DO
, of
St. Luke's William Penn Family Practice Center
. "So it makes sense to have this integrated behavioral health program seamlessly embedded into primary care. We have two behavioral health specialists dedicated to patients in our office and the other primary care offices in our region."
Before the program began, doctors were frequently offering patients referrals to off site behavioral health specialists for issues like maintaining a healthy work/life balance, grief and bereavement, postpartum depression, anger management and ADHD, with anxiety, depression and panic attacks at the top of the list. Adolescent patients were most frequently referred for ADHD, ADD and anxiety issues. As the numbers for these health issues kept increasing, it became clear that in order for PCPs to offer more inclusive, collaborative care, they should facilitate treatment for the patient within the doctor's office at which they are already comfortable and familiar.
When a primary doctor in the program sees a patient and it becomes evident that he or she might be helped by emotional or behavioral therapy, the PCP refers the patient for an evaluation and consultation with one of the specialists within the program. Adults as well as children have benefitted from this program since its inception over a year ago. "We're hoping to see expansion of this program in the next few years," says Dr. Cimorelli. "Therapy is so very important and we're hoping to make it as easy as possible to get patients the help they need."

For more information on the integrated behavioral health program contact Amie Allanson-Dundon, MS, LPC, CAADC, CCDP-D, BCPC, Clinical Supervisor at 484-526-3835 or amie.allanson@sluhn.org.
About St. Luke's
Founded in 1872, St. Luke's University Health Network (SLUHN) is a non-profit, regional, fully integrated and nationally recognized network providing services at seven hospitals and more than 270 outpatient sites. The network's service area includes Lehigh, Northampton, Carbon, Schuylkill, Bucks, Montgomery, Berks and Monroe counties in Pennsylvania and in Warren County in New Jersey. Dedicated to advancing health education, St. Luke's operates the nation's oldest School of Nursing and 22 graduate medical educational programs and is considered a major teaching hospital, the only one in the region. In partnership with Temple University, St. Luke's created the region's first Medical School. Repeatedly, including 2016, St. Luke's has earned Truven's 100 Top Major Teaching Hospital designation as well as 50 Top Cardiovascular program in addition to other honors for clinical excellence. St. Luke's is a multi-year recipient of the Most Wired award recognizing the breadth of St. Luke's information technology applications such as electronic medical records, telehealth, online scheduling and pricing information. St. Luke's is also recognized as one of the state's lowest cost providers in comparison to major teaching hospitals and other health systems.