News
St. Luke's Holds Thirteenth Annual 'Night Of Heroes'
September 18, 2017
Patients Honored, First Responders and Trauma Team Recognized
Two patient heroes were honored at the thirteenth annual St. Luke's Night of Heroes celebration, along with the more than 100 caregiver heroes who helped make their recoveries possible. The event was held Saturday evening at the ArtsQuest Center at SteelStacks.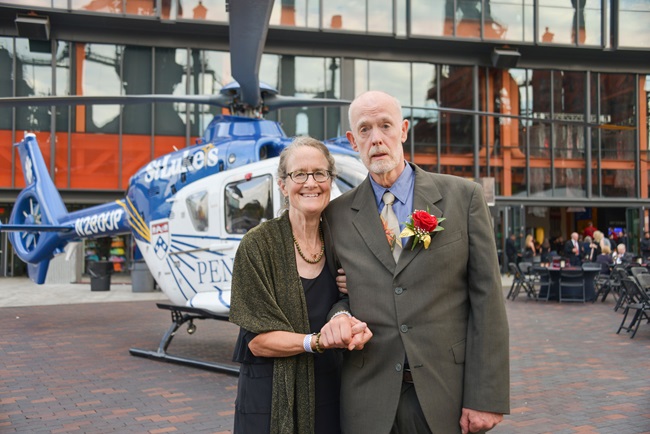 Dr. Jeremy Hewens, 66, of Milford, NJ, was struck while riding his bicycle on January 7, 2016. He required CPR at the scene to regain vital signs. He was transported to St. Luke's University Hospital in Fountain Hill where he was found to have a severe traumatic brain injury, a skull fracture, a large liver laceration and rib fractures. His first 11 days in the hospital were spent in a coma with multiple brain monitors. After three weeks in intensive care, he was able to be discharged to undergo intensive and prolonged rehabilitation. Today he lives at home with his wife, Jean.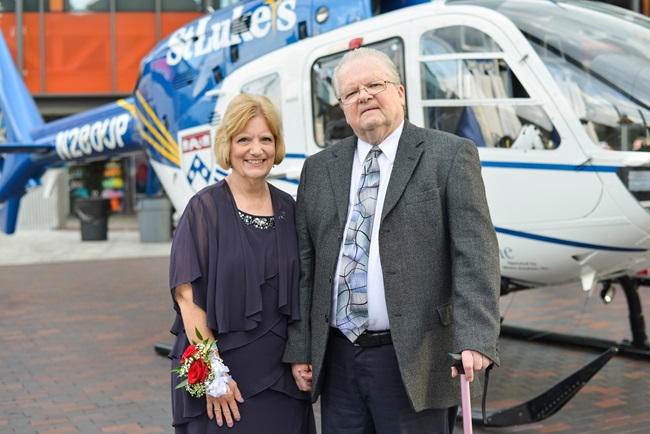 Joyce Chaya, 66, of Pen Argyl, was struck by a dump truck and taken to St. Luke's University Hospital on July 22, 2016. She suffered multiple life threatening injuries including a ruptured aorta and ruptured spleen, both of which required emergent procedures. She also sustained a traumatic brain injury, spinal fractures, rib fractures, a collapsed left lung and severe pelvic fractures. She spent three weeks in intensive care and another two weeks in the St. Luke's Acute Rehabilitation Center. Today she lives at home with her husband, Edward.
For the past 13 years, St. Luke's has honored both patients and caregivers at Night of Heroes. The event celebrates the caregivers who everyday dedicate themselves to saving lives, and the patients who beat the odds to survive. Each year two patients' families tell their stories through a video presentation, and members of the trauma team who touched these patients' lives are recognized and honored for their skill and dedication.
A Night of Heroes hosted 800 attendees, including more than 100 heroes. Key sponsors of the event included St. Luke's Orthopedic Specialists; Service Electric Cable TV and Communications; Center for Oral & Maxillofacial Surgery at St. Luke's; Jeff Kelly and HCI Group.
The evening's schedule was as follows:
6:00 – Cocktails and Dinner Stations
7:45 – Opening remarks
8:00 – Video and Heroes Awards Presentations
9:00 – Music and Dancing to UUU and Lucky 7
Special, surprise awards honored the following: Sr. Judith Filorimo recognized with the Martin Cohen Trauma Humanitarian Award, Robert Daley with the Charles D. Saunders Dedication to Trauma Award and Jack Chambers Emergency Department Physician with the William "Billy" Guth Trauma EMS award.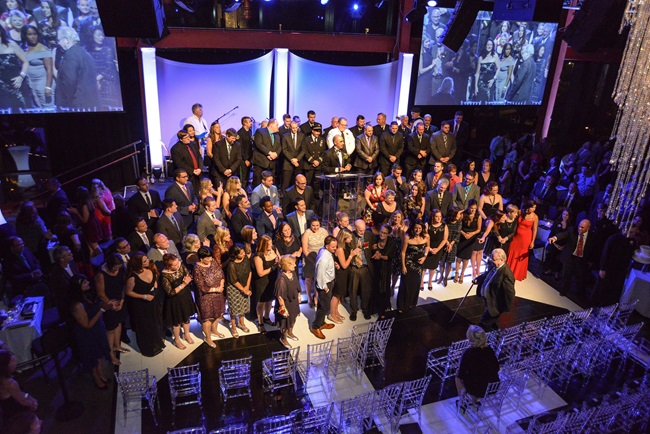 Listed below are the 2017 Heroes Award recipients (listed by hometown):
Albany, GA
Letitia Stewart
Alburtis
Christopher Malewicz
Allentown
Ashley Getz
Anthony Luizza
Ronnie Mubang
Doron Rabin
Rhonda D. Rodriguez
Linda Umaru
Victoria Villani
Humberto Ortiz
Alpha, NJ
Travis Conaway
Ambler
Kristopher S. Matullo
Bangor
Andrea LaBar
Gilberto Quinones, Jr
Bath
Sarah M. Braun
Bethlehem
Mary Ellen Amey
Vamsi Balakrishnan
Kathleen Caceres
Julia Corsi
Marian Holly
Geeta Khellawan
Shane McGowan
James Reese
Holly Ringhauser
Ellyn A. Smith
Shawn Yeazell
Dominic Rachiele
Karen Lovell
Boyertown
Breanna Lucas
Center Valley
Jose Amortegui
Leonard A. Paparo
Coopersburg
Rebecca DeLong
Eunsun Lee
Thomas R. Pfeiffer
Dean Tyrell
Coplay
Ashley Cray
Cresco
Donna Clark
Easton
Heather Assise
Nancy J. Eckert
Colleen Searles
Nicolette Thompson
Carol Abel
Galena, OH
Ike Akusabo
Hamburg
Trisha Sensenig
Hellertown
Timothy Oskin
April Rose
Jacqueline Sodano
Hunterdon MICU
Thomas Cadmus
Kathleen Honeywell
Keller, TX
Jason Black
King of Prussia
Geeta Sathe
Lehighton
Heather Shapiro
Lookout Fire Company No. 1
Dean Parsons
James Davey
Dennis Miller
Allen Jennings, II
Matthew Kolb
Grant Parsons
Kenneth Kidd
Brandon Hill
John Zeigafuse
Brett Riker
Macungie
Donna Drake
Moorestown, NJ
Hugh O'Donnell
Nashville, TN
Keith Habeeb
Nazareth
Laraine Kossis
Northampton
Elizabeth M Bingaman
Northampton County Emergency Management Services
Desiree Kuehner
Heather Konschnik
Keith Knoblach
Angela Nale
NorthSTAR Air Medical
Michael Carrig
Jennifer Hartnett
Jason Jorgenson
Daniel Vanco
Perkasie
Luisa Williams
Phillipsburg Rescue Squad
Russell Bogoly, Jr.
Todd Reinbold
Alex Reinbold
Michael Petruzzellis
Pohatcong Township Fire Department
Pohatcong Township Police Department
Ryan Barsony
Jeffrey Greenemeir
Robert Paulus
Matthew Radecky
Scott Robb
Schnecksville
Susan Bleiler-Corsi
Slate Belt Police Department
Robert Long
Arron Flad
Shannon Young
Slatington
Lauralee Best
Souderton
Elena Berg
Suburban Emergency Medical Services
Jeremy Slack
Howard Schwartz
Summit Hill
Christopher Rehnert
Upper Saucon
Chad Saunders
Warren County DPS & 9-1-1 Center
James Oleniacz
Mark Snyder
Weatherly
Ryan Rambaran
Whitehall
Cynthia Lentini
The Night of Heroes concept began in 2005 at St. Luke's. It was initiated by trauma surgeon James Cipolla, MD, and his wife, Dawn.
Media Contact:
Sam Kennedy, Corporate Communications Director, 484-526-4134, samuel.kennedy@sluhn.org

About St. Luke's
Founded in 1872, St. Luke's University Health Network (SLUHN) is a non-profit, regional, fully integrated and nationally recognized network providing services at seven hospitals and more than 270 outpatient sites. The network's service area includes Lehigh, Northampton, Carbon, Schuylkill, Bucks, Montgomery, Berks and Monroe counties in Pennsylvania and in Warren County in New Jersey. Dedicated to advancing health education, St. Luke's operates the nation's oldest School of Nursing and 23 graduate medical educational programs and is considered a major teaching hospital, the only one in the region. In partnership with Temple University, St. Luke's created the region's first Medical School. Repeatedly, including 2017, St. Luke's has earned Truven's 100 Top Major Teaching Hospital designation as well as 50 Top Cardiovascular program in addition to other honors for clinical excellence. St. Luke's is a multi-year recipient of the Most Wired award recognizing the breadth of St. Luke's information technology applications such as electronic medical records, telehealth, online scheduling and pricing information. St. Luke's is also recognized as one of the state's lowest cost providers in comparison to major teaching hospitals and other health systems.