News
St. Luke's Expert Delivers Keynote at Global Fitness Summit in China
June 01, 2017
When it comes to fitness and sports performance, John Graham is not only St. Luke's resident expert, he's known internationally for being at the top of his game. It's no surprise that Graham, the Senior Director for St. Luke's Fitness and Sports Performance, has been invited to speak at the 5th annual Global Fitness Summit at Wuhan University, China June 9-11.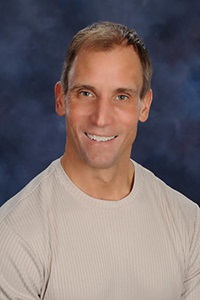 Graham will deliver three presentations, including the keynote "Program Design and Assessment for Achieving Fitness and Sports Performance Excellence.""I will be discussing how to develop evidence-based assessment and programming protocols for populations ranging from youth to senior populations and from the highly fit to the chronic diseased populations. Additionally, I will provide scientifically-proven practices of assessment and programming for tactical populations (firefighters, police, emergency medical professionals and military) where a high level of fitness is required," Graham said.
This will be Graham's second time making presentations in China. His first speaking engagement there came as a representative for the National Strength and Conditioning Association (NSCA) in 2007 when he presented to representatives and coaches from the Chinese Olympic Committee in advance of the 2008 Beijing Olympics. He gave seven presentations on training Olympic-caliber athletes during that trip.
Graham is one of several international speakers scheduled for the Global Fitness Summit, and just the second United States expert chosen in the three-day event's five-year history. He received an invitation through Jie Kang, a professor of exercise physiology at the College of New Jersey, and a liaison for the event.
"This conference tries to model the conference held here by the National Strength and Conditioning Association," Kang said. "John has been heavily involved in the NSCA here for years. His name's out there and people know who he is. He also teaches for us at the College of New Jersey."
"John has a lot of hands-on experience that the people in China would like to utilize," Kang said. "John's very unique because he can teach lectures, but he can also demonstrate how a workout is supposed to be done. That is quite distinctive. A lot of us can speak, but probably are not going to be able to do a whole lot in terms of demonstrating, so he's very rare. I'm excited. They're looking forward to it."
Graham will also give one other address, plus a hands-on demonstration.
"I'm doing a presentation on developing and implementing a comprehensive sports performance program," Graham said. "It revolves around designing sports performance training for Olympic sports for the general population – not the Olympic athletes."
Olympic sport participation is popular in China, where the general population isn't as focused on sports such as American football and baseball.
Graham has hands-on experience training U.S. Olympians in cycling and gymnastics, but more recently has focused on high school and college-level athletes, along with UFC fighter Claudia Gadelha.
He will also conduct a hands-on demonstration of metabolic fitness, which he describes as a one-hour training session aimed at individual athletes to specifically target muscular strength and endurance, cardiovascular conditioning, anaerobic conditioning, and core development.
Media Contact
Sam Kennedy, Corporate Communications Director, 484-526-4134, samuel.kennedy@sluhn.org
About St. Luke's
Founded in 1872, St. Luke's University Health Network (SLUHN) is a non-profit, regional, fully integrated and nationally recognized network providing services at seven hospitals and more than 270 outpatient sites. The network's service area includes Lehigh, Northampton, Carbon, Schuylkill, Bucks, Montgomery, Berks and Monroe counties in Pennsylvania and in Warren County in New Jersey. Dedicated to advancing health education, St. Luke's operates the nation's oldest School of Nursing and 22 graduate medical educational programs and is considered a major teaching hospital, the only one in the region. In partnership with Temple University, St. Luke's created the region's first Medical School. Repeatedly, including 2017, St. Luke's has earned Truven's 100 Top Major Teaching Hospital designation as well as 50 Top Cardiovascular program in addition to other honors for clinical excellence. St. Luke's is a multi-year recipient of the Most Wired award recognizing the breadth of St. Luke's information technology applications such as electronic medical records, telehealth, online scheduling and pricing information. St. Luke's is also recognized as one of the state's lowest cost providers in comparison to major teaching hospitals and other health systems.