News
St. Luke's and LifeAire Systems Bring Transformational Innovation to Hospital Air Quality
August 24, 2017
St. Luke's University Health Network and LifeAire Systems of Allentown, Pa., have formed a strategic partnership to utilize new technology designed to remove airborne pathogens from critical hospital environments.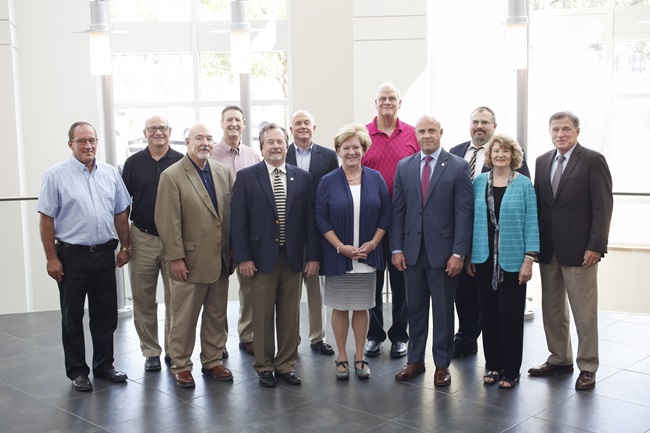 Front row, left to right: Ed Curry, LifeAire Systems Board Member; John McIntyre, LifeAire Systems; Kathryn C. Worrilow, LifeAire Systems CEO; Erik Marsh, LifeAire Systems; and Pam Palmer, LifeAire Systems.
Back row, left to right: Jim Zeitlow, Liberty Engineering; Brian Walsh, St. Luke's; Chris Sutton, LifeAire Systems Board Advisor; Mark Bye, LifeAire Systems Board Member; Bob Thomson, Ben Franklin Technology Partners Northeastern PA; Daryl Sumerson, STV Engineering; and Frank Ford, St. Luke's-Allentown President.
---
Studies show that airborne pathogens can contribute to illnesses and infections that can occur during a patient's stay in hospital. St. Luke's will collaborate with LifeAire Systems to install LifeAire's patented in-duct air purification technology at the St. Luke's Allentown campus. It will remove airborne pathogens from the HVAC circulation within the space that is to be protected, with the goal of reducing patient and staff exposure to these airborne contaminants.
"We are thrilled to have forged this innovative partnership with St. Luke's University Health Network at their Allentown Campus," Kathryn C. Worrilow, PhD, founder and CEO of LifeAire Systems. "We feel it most appropriate to bring the provision of this technology here to the Lehigh Valley. As a Company located in the Lehigh Valley, we want to provide the finest care for our local residents first and foremost, and then replicate the model in other regions."
LifeAire Systems technology uses multi-staged levels of air filtration, purification and inactivation media to aggressively remove chemical, particulate and infectious biological pathogens from both outside and re-circulated air. The patented design is mathematically modeled to kill or inactivate the most infectious biological pathogens—such as anthrax spores—on a single pass through the system.
"We continue on our mission to provide the finest possible patient care and look forward to seeing the benefit of the LifeAire Systems innovative new technology," said Lee Levicoff, Network Vice President and Director of Planning and Construction Management at St. Luke's.
Media Contact:
Sam Kennedy, Corporate Communications Director, 484-526-4134, samuel.kennedy@sluhn.org


About St. Luke's
Founded in 1872, St. Luke's University Health Network (SLUHN) is a non-profit, regional, fully integrated and nationally recognized network providing services at seven hospitals and more than 270 outpatient sites. The network's service area includes Lehigh, Northampton, Carbon, Schuylkill, Bucks, Montgomery, Berks and Monroe counties in Pennsylvania and in Warren County in New Jersey. Dedicated to advancing health education, St. Luke's operates the nation's oldest School of Nursing and 23 graduate medical educational programs and is considered a major teaching hospital, the only one in the region. In partnership with Temple University, St. Luke's created the region's first Medical School. Repeatedly, including 2017, St. Luke's has earned Truven's 100 Top Major Teaching Hospital designation as well as 50 Top Cardiovascular program in addition to other honors for clinical excellence. St. Luke's is a multi-year recipient of the Most Wired award recognizing the breadth of St. Luke's information technology applications such as electronic medical records, telehealth, online scheduling and pricing information. St. Luke's is also recognized as one of the state's lowest cost providers in comparison to major teaching hospitals and other health systems.