News
Nursing Excellence Awards
May 08, 2017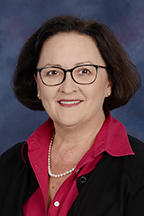 Carol A. Kuplen, RN, MSN
A message from Carol Kuplen, RN, MSN, Chief Nursing Officer, St. Luke's University Health Network
Better Nurses. Best Hospital.
Named 100 Top Hospital – 3 YEARS IN A ROW!
For the third year in a row, St. Luke's has been named one of the 100 Top Hospitals in the Nation by Truven Health Analytics.™ Truven's 100 Top Hospitals are proven to provide the highest value to the communities they serve – demonstrating excellence in quality, safety and patient satisfaction.
St. Luke's is the ONLY hospital in the region to win this prestigious award!
Excellence in health care begins with exceptional nurses.
Across St. Luke's, our nurses have a critical responsibility to uphold the highest level of quality and ethical standards in their practice to ensure the delivery of superior health care to patients, families and the community. Registered nurses may choose to practice as direct care providers, advanced practitioners, administrators or educators. Regardless of their position, their professional commitment is evident in all aspects of care - patient safety, care coordination, patient/family engagement, education, patient outcomes and quality of care. St. Luke's nurses are highly trusted as a result; earning a well-deserved reputation for providing the highest level of quality and ethical care to our patients.
In recognition of National Nurses Week 2017 and the week's theme of "Nursing: the Balance of Mind, Body, and Spirit" we celebrate and thank all of our outstanding nursing professionals throughout St. Luke's Network for their commitment to providing the best care to every patient, every single day.
We take this opportunity to recognize our Nursing Excellence Award winners. These fine individuals are shining examples of St. Luke's nurses at their best. They are selected for their outstanding nursing care, leadership and community contributions. It is a privilege to practice with such outstanding individuals who represent the "best" of the nursing profession.
Congratulations to our Winners!
Image of Professionalism


Robyn Rex RN, OCN, CCRP
Anderson Campus


Michael Gmitter, RN
Allentown Campus


Catherine Waltemyer BSN, RN, IBCLC
University Hospital


Paula Hager, RN
Miners Campus


Marsha Nasatka, RN
Monroe Campus


Theresa Cleary MSN, RN
Quakertown Campus


Loretta Fisher BSN, RN, BC
Home Health/Hospice


Nicole Burchett BSN, RN
Warren Campus

Relationship with Patient


Laura Hawk BSN, RN
Anderson Campus


Beata Zimmerman MSN, RN
Allentown Campus


Darlene Smith, RN
University Hospital


Jennifer Weikel, RN
Miners Campus


Scott Steinmetz, RN
Monroe Campus


Matthew Godfrey, RN
Quakertown Campus


Meg Johnson BSN, RN, CHPN
Home Health/Hospice


Lorna Mascarinas BSN, RN, CCRN
Warren Campus

Commitment to Nursing Excellence


Brian Kavcak BSN, RN
Anderson Campus


Robert Sautter, RN
Allentown Campus


Stephanie Ditmer, RN
University Hospital


Shelby Hartman, RN
Miners Campus


Kimberly Riggs, RN, CCRN
Monroe Campus


Farrah Lewis, RN
Quakertown Campus


Rhiannon McAlary BSN, RN, CMSRN
Home Health/Hospice


Sari Febiani, RN
Warren Campus

Teamwork


Danielle Napoleon, UC
Anderson Campus


Shakira Perez, PCA
Anderson Campus


Misty Schimmel, MSW
Allentown Campus


Kayla Bellinger NA/UC
Allentown Campus


Amy Kuhns, PCA
University Hospital


Kira Delong, PCA
University Hospital


Antonia Vazquez, PCA/CNA
Miners Campus


Tracy Weaver, SW
Miners Campus


Marc Anthony Ventura, PCA
Monroe Campus


Danielle Gordon MSW, LSW, CM
Quakertown Campus


Cathy Rice, LPN
Quakertown Campus


Brenda Dellatore
Home Health/Hospice


Isairi Sanchez
Home Health/Hospice


Wendy Stitzer, PCA
Warren Campus


Ryan VanDoren, US
Warren Campus

Excellence in Leadership


Missy Olivia BSN, RN
Anderson Campus


Renee Yatcilla BSN, RN
Allentown Campus


Karen Haydt, RN
University Hospital


Christine Zizelmann BSN, RN, CEN
Miners Campus


Debora Anderson-McCabe, RN, CEN
Monroe Campus


Kelly-Anne Varcoe DNP, MSN, RN
School of Nursing


Jill Shultz BSN, RN
Quakertown Campus


Erika Mahler MA, RN
Home Health/Hospice


Victoria Henderson, RN
Warren Campus

Exemplar Preceptor in Clinical Practice


Stacy Mitman BSN, RN
Anderson Campus


Dulce Colon BSN, RN
Allentown Campus


Monica Breiner, RN, BSN
University Hospital


Nancy Donatacci, RN
Miners Campus


Mary Jane Montefour, RN, CDP
Monroe Campus


Marlene Simpson BSN, RN
Quakertown Campus


Tori Edelman BSN, RN
Home Health/Hospice


Princy Joseph BSN, RN
Warren Campus

Network Awards


Community Health Promotion Award - Sherry Daptula, RN
Bethlehem Campus, MICU


Pride and Accountability Award - Linda Younes BSN, RN, CHPN
Home Hospice Team


Advanced Practice Award - Deborah Betz-Harleman, CRNP
University Hospital


The Nightingale Nurse Collaboration Award - Kendall Gaugler RN, CEN
Allentown Campus, ED


Patient Care Manager Of the Year Award - Joseph Toto BS, RN
ICU, Allentown Campus


Patient Care Manager Of the Year Award - Donna Bydlon BSN, RN, OCM
Director
Infusion & Oncology Support Services


Excellence in Knowledge And Innovations Award - Peter Deringer RN, MA Nursing, NE-BC
Nursing Professional Practice Coordinator, University Hospital




Team Achievement in Patient Satisfaction Award
(Tied) Bethlehem Home Hospice Team and Inpatient Hospice Team