News
Northampton County Medical Society Alliance Celebrates National Doctors' Day with Donation to St. Luke's Hospice House
March 28, 2017
Bethlehem, PA (3/28/2017)
–
St. Luke's Hospice House
was honored to receive a donation from the board of the
Northampton County Medical Society Alliance
in honor of Doctors' Day, Thursday, March 30.
National Doctors' Day celebrates the contribution of physicians who serve our country by caring for its citizens.
"We are honored to accept this contribution on behalf of St. Luke's," said Lisa Giovanni, St. Luke's Home Health & Hospice President. "We appreciate the donations and support that we receive in order to continue to provide compassionate, palliative and end-of-life care to residents of the Lehigh Valley."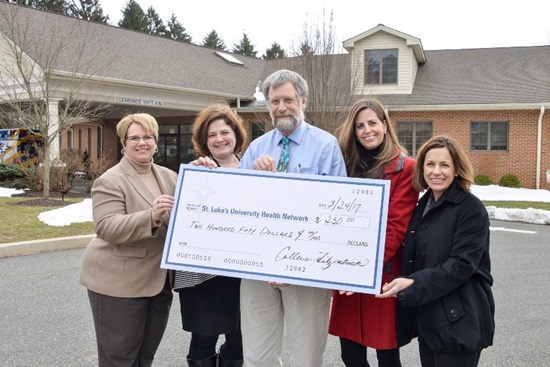 Northampton County Medical Society Alliance makes donation to St. Luke's Hospice House in honor of National Doctors' Day.

Left to Right: Judy Scott, RN, BSN, CHPN, patient care manager of St. Luke's Hospice House, Lisa Giovanni, MSN, RN, president of St. Luke's Home Health & Hospice and Ric Baxter, MD, medical director of St. Luke's Hospice and director of palliative care services for St. Luke's University Health Network accept a check from Northampton County Medical Society Alliance member Colleen Fitzpatrick, MD and president Regina Carolan.

St. Luke's Hospice House, located in Lower Saucon Township, is the only free-standing inpatient facility in the Lehigh Valley. When pain and symptoms become too acute for home hospice care, the Hospice House is available to provide the highest level of acute care with the goal of returning patients back to their home and loved ones.
An interdisciplinary team works with each patient and family to meet their physical, emotional, social, spiritual and informational needs and goals of care. Complementary services such as aromatherapy, massage therapy, music, Reiki, Golden Rooms and pet therapy support the patient's quality of life. Volunteers provide conversation and companionship and offer a compassionate presence for the patient and family members.
St. Luke's Hospice House is licensed by the Pennsylvania Department of Health and nationally accredited by the Accreditation Commission for Health Care.
About St. Luke's
Founded in 1872,
St. Luke's University Health Network (SLUHN)
is a non-profit, regional, fully integrated and nationally recognized network providing services at seven hospitals and more than 270 outpatient sites. The network's service area includes Lehigh, Northampton, Carbon, Schuylkill, Bucks, Montgomery, Berks and Monroe counties in Pennsylvania and Warren County in New Jersey. Dedicated to advancing health education, St. Luke's operates the nation's oldest School of Nursing and 22 graduate medical educational programs and is considered a major teaching hospital, the only one in the region. In partnership with Temple University, St. Luke's created the region's first Medical School. Repeatedly, including 2017, St. Luke's has earned Truven's 100 Top Major Teaching Hospital designation as well as 50 Top Cardiovascular program in addition to other honors for clinical excellence. St. Luke's is a multi-year recipient of the Most Wired award recognizing the breadth of St. Luke's information technology applications such as electronic medical records, telehealth, online scheduling and pricing information. St. Luke's is also recognized as one of the state's lowest cost providers in comparison to major teaching hospitals and other health systems.

About NCMSA
The
Northampton County Medical Society Alliance (NCMSA or The Alliance)
is a non-profit organization dedicated to helping the community through volunteer outreach programs and health initiatives. Membership includes physicians and physician spouses who work or live in Northampton County or Bethlehem. The organization is not aligned with one hospital specifically, but rather supports all the hospitals in the designated area which includes St. Luke's University Health Network.
Mission
The Northampton County Medical Society Alliance is an organization concerned with addressing the health needs of the community. By cultivating a fellowship among its members, the organization is able to promote health related endeavors, thus improving health care for all.
Alliance Highlights/ Recent Accomplishments
The Alliance was honored with the 18th annual Inez and Edward Donley Award for Children's Advocacy in 2013, awarded by Community Services for Children. This is in recognition of a long-standing commitment to children and health.
Donations to Operation Heartthrob program have provided food, nutritional education and counseling to families in need, since 1991.
In the last 16 years, the Alliance has given out about 1500 books and donated more than 500 volunteer hours to teach preschoolers in a South Bethlehem Head-Start class about healthy behaviors through the Adopt-a-Class program. Adopt-a-Class is a signature program whereby Alliance volunteers visit a Head-Start class each month and cover age appropriate topics such as health, exercise, nutrition and non-violent communication. A healthy snack and exercise are part of the curriculum each month. Children are given a book to keep with each visit, complete with a label with their name on it.
In 2006, NCMSA created H.E.L.P. fund grants (Health, Education and Literacy Programs). To date, almost $60,000 has been awarded to local non-profit groups. In the past two years, the Alliance has funded a Weller Center pilot program at Bangor High School addressing adolescent depression awareness, partnered with Meals on Wheels of Northampton County and local farms to purchase fresh local produce for Seniors, supported the Easton Area Neighborhood Centers' efforts to provide case management and life skills programs for teen parents, and donated to the St. Luke's "Fountain Hill Program" which provides a health and wellness' program in the local elementary school. Other community programs we have supported in the past include: the Reading Rocks program, the Third Street Alliance Shelter, STANDD (Stop Texting and Distracted Driving), ProJeCt of Easton, The Children's Home of Easton, The Cancer Support Community of the Greater Lehigh Valley and the Boys and Girls Club of Bethlehem.
Commitment to Medical Training and Education: Since 1985, have provided loans and now scholarships to local medical, nursing and physician assistant students.
Health Education & Public Service: In the past 7 years, The Alliance has visited many preschool classes and taught more than 1,500 preschool children about germs and healthy hand washing with the Henry the Hand program.
--------------------------------------------------------------------------------
NCMSA Contacts
Colleen Fitzpatrick and Regina Carolan
Northampton County Medical Society Alliance
medsocietyalliance@gmail.com