News
Drexel University Honors St. Luke's Pioneering Work in Population Health
November 08, 2017
A national leader in population health analytics, St. Luke's University Health Network has been named among the top 50 analytics innovators in the United States by Drexel University's LeBow College of Business. The university recognized these organizations at the 2017 "Analytics 50" awards ceremony in Philadelphia.
This year's winners represent diverse industries and some of the biggest names in business, including American Express, Vanguard, Viacom, Starbucks, Caterpillar and the Arizona Diamondbacks, as well as major public entities, such as the Michigan State Police, the Seattle Police and the cities of Cincinnati and Pittsburgh.
"We are proud to recognize distinction in analytics among this diverse group of impressive organizations," Paul Jensen, interim dean for Drexel University's LeBow College of Business, said Thursday. "The Analytics 50 is a powerful way to honor business solutions and to strengthen the intersection of academia and industry. We congratulate the honorees and look forward to celebrating their achievements at tonight's awards ceremony."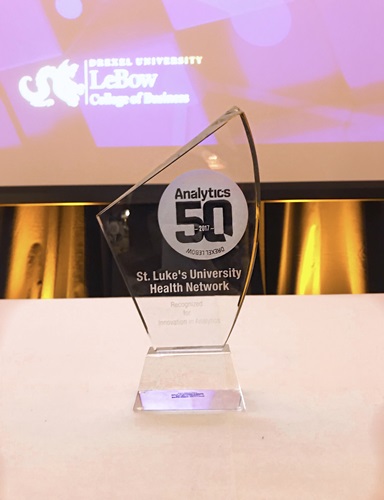 ---
St. Luke's enterprise data warehouse crunches data from over 40 sources, cleansing and integrating it into a seamless, patient-centered view of the business. Powered by the Information Builders Omni Health Data platform, the enterprise data warehouse represents the next step in St. Luke's long-standing commitment to management by data.
"The SLUHN Quality Program is data driven," said Donna Sabol, St. Luke's Vice President and Chief Quality Officer. "The sophistication of our data monitoring, analysis and benchmarking is outstanding and has greatly contributed to our achievement of numerous state and national awards."
Leveraging this new powerhouse of information, St. Luke's has developed innovative applications including its own population health analytics tool called St. Luke's Care Insights. St. Luke's Care Insights is a comprehensive platform enabling the network to systematically identify opportunities to improve care and reduce healthcare costs – for example, more efficiently managing high-cost pharmaceuticals, or predicting which patients with chronic diseases require a higher degree of care coordination to head off expensive emergency department visits.
"St. Luke's is dedicated to leveraging data and advanced analytics to improve our quality, efficiency, and patient satisfaction for the well-being of our community. This award is recognition that St. Luke's is a national healthcare leader in these efforts," said Mary Jane McKeever, St. Luke's Vice President of Finance.
Drexel University launched the Analytics 50 initiative to showcase best practices and recognize organizations that are using analytics to solve pressing business challenges. A panel of researchers and practitioners selected this year's honorees based on the complexity of the business challenges they faced, the usefulness of the analytics solutions they implemented and the business impact of analytics on their organizations.
"It is gratifying to see such innovative nonprofit organizations using Information Builders' technology to solve pressing societal business challenges," said Gerald Cohen, President and CEO of Information Builders, a software company that works with St. Luke's. "Their accomplishments with data integration, data integrity, and data intelligence serve as an impressive example for other organizations in law enforcement and healthcare to follow."
Media Contact:
Sam Kennedy, Corporate Communications Director, 484-526-4134, samuel.kennedy@sluhn.org

About the Analytics 50
The Drexel LeBow Analytics 50 is a national recognition of analytics innovation honoring 50 organizations using analytics to solve business challenges. Connecting academia and industry, the initiative's goal is to share best practices while identifying innovative analytics solutions across industries.
About Information Builders
Information Builders provides solutions for business intelligence (BI), analytics, data integration, and data quality that help drive performance improvements, innovation, and value. Through one set of powerful products, we enable organizations to serve everyone – analysts, non-technical users, even partners, customers, and citizens – with better data and analytics. Our dedication to customer success is unmatched with thousands of organizations relying on us as their trusted partner. Founded in 1975, Information Builders is headquartered in New York, NY, with global offices, and remains one of the largest independent, privately held companies in the industry. Visit us at informationbuilders.com, follow us on Twitter at @infobldrs, like us on Facebook, and visit our LinkedIn page.
About St. Luke's
Founded in 1872, St. Luke's University Health Network (SLUHN) is a fully integrated, regional, non-profit network providing services at seven hospitals and more than 270 outpatient sites in the greater Lehigh Valley. The network's service area includes 10 counties: Lehigh, Northampton, Carbon, Schuylkill, Bucks, Montgomery, Berks and Monroe counties in Pennsylvania and Warren and Hunterdon counties in New Jersey. In partnership with Temple University, St. Luke's created the region's first and only regional medical school campus. Dedicated to advancing health education, St. Luke's operates the nation's oldest School of Nursing and 23 graduate medical educational programs and is considered a major teaching hospital – the only one in its region. Repeatedly, including 2017, St. Luke's earned Truven's 100 Top Major Teaching Hospital and 50 Top Cardiovascular Program designations, in addition to other honors for clinical excellence. St. Luke's is a multi-year recipient of the Most Wired award recognizing the breadth of St. Luke's information technology applications such as electronic medical records, telehealth, online scheduling and pricing information. St. Luke's is also recognized as one of the state's lowest cost providers.